printer friendly version
Emerson enhances reservoir modelling software
August 2015
IT in Manufacturing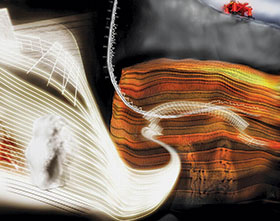 Emerson Process Management has launched the latest version of its reservoir modelling software, Roxar RMS. The new version – RMS 2013.1 – comes with enhanced structural modelling tools that acknowledge realistic uncertainties in the data and improve volumetric sensitivities. This makes it faster and easier for modellers to build geological scenarios, investigate the full effects of structural uncertainty, and maximise the value of their reservoir assets.
"Too often in the past reservoir modellers have had to resign themselves to using best case estimates of faults and horizons, with the inherent uncertainty in these interpretations often neglected and thereby underestimating the actual uncertainty in reservoir volumes," said Kjetil Fagervik, managing director of Emerson's Roxar Software Solutions.
He continues: "With our new version of Roxar RMS and our tightly integrated structural modelling and gridding tools, users will be able to quantify uncertainty more effectively and increase confidence when it comes to crucial decisions on where to drill, what production strategies to adopt, and how to maximise recovery."
As part of the new enhancements, RMS 2013.1 also sees fault uncertainty tools further integrated with structural modelling and 3D gridding. This enables users to build fault uncertainty models in full and investigate a wide variety of scenarios corresponding to the uncertainty in the input data.
In addition, horizon uncertainty modelling is significantly enhanced, allowing users to create horizons and zones based on uncertainty data and information derived from well picks, velocities, seismic travel times and isochores. Uncertainty modelling has also been extended with new parameters added such as the modelling of fault sealing effects and fractures.
The accuracy of the models can be further improved with the new tool for adjusting the 3D grid to well picks, and enhanced isochore modelling tools that provide users with full quality control over isochore input data.
The focus on the geophysical domain sees further enhancements to the new Model-Driven Interpretation (MDI) tools first released in RMS 2013 with improvements to MDI and velocity modelling through new tools for QC-ing the velocity model, providing input for horizon uncertainty modelling, and for well-ties.
Efficiencies and performance is improved through multi-threading (the ability for computing to take place in parallel), new SEG-Y importing functionality and RMS Data Explorer that allows users to manipulate large amounts of data with advances in well administration and fault grouping/sorting.
Finally Roxar RMS 2013.1 also comes with new predictive analytics tool for identifying sweet spots within unconventional fields.
Kjetil Fagervik concludes: "When it comes to strengthening operator confidence in their reservoirs' economics, improving decision-making and increasing workflow productivities and efficiencies, Roxar RMS is changing the reservoir modelling landscape. RMS 2013.1 will be the first of a number of significant modelling advances over the coming months."
Emerson's Roxar RMS is comprised of 24 fully integrated software modules that form a seamless and fully integrated seismic to simulation workflow. This includes seismic interpretation, structural model building, 3D gridding, facies and petrophysical modelling, flow simulation, well planning and uncertainty modelling tools. RMS operates on Red Hat Enterprise Linux 64-bit versions 5 and 6 and on Windows 64-bit 7.
For more information contact Michael Eksteen, Emerson Process Management, +27 (0)11 451 3700, michael.eksteen@emerson.com, www.emersonprocess.com
Credit(s)
Further reading:
Siemens' software for digital transformation of automotive design
September 2021, Siemens Digital Industries , IT in Manufacturing
Model-based development process and systems are used in Japan and globally to adapt to the biggest automotive transformation in 100 years.
Read more...
---
Is track and trace through the factory a waste of time?
September 2021, Iritron , IT in Manufacturing
Modern track and trace solutions are purpose-built to introduce as little disruption to the existing production process as possible, while also being flexible enough to cater for plants that range from fully manual to fully automated.
Read more...
---
Modularity for scalability
September 2021, RJ Connect , IT in Manufacturing
Businesses are looking for versatile solutions that are easy to maintain to ensure smooth operations while keeping costs down.
Read more...
---
Saryx launches TMP
September 2021 , IT in Manufacturing
The digital transformation that has swept the world in the past few years has fundamentally altered most people's approach to technology, with an increasing number seeking the ability to manage their 
...
Read more...
---
Secure boundaries enhance industrial cybersecurity
September 2021, RJ Connect , IT in Manufacturing
When enhancing cybersecurity, it is important to understand how industrial systems are exchanging data and how they connect to IT-level systems.
Read more...
---
Siemens drives digital transformation at virtual Smart Mining forum
September 2021, Siemens Digital Industries , IT in Manufacturing
With its motto: 'On the road to the digital future', Siemens hosted its virtual Smart Mining forum from 3-5 August.
Read more...
---
Deep-learning AI made accessible
September 2021, SICK Automation Southern Africa , IT in Manufacturing
SICK Automation has launched a set of deep-learning software and services called dStudio, making artificial intelligence (AI) more accessible to the southern African market. This software works with machine 
...
Read more...
---
Level transmitter for hygienic applications
August 2021, Emerson Automation Solutions , Level Measurement & Control
The Rosemount 1408H Level Transmitter with IO-Link provides accurate, non-contacting measurement to help optimise operations and ensure food safety.
Read more...
---
How safe are our factories? Part 1: Cybersecurity for operational technology.
August 2021, Wolfpack Information Risk , IT in Manufacturing
If companies are regularly being subjected to cyber hacks overseas, isn't it only a matter of time before someone with enough motivation, skill and resources targets us?
Read more...
---
HSEC Online simplifies health and safety compliance for companies
Technews Industry Guide: Sustainable Manufacturing 2021 , IT in Manufacturing
This automated, cloud-based solution provides a transparent, collaborative workflow platform which eliminates most of the manual complexities of health and safety document management compliance.
Read more...
---