printer friendly version
Track and trace
August 2015
Industrial Wireless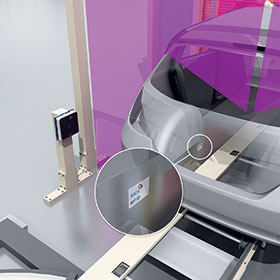 Continuous data recording on the vehicle itself can be used to identify a customised dream car through the entire production process right through to delivery. Track and trace processes can increase product customisation which can be implemented in the context of Industry 4.0.
The sensor technology detects which assembly steps must be taken on the basis of the car body itself – thus ensuring unique identification – and guarantees continuous transparency right through to delivery. Processing steps on the object are updated via rewritable RFID transponder. Reading reliability is a must, as errors could lead to misrouting, mix-ups, or loss of production. This is where RFID data cards, which can be attached to components or even integrated unseen within them, are coming into play more and more. They ensure maximum availability in practice, for example, when subjected to high temperatures on the painting line, and can then be reliably identified once covered in paint.
Keyword: 'Batch size 1'
Aspects such as transparency and traceability are playing an increasingly essential role for manufacturers, particularly as the level of variability in the production lines of large automobile plants is constantly on the rise and assembly lines are seeing ever more variants installed in parallel.
Vertical integration is the keyword for track and trace. The traceability of products during complex manufacturing and logistics processes stands at the forefront of this field. A transparent material flow is required in production and logistics so that production decisions can be made more quickly.
Delivery
The transparent material flow based on RFID plays a key role at the delivery stage too. Until the completed cars are ready to be picked up and transported to the dealerships, they are left parked in large parking lots. The problem occurs when it comes to finding a car that has to be transported. Every single car is made-to-order. Every car is different to the next. However, when information is stored on an RFID tag, the customer's dream car is located quickly and can be loaded up for transport in no time. This ensures transparency and traceability monitoring right through to the customer.
For more information contact Mark Madley, SICK Automation SA, +27 (0)11 472 3733, info@sickautomation.co.za, www.sickautomation.co.za
Credit(s)
Further reading:
Laser motion control sensor
October 2021, SICK Automation Southern Africa , Sensors & Transducers
SICK Automation's new Speetec laser motion control sensor is now available in South Africa.
Read more...
---
DEK wireless kit
October 2021, Turck Banner , Industrial Wireless
The standalone DEK wireless kit from Turck Banner includes everything needed for a remote preventive maintenance monitoring solution.
Read more...
---
Unwired unleashes new possibilities
October 2021, RJ Connect , Industrial Wireless
In situations where it is hard to wire or reconfigure industrial operations, wireless LANs (WLANs) provide an ideal alternative.
Read more...
---
Tag-specific requirements in RFID systems for track and trace
September 2021, Turck Banner , Editor's Choice, Industrial Wireless
The BL ident complete RFID system from Turck Banner offers solutions in the HF or UHF range with interfaces for use in a plant or switch cabinet.
Read more...
---
Safe supply in CNG operations
September 2021, SICK Automation Southern Africa , Flow Measurement & Control
The Flowsic500 compact ultrasonic gas meter enables extremely accurate natural gas distribution measurement.
Read more...
---
Deep-learning AI made accessible
September 2021, SICK Automation Southern Africa , IT in Manufacturing
SICK Automation has launched a set of deep-learning software and services called dStudio, making artificial intelligence (AI) more accessible to the southern African market. This software works with machine 
...
Read more...
---
Accurate flow measurement on a conveyor
August 2021, SICK Automation Southern Africa , Flow Measurement & Control
Heidelberg Cement in Lengfurt, Germany, needed a solution for the accurate metred supply of secondary material on its conveying system.
Read more...
---
Are you ready for the 2G/3G sunset?
August 2021, Throughput Technologies , Industrial Wireless
With widespread adoption of 4G technology and the growing availability of 5G, older technologies (2G and 3G) are now slowly being phased out.
Read more...
---
DXM series wireless controllers
August 2021, Turck Banner , Industrial Wireless
The robust, IP67-rated housing of Turck Banner's DXM1200E easily installs in most environments without the need for an additional enclosure.
Read more...
---
Wi-Fi in South African underground coal mines
August 2021, Extech Safety Systems , Industrial Wireless, IS & Ex
In the author's opinion, Wi-Fi and all it offers can dramatically improve safety in all industries, including underground coal mines.
Read more...
---