printer friendly version
Extendable multi-port valve blocks by GEMÜ
August 2015
Valves, Actuators & Pump Control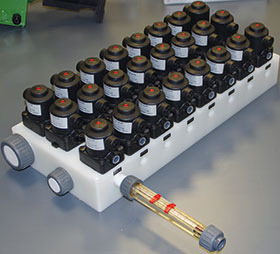 Lightweight, taking up less space, quick to fit and multipurpose – these requirements are becoming increasingly important for valve system components. Complex control of liquids and gases is generally carried out by means of numerous individual valves, connected to one another by fittings and piping. But this takes up a lot of space, and assembly is time-consuming because of the higher number of individual parts. Also, every assembly point and pipe connection is a potential leak, which increases the safety risk.
Compact plastic multi-port valve blocks are the ideal components here, as they can perform various functions while saving space. GEMÜ's experience with producing thousands of versions within the pharmaceutical industry is now being transferred to other industrial sectors. The bodies of plastic multi-port valves are made as standard of PVC-U, PP, PP natural, PVDF, PEEK and PTFE, but designs are also possible using other materials.
Multi-port valve blocks can also fulfil safety functions, double shut-off (double block and bleed), cross connections and control functions. These individual functions serve very specific purposes in individual situations, such as the taking of samples, the distribution of chemicals, the connection of cleaning media (CIP) and ensuring a minimum flow rate. There are also numerous more complex functions in connection with process automation: pressure or temperature sensors can be integrated for example. Intelligently designed, multi-port valve blocks can be developed into compact system components with a high degree of functionality.
Application example – dosing installations for detergent in industrial laundries
The Seitz company in Germany produces both a wide variety of detergents for industrial laundry applications, and automated systems for dosing these detergents. Compact multi-port valve blocks from GEMÜ are the key element of these systems as they make the corresponding dosing, distribution and flushing functions possible.
Operation of detergent dosing installations
Automated detergent dosing installations provide industrial laundries with flexibility, allowing them to adjust the required detergent composition individually to each specific cleaning program. Depending on the hardness of the water and the type and level of soiling, the cleaning agents, special additives and care products can be dosed to match the type of textile being washed.
In the case of conventional dosing installation designs, a separate dosing pump is required for each washing machine and medium. The resulting large number of pumps, hoses, unions and distribution components, makes extensive maintenance and calibration work necessary.
Compact design improves plant reliability
The use of GEMÜ multi-port valve blocks allows the number of pumps, hoses and fittings to be kept to a minimum on modern dosing installations. Here, only one pump is required per medium and multiple washing machines can be supplied with one dosing installation. Fewer welded and solvent cemented joints improve plant reliability because fewer leaks can occur as a result. Quick and easy assembly of the customised units also reduces the assembly time required and saves costs.
Multiple functions in one multi-port valve block
In order to achieve a more compact design, all dosing, distribution and flushing functions are combined in one multi-port valve block. The dosing pump for each medium is connected to a variable area flowmeter which are each connected directly to the multi-port valve block. The valve block consists of three rows of pneumatically actuated diaphragm valves. Here, the first valve row at the bottom is used to dose the medium. Depending on the requirements, quantities of 10-200 ml are metered out. The valves in the second row control which washing machine the medium is sent to and the upper, third row of the valve block is used to flush the unit with water after every dosing process.
Expandability of existing plants
Multi-port valve blocks can be extended. If an industrial laundry adds washing machines to its plant, the existing dosing unit can be extended by the required number of valves with just a few simple modifications without the need for additional piping, solvent cemented joints or welds.
Generally speaking, multi-port valve block technology by GEMÜ can be applied on all kinds of industrial processes, wherever mixing, dividing, diverting, draining, feeding and other processes are occurring.
For more information contact Claudio Darpin, Gemü Valves Africa, +27 (0)11 462 7795, claudio.darpin@gemue.co.za, www.gemu-group.com
Further reading:
Schubert & Salzer and Macsteel
September 2021, Macsteel Fluid Control , Valves, Actuators & Pump Control
The demand on valves, particularly in tyre production plants, is extreme with tyre curing presses working constantly at high temperatures and pressures.
Read more...
---
Chinese LNG tanker fitted with ARCA anti-surge valves
September 2021, Valve & Automation , Valves, Actuators & Pump Control
ARCA anti-surge valves avoid surging by accurately adjusting the gas circulation or blow-off flow, effectively protecting the safety of the compressor unit.
Read more...
---
Electrified subsea actuator for offshore production
September 2021 , Valves, Actuators & Pump Control
Bosch Rexroth has engineered the SVA R2 Subsea Valve Actuator as a disruptive innovation for electrically actuating valves in the subsea process industry. It can replace conventional hydraulic cylinders 
...
Read more...
---
Eliminate bearing failures in TOVs
August 2021, Valve & Automation , Valves, Actuators & Pump Control
Bearing failures are among the highest root causes of failure in triple offset valves (TOV) for tight shutoff applications. This issue is directly attributed to the need to have metal bearings with very 
...
Read more...
---
Locally manufactured knife gate valves
August 2021, Bearing Man Group t/a BMG , Valves, Actuators & Pump Control
BMG and Abrasive Flow Solutions (AFS) play a major role in the local valves sector, through the design, distribution, supply and support of a broad range of slurry related valves.
Read more...
---
Protect your pump and keep it longer
July 2021, Elemental Analytics , Valves, Actuators & Pump Control
Unexpectedly losing a pump is often an expensive or even a dangerous problem in a chemical plant.
Read more...
---
Locally valves manufactured for tailings pipeline
June 2021 , Valves, Actuators & Pump Control
The AFS manufacturing plant in Benoni is equipped with advanced equipment and is supported by specialists who offer dependable technical support to ensure the optimum safety, efficiency and extended service life of every system.
Read more...
---
New flange monoblock with shut-off valve
March 2021, WIKA Instruments , Valves, Actuators & Pump Control
WIKA's new monoblock with flange design integrates a shut-off valve to separate the process from the instrument side.
Read more...
---
The Stafsjö HX story – greater demand calls for action
February 2021, Valve & Automation , Valves, Actuators & Pump Control
As a knife gate valve supplier, Stafsjö supplies product solutions to realise efficiency and production goals in pulp and paper applications.
Read more...
---
Drives for solar-powered pump systems
February 2021, Bearing Man Group t/a BMG , Valves, Actuators & Pump Control
BMG advises on how to optimise efficiency and extend the service life of solar-powered pumping systems by selecting the correct drives.
Read more...
---