printer friendly version
Rubber lined ball sector valves
August 2015
Valves, Actuators & Pump Control
Controlling abrasive fluids is known to be a challenge for any industrial application. All valve technologies have pros and cons, and they need to be evaluated in the light of the media to be controlled. The main ratios to be taken into account are purchase cost, installation cost and most importantly when it comes to abrasive media; the cost for maintanance.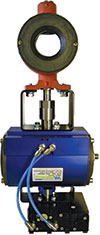 Ramén's KSG is a rubber lined valve that offers extended resistance to wear and tear in the valve for slurries, gravel, powder, iron ore and other highly abrasive media. The natural rubber design, applied on the ball sector and in the valve house gives a valve with very long life time in any situation with maintained throttling and isolating characteristics. The KSG was developed in the beginning of the 1970s together with mining companies in Sweden. When a high end control or a long life isolating valve is needed for tough media the Ramén KSG valve can be used in wafer and flanged design.
Challenge
Prior to the development and use of rubber lined valves, the standard solution found in mining operations handling abrasive media were stainless steel or iron cast valves. This proved to be an inefficient solution, both technically as well as financially. To provide an example Ramén, at several occasions in mining operations, installed a standard stainless steel ball sector valve type KS size 150 mm, with hard chromium faced ball sector and stellite inlet cover ring and seat ring. When inspecting the valves approximately 40 days after the installation, water leaked through the body. The water was leaking through a hole just in the middle of the body and additionally, the inlet cover ring, ball sector and seat ring were badly worn.
Application 1: Iron ore dressing plant
Throttling of deposit from thickener:
• Flow 120-240 m³/h with 10–30% solids.
• Grain size about 1 mm.
• Inlet pressure – 0,8 bar.
• Pressure drop 0.8 bar.
Measures and results
Soft natural rubber is, in certain cases, much more resistant than steel. A soft rubber lined size 150 mm was installed in exactly the same application.
The valve was then taken out for inspection after 6 months (after 4 months continuous service), and absolutely no damage from wear was observed. Several other valve technologies had been tested e.g. rubber pinch valve, lined butterfly valves etc. in the same service and none had lasted more than about 2 months.
Application 2
Throttling control of water to magnetic separator where iron is separated from granite.
• Flow 90 m³/h with 12–15 g solids/litre.
• Inlet pressure – 2 bar.
• Pressure drop 2 bar.
Measures and results
Two years after installation the KSG rubber lined valve was taken out of service. The rubber was beginning to come loose from the sector but the valve was in very good condition. Experiences has established the KSG valve design as the preferred valve technology in severe services and replaced other valve technologies e.g pinch valves.
Conclusions
Since the development of the Ball Sector Valves in 1968 and the KSG in 1973 Ramén Ball Sector Valves have been used successfully in thousands of installations in mining and other industries for controlling abrasive media with outstanding ratios for purchase cost, installation cost and mostly important, the costs for maintenance and replacements.
Credit(s)
Further reading:
Schubert & Salzer and Macsteel
September 2021, Macsteel Fluid Control , Valves, Actuators & Pump Control
The demand on valves, particularly in tyre production plants, is extreme with tyre curing presses working constantly at high temperatures and pressures.
Read more...
---
Chinese LNG tanker fitted with ARCA anti-surge valves
September 2021, Valve & Automation , Valves, Actuators & Pump Control
ARCA anti-surge valves avoid surging by accurately adjusting the gas circulation or blow-off flow, effectively protecting the safety of the compressor unit.
Read more...
---
Electrified subsea actuator for offshore production
September 2021 , Valves, Actuators & Pump Control
Bosch Rexroth has engineered the SVA R2 Subsea Valve Actuator as a disruptive innovation for electrically actuating valves in the subsea process industry. It can replace conventional hydraulic cylinders 
...
Read more...
---
Eliminate bearing failures in TOVs
August 2021, Valve & Automation , Valves, Actuators & Pump Control
Bearing failures are among the highest root causes of failure in triple offset valves (TOV) for tight shutoff applications. This issue is directly attributed to the need to have metal bearings with very 
...
Read more...
---
Locally manufactured knife gate valves
August 2021, Bearing Man Group t/a BMG , Valves, Actuators & Pump Control
BMG and Abrasive Flow Solutions (AFS) play a major role in the local valves sector, through the design, distribution, supply and support of a broad range of slurry related valves.
Read more...
---
Protect your pump and keep it longer
July 2021, Elemental Analytics , Valves, Actuators & Pump Control
Unexpectedly losing a pump is often an expensive or even a dangerous problem in a chemical plant.
Read more...
---
Locally valves manufactured for tailings pipeline
June 2021 , Valves, Actuators & Pump Control
The AFS manufacturing plant in Benoni is equipped with advanced equipment and is supported by specialists who offer dependable technical support to ensure the optimum safety, efficiency and extended service life of every system.
Read more...
---
New flange monoblock with shut-off valve
March 2021, WIKA Instruments , Valves, Actuators & Pump Control
WIKA's new monoblock with flange design integrates a shut-off valve to separate the process from the instrument side.
Read more...
---
The Stafsjö HX story – greater demand calls for action
February 2021, Valve & Automation , Valves, Actuators & Pump Control
As a knife gate valve supplier, Stafsjö supplies product solutions to realise efficiency and production goals in pulp and paper applications.
Read more...
---
Drives for solar-powered pump systems
February 2021, Bearing Man Group t/a BMG , Valves, Actuators & Pump Control
BMG advises on how to optimise efficiency and extend the service life of solar-powered pumping systems by selecting the correct drives.
Read more...
---