printer friendly version
Pilz safety products in packaging applications
August 2015
IS & Ex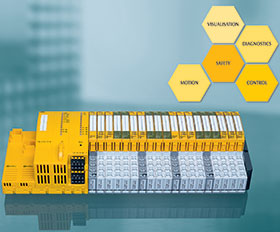 Pilz has developed a one-stop solution for most industries, including packaging. It has tailor-made solutions for complex applications using the PSS4000 safety PLC or straight-forward applications using the tried and tested safety relays. For everything in between, Pilz has a range of programmable safety relays (the PNOZ multi range), which is cost effective, expandable and easy to configure.
Pilz has an excellent reputation on the control side and now it is able to offer a full range of safety sensors for all applications on automated lines, which includes light curtains, e-stops, coded sensors, gate locks, etc. A new coded sensor has just been launched with a magnetic holding force, so that a latch is not necessary, and the advanced light curtains come with a full range of options, such as blanking and muting.
When it comes to choosing a safety sensor or control device it should not just come down to price: when a risk assessment is done there are a number of factors to be considered and one of these is the mean time to dangerous failure. (This value is determined in systems as a safety parameter according to standard EN ISO 13849.) Pilz carries out repeat testing of equipment and safety devices, to make sure that these meet and exceed the safety standards.
Safety devices are often seen as a hindrance to productivity, but with the correct design and best choice of products, safety and productivity can be achieved. Machine operators should not feel that life or limb is in danger while they are working.
How much safety does a packaging machine need?
Safety is gaining ground in modern engineering. Every day new functions are being added to packaging machinery in order to cope with the different types of products in terms of design, size and container. Machinery is now more flexible as a result of decentralised drive technology, which means the demands on safety, including the implementation of the relevant safety functions, has increased. The question "How much safety does a machine actually need?" is easy to answer: The protection of man and machine must be guaranteed, as must the ability to design production processes individually.
Short product life cycles, high variability and modern packaging materials mean that machines are ever more flexible and place heavy demands on technology and processes alike. Everyday life is governed by the frequent interchange of contents and packaging. Automation technology with individual drives meets this requirement for flexibility, dynamics fault reaction, and changeover at the touch of a button. Generally it offers even greater availability while still increasing performance. In doing so, the limits of automation are often reached, while operator capabilities must also be considered as part of the production process.
Safety devices protect operating personnel
Even on packaging machinery with high quantity output, the operator often plays no more than a subordinate role. Interaction with the machine is mostly limited to packaging refills, or brief interventions in the case of a fault. For this reason, not too much importance is attached to the use of qualified personnel to operate the machine. Covers, fences and gates are used as safety devices to prevent direct access and exclude the possibility of injury. Hazards arise when the machine is run outside of production mode, during setup or cleaning for example, or when the process requires some intervention while the machine is active. In this case, machine safety must be designed to enable human errors to be intercepted.
Safety in the classical sense will always refer to personal safety: risk must be kept to a minimum. To exclude the risk completely manufacturers would actually need to stop using operating personnel all together. However, the huge increase in machine flexibility has only come about as a result of improved interaction between man and machine. Complete automation, including during setup and cleaning, would increase costs and labour exponentially. Over the next few years, this interaction between man and machine will result in even more developments in the area of safe sensor technology and safe data communication.
For more information contact Craig Cuff, Prime Automation, +27 (0)41 819 7746, craig@primeautomation.co.za, www.primeautomation.co.za
Further reading:
Fluke's intrinsically safe tools
September 2021, Comtest , IS & Ex
Fluke offers a growing number of intrinsically safe tools, which dampen the available energy at the output terminals and do not produce any static electricity.
Read more...
---
Inventory management for LNG
September 2021, Endress+Hauser South Africa , IS & Ex
Endress+Hauser's innovative instrumentation and advanced inventory management solutions for LNG storage tanks ensure safe operation of plant and high levels of inventory transparency.
Read more...
---
Smart machines improve safety
September 2021, Rockwell Automation , IS & Ex
Manufacturers can harness the power of data to improve their safety compliance and performance using two new smart safety devices from Rockwell Automation.
Read more...
---
Troubleshooting process loops in Ex areas
September 2021, Comtest , IS & Ex
Tracking down problems within a process loop can be a difficult challenge in the best of environments. Doing so in an area that has the potential for explosion takes the degree of difficulty to another level.
Read more...
---
Monitor access to cabinets
July 2021, Turck Banner , IS & Ex
A gas transfer station of the Villingen-Schwenningen municipal utility company uses Turck Banner's IMX12-CCM to monitor control cabinets and thus offer reliable protection from manipulation.
Read more...
---
Tube connector for Ex areas
May 2020, Parker Hannifin - Sales Company South Africa , IS & Ex
Parker Hannifin has extended its Phastite permanent instrumentation connection range, which is now available in a number of corrosion-resistant alloys (CRAs), including Alloy 825, 625 and Super Duplex, 
...
Read more...
---
How to calculate an intrinsically safe loop approval - updated and revised
March 2021, Extech Safety Systems , IS & Ex
We all know what can happen when the correct techniques are not used when interfacing into a hazardous area.
Read more...
---
Robust safety light curtains
April 2021, Turck Banner , IS & Ex
Ez-Screen LS light curtains are intuitive, easy-to-use safety devices designed by Turck Banner for machine safeguarding.
Read more...
---
Delivering modern SIS for wellhead applications
April 2021, Emerson Automation Solutions , IS & Ex
Keeping the safety and non-safety functions separate while achieving seamless integration.
Read more...
---
Enterprise mobility for hazardous areas
March 2021, Pepperl+Fuchs , IS & Ex
Enterprises can easily select and manage Android devices and services with the new Android Enterprise Recommended devices – verified by Google.
Read more...
---