printer friendly version
Learning versus training – the power of know- how
August 2015
News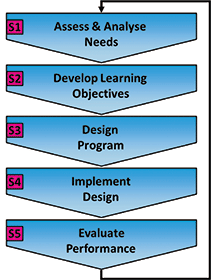 Process engineering is anything but simple: how can we impart information that is hard to digest in an easily accessible manner? For the process automation sector, it is not only difficult to find suitably qualified staff, but the ones who are available are often not the most experienced having just completed their studies.
The life cycle of technology is getting shorter and shorter. How does a technical person stay up to date? As for the process plants and factories, how can they be sure that they exploit the options of the technology and field instruments you are using today? In today's cost cutting efficiency requirements; plant availability, product quality and safety are becoming key – with the instrumentation technician or engineer needing to understand the complete life cycle of a plant to ensure maximum sustainability of a process plant. This change is no longer merely just a question of maintenance.
Apart from hiring new staff and on-boarding these members, another aspect that needs attention is the further education of staff. How much does a company invest in further education and do they have any idea if the money is well invested? It is no longer a matter of just 'attending' training, but to learn and comprehend while being able to utilise these skills the very next week in plant conditions.
In the past the focus was on the delivery of training, which means that a check mark was made after a person attended a course, and it was assumed that they now had the knowledge and skills to perform better in their jobs.
Endress+Hauser stands for a shift in this paradigm. Its focus is not on delivering a training course, but on the learner to ensure they really acquire the new knowledge and skills to apply in their jobs. To ensure the success of such a program, an instructional system design model has been designed. Called 'The Training Cycle' it consists of five steps:
First: Analyse the training needs. A gap analysis is done to clarify questions about target group, necessary and existing preconditions, and other frame conditions.
Second: Develop learning objectives. A learning objective is a specific performance statement about knowledge or skills which should be gained during the program. They are essential because based on the learning objectives, the content will be developed and also the success of the program will be assessed.
Third: Design the program. Based on the needs-analysis only the necessary content is developed, which will then be transferred using an interactive style that takes into account the latest findings about adult-learning.
Finally steps four and five are implemented to address the implementation and complete the final evaluation.
Endress+Hauser South Africa has addressed these needs and launched the Universal Training Rig (UTR) at the Africa Automation Fair in May. Purpose built at the company's Application Training Centre (ATC) in Switzerland, the UTR utilises 20 devices from the company's extensive range of flow, level, pressure and pH measuring instruments, in a variety of flow and control loop configurations.
The integrated oil, water, acid and alkaline reservoir tanks, combined with mixing and separation chambers allow a huge range of flow, level and pH conditions to be created through the utilisation of different control loop strategies based on pressure, temperature, level, density and pump speed primary values.
Whilst not emulating a production process of any specific industry, the UTR presents the application frame conditions in a way that offers a variety of training possibilities. An agitator (level disturbance), heater element (temperature changes) and injected compressed air (entrained gas) allow the process conditions to be interrupted in a controlled manner giving the trainee a practical perspective of the sensitivities of each instrumentation type operating under varying field conditions. All operational parameters including instrument selection are controlled via the integrated PLC and touch screen display.
Endress+Hauser now offers two new intensive five-day training courses targeted at technical plant personnel from technician and engineer grades right through to maintenance, engineering and project management. The courses cover all of the major process measurement classes including level, flow, pressure, temperature and analytical, starting from the principles of operation through to application topics such as meter selection, installation, application issues and basic trouble shooting. The trainee is introduced at a practical level to the standard Endress+Hauser instrument selection and sizing software tool 'Applicator' plus hands on instrument configuration and troubleshooting using the device keyboard and display as well as the service software tool 'FieldCare'.
As well as 'real life' instrument and control operation, the UTR also allows different field communication strategies to be presented via its use of Wireless HART, Profibus as well as standard 4-20 mA connections. Supplementary topics such as reading and understanding P&ID diagrams and plant asset management are also included. The courses are interactive with all theory accompanied by extensive practical assignments on the UTR itself followed by written assessments thus maximising the learning experience.
For more information contact Chris Gimson, Endress+Hauser, +27 (0)11 262 8000, info@za.endress.com, www.za.endress.com
Credit(s)
Further reading:
From the editor's desk: Is additive manufacturing poised to go mainstream?
March 2021, Technews Publishing (SA Instrumentation & Control) , News
As digital manufacturing technology pushes its way further towards the production floor, additive manufacturing (3D printing) is emerging as a viable option to complement the more traditional methods 
...
Read more...
---
Female talent switches on to engineering careers with ABB
September 2021, ABB South Africa , News
ABB's Sustainability Strategy incorporates driving social progress, equality and diversity to create safe, fair and inclusive working environments and support community building.
Read more...
---
MESA Africa – call for papers 2021
September 2021, MESA Africa NPC , News
We invite you – the manufacturing community – to submit papers showcasing your success stories and inspiring ideas, coping under restrictions, and illustrating this year's theme: The Art of the Possible: Manufacturing Without Limits.
Read more...
---
Hazardous locations seminar and cable gland training
September 2021 , News
The courses equip artisans and engineers with the skills needed to gain maximum benefit from Pratley's electrical products.
Read more...
---
Endress+Hauser integrates concentration measurement specialist
September 2021, Endress+Hauser South Africa , News
SensAction was founded in 2008 and has been part of the Endress+Hauser Group since 2017.
Read more...
---
Omron joins The Valuable 500
September 2021, Omron Electronics , News
The Valuable 500 aims to get leaders of multinational companies to bring about changes in business, society and the economy so that persons with disabilities can realise their true potential.
Read more...
---
Endress+Hauser honours its inventors
September 2021, Endress+Hauser South Africa , News
More than 500 inventors gathered virtually for Endress+Hauser's 21st Innovators' Meeting.
Read more...
---
Neles to acquire the valve and pump businesses of Flowrox
September 2021, Neles South Africa , News
Neles has signed an asset purchase agreement to acquire the valve and pump businesses of the Finland-based technology company, Flowrox.
Read more...
---
Bosch Holdings celebrates 60 years
September 2021 , News
In 1961, it was inconceivable for the founders of Bosch Holdings to have known that 60 years later, the company would have expanded into a global operation.
Read more...
---
Danfoss completes acquisition of Eaton's hydraulics business
September 2021, Danfoss , News
Danfoss has officially finalised its US$3,3 billion acquisition of Eaton's hydraulics business, following confirmation of all necessary regulatory approvals and closing conditions.
Read more...
---