printer friendly version
Moxa's high bandwidth wireless solutions enable reliable video-over-wireless networks
Technews Industry Guide - Wireless 2015
Industrial Wireless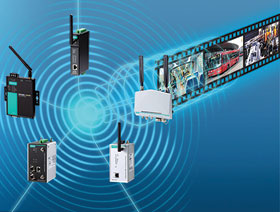 Moxa has introduced a complete series of high bandwidth wireless solutions for enabling video-over-wireless networks in industrial automation applications. The products feature low latency, seamless mobility, and a rugged design. The high bandwidth wireless product portfolio Moxa offers includes both 802.11n for WLANs and HSPA for WWANs, making it easier for bandwidth hungry systems, such as are used for IP surveillance, to transmit video data over a wireless network.
"Moxa has produced world-class industrial wireless products for many years. However, we recently saw an increasing demand to deploy video-over-wireless networks for IP surveillance systems and wireless hotspots in hard-to-wire environments," said Moxa product manager, Jeffrey Ke. "Operators are not only asking for wireless devices that support high bandwidth technology, such as the 802.11n or HSPA standards, they are also looking for a solution for building a reliable wireless network. To achieve this, wireless devices must provide real-time communication, seamless connections even on the move, and a rugged design for harsh environments. Our AWK and OnCell series offer end-users a comprehensive solution that fulfils all of these demands. Features such as dual-radio redundancy technology and GuaranLink technology are designed to achieve zero packet loss transmission, Turbo Roaming delivers unstoppable wireless communication even when connected to vehicles moving at high speed, and a variety of industrial-grade design features and certifications ensure that your wireless network can provide reliable video-over-wireless transmission."
Moxa has experience helping customers implement video-over-wireless networks in many different scenarios (IP surveillance and wireless hotspots) and for a variety of industrial applications. It offers reliable high bandwidth wireless solutions and professional field application engineers are available to assist users with a wide range of tasks, from network planning to field site deployment.
Credit(s)
Further reading:
Pallet power in the chemical industry
June 2021, Turck Banner , Industrial Wireless
Contactless detection of incoming and outgoing goods provides those involved in logistics with considerably greater transparency of stock levels.
Read more...
---
Building secure networks
June 2021, RJ Connect , IT in Manufacturing
This article explores how to build resilient industrial networks and deploy cybersecurity defences in order to sustain continuous industrial operations.
Read more...
---
Wearable device keeps workers safe during the pandemic
June 2021, RS Components SA , Industrial Wireless
Maintaining social distancing is key to limiting the spread of coronavirus, but it can be a real challenge in busy workplaces such as manufacturing facilities, warehouses and construction sites.
Read more...
---
Remote monitoring of temperature in cryopreservation facilities
March 2021, Omniflex Remote Monitoring Specialists , Industrial Wireless
When the Medical Research Council needed to upgrade sixteen of its facilities to monitor temperature and humidity levels in its -80°C sample storage area, it engaged Omniflex to find a solution.
Read more...
---
New opportunities bring new threats
March 2021, RJ Connect , IT in Manufacturing
With greater connectivity comes greater exposure to cyber threats. So how do we keep the world's critical infrastructure and manufacturing environments safe from cyberattacks?
Read more...
---
Manage OT networks remotely, without introducing intruders
May 2021, RJ Connect , IT in Manufacturing
By adapting through digital transformation, OT network infrastructure starts growing in scale and becomes increasingly complex and interconnected.
Read more...
---
RFID system tracks meat production in Chinese slaughterhouse
February 2021, Turck Banner , Industrial Wireless
To implement the tracking of the pork across all process levels, every pig is provided with an electronic earring containing the relevant data.
Read more...
---
Three key considerations to build reliable wireless communications for AGVs
February 2021, RJ Connect , Industrial Wireless
Moxa has helped machine OEMs and system integrators worldwide to augment their AGVs and AS/RS for optimal reliability and efficiency.
Read more...
---
Monitoring critical assets for tailings and pipeline feed system
November 2020 , Industrial Wireless
Monitoring of tailings dams can be performed by various methods depending on actual mining operation procedures.
Read more...
---
Wireless at the edge
November 2020, RJ Connect , Industrial Wireless
The ultimate goal of most industrial automation applications is to obtain actionable insights from data sources for more precise decision-making. To achieve this, businesses need to make their field data 
...
Read more...
---