printer friendly version
Benefits of using WirelessHART instruments in hazardous locations
Technews Industry Guide - Wireless 2015
Industrial Wireless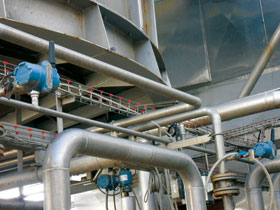 When instruments are required to be installed in hazardous areas, there is a requirement that all wiring must be installed and maintained to the relevant standards to prevent an ignition of the explosive environment. The costs of protecting a wired 4-20 mA HART instrument in hazardous areas is not just simply the installation cost but also ongoing inspections and remedial works that will inevitably follow.
WirelessHART devices certified to the relevant protection level for the hazardous area can reduce the duration and complexity of inspections due to the reductions of equipment installed in the hazardous area, such as the wiring, junction boxes, cables and IS barriers needed with a traditional wired installation. WirelessHART process transmitters can be powered by an IS power module, which eliminates the need for power and signal wiring. Such power modules are field interchangeable in the hazardous location.
Inspection requirements
4-20 mA HART field transmitters require wiring, conduits, cable trays, field junction boxes and marshalling cabinets. If the instrument is 4-wire, it must have separate power wiring. All wiring systems must meet the requirements of IEC 60079 for the type of protection that the circuit is certified for. This could be 'EX ia' for intrinsically safe, 'Ex d' for explosion-proof or one of the other types of protection permitted.
IEC 60079 covers the use of electrical equipment in hazardous areas. IEC 60079-14 requires that an initial inspection must be carried out when the equipment is first installed. IEC 60079-17 says that the interval between following inspections shall not exceed three years without seeking expert advice. Typical inspections are done annually.
Cutting costs with WirelessHART
Adoption of WirelessHART equipment can have significant impact on both capex (capital expenditures) and opex (operating expenses).
In the capex phase, designs using a wireless device can achieve cost savings. By removing the glands, wires, conduit/tray, field junction boxes and marshalling cabinets wiring component costs are reduced, and further savings are realised by eliminating associated installation drawings and equipment lists that are required for maintenance and installation.
WirelessHART also reduces opex, especially the cost of hazardous area inspections. This is due to not having to have supporting infrastructure between the device and the host system for the measurement circuit. Only the instruments themselves have to be inspected and possibly the wireless gateways if they are installed in the hazardous area. In many instances, these gateways can be installed outside of the hazardous area, further cutting costs.
In comparison the costs of inspecting and maintaining wired 4-20 mA HART or fieldbus process instruments in a hazardous area is very high because of the need to support the instruments with an infrastructure including power supplies, wires, and conduit and marshalling cabinets. All of these items need to be protected from igniting a flammable or explosive atmosphere, all of this equipment needs to be inspected on a regular basis, and repairs are often required to keep the entire system safe.
Using WirelessHART eliminates wiring infrastructure, and reduces required inspection tasks.
For more information contact Michael Eksteen, Emerson Process Management, +27 (0)11 451 3700, michael.eksteen@emerson.com, www.emersonprocess.com
Credit(s)
Further reading:
Siemens makes industrial 5G router available
July 2021, Siemens Digital Industries , Industrial Wireless
Router supports future-oriented applications such as remote access via public 5G networks or the connection of mobile devices such as automated guided vehicles in industry.
Read more...
---
NearFi couplers for contactless power and data transmission
July 2021, Phoenix Contact , Industrial Wireless
By launching NearFi, Phoenix Contact has introduced a new, innovative technology for contactless power and data transmission in the near-field range.
Read more...
---
Pallet power in the chemical industry
June 2021, Turck Banner , Industrial Wireless
Contactless detection of incoming and outgoing goods provides those involved in logistics with considerably greater transparency of stock levels.
Read more...
---
Wearable device keeps workers safe during the pandemic
June 2021, RS Components SA , Industrial Wireless
Maintaining social distancing is key to limiting the spread of coronavirus, but it can be a real challenge in busy workplaces such as manufacturing facilities, warehouses and construction sites.
Read more...
---
Thief hatch monitoring
June 2021, Emerson Automation Solutions , Operator Interfaces, Switches & Relays
As thief hatches on oil storage tanks are necessary for maintenance, it is essential to monitor the hatch is closed so that it does not contribute to overall emissions limits.
Read more...
---
Emerson introduces Digital Maturity Quick Index
April 2021, Emerson Automation Solutions , IT in Manufacturing
Resource helps companies self-assess operations and identify opportunities for the highest potential return on investment.
Read more...
---
Delivering modern SIS for wellhead applications
April 2021, Emerson Automation Solutions , IS & Ex
Keeping the safety and non-safety functions separate while achieving seamless integration.
Read more...
---
Remote monitoring of temperature in cryopreservation facilities
March 2021, Omniflex Remote Monitoring Specialists , Industrial Wireless
When the Medical Research Council needed to upgrade sixteen of its facilities to monitor temperature and humidity levels in its -80°C sample storage area, it engaged Omniflex to find a solution.
Read more...
---
Emerson user conference to focus on smarter, safer, more sustainable operations
March 2021, Emerson Automation Solutions , News
Emerson Users Exchange Live 2021 EMEA online conference offers new insights and innovations that are driving performance improvements for manufacturers.
Read more...
---
RFID system tracks meat production in Chinese slaughterhouse
February 2021, Turck Banner , Industrial Wireless
To implement the tracking of the pork across all process levels, every pig is provided with an electronic earring containing the relevant data.
Read more...
---