printer friendly version
A solution for remote monitoring
Technews Industry Guide - Wireless 2015
Industrial Wireless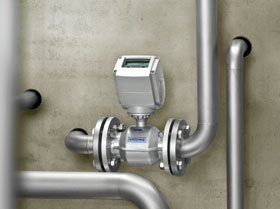 Access to a reliable source of water is an essential requirement for companies operating in remote areas. Sometimes the infrastructure and management systems provided by companies are also used to supply local communities and rural industries. Therefore measurement of water flows is an essential pre-requisite to monitoring and gaining better understanding of water consumption in networks. As mechanical water meters require a high level of maintenance and have inaccuracies e.g. when measuring large variations in flow rates, electromagnetic water meters are on the rise in water metering applications.
A dedicated solution for remote applications: Waterflux 3070 C is a battery powered, maintenance free electromagnetic water meter that features a unique flow sensor design with rectangular cross-section allowing for a significant reduction of magnetic field excitation. As the coils are arranged so that a strong, homogeneous magnetic field is formed, the measurement is therefore independent of the flow profile and very stable.
This results in a very good low flow performance and allows the operation without inlet and outlet runs. Further, the Rilsan liner of the flow sensor is highly resistant to pressure or vacuum conditions, to corrosion and ageing. An optional data logger and GSM module allows for remote meter reading and wireless transmission of measurement data and status information.
For more information contact John Alexander, Krohne SA, +27 (0)11 314 1391, j.alexander@krohne.com, www.krohne.com
Credit(s)
Further reading:
Siemens makes industrial 5G router available
July 2021, Siemens Digital Industries , Industrial Wireless
Router supports future-oriented applications such as remote access via public 5G networks or the connection of mobile devices such as automated guided vehicles in industry.
Read more...
---
NearFi couplers for contactless power and data transmission
July 2021, Phoenix Contact , Industrial Wireless
By launching NearFi, Phoenix Contact has introduced a new, innovative technology for contactless power and data transmission in the near-field range.
Read more...
---
Key factors for picking the optimal flowmeter
July 2021, KROHNE , Flow Measurement & Control
While a variety of factors impact meter performance, the most common culprits are flawed sizing and failing to choose the most appropriate technology.
Read more...
---
Advances in pipeline leak detection
June 2021, KROHNE , Maintenance, Test & Measurement, Calibration
The high rate of false alarms in standard pipeline leak detection systems can force system operators to waste labour chasing down problems that do not exist. Fortunately, newer technology provides an alternative.
Read more...
---
Pallet power in the chemical industry
June 2021, Turck Banner , Industrial Wireless
Contactless detection of incoming and outgoing goods provides those involved in logistics with considerably greater transparency of stock levels.
Read more...
---
Wearable device keeps workers safe during the pandemic
June 2021, RS Components SA , Industrial Wireless
Maintaining social distancing is key to limiting the spread of coronavirus, but it can be a real challenge in busy workplaces such as manufacturing facilities, warehouses and construction sites.
Read more...
---
Remote monitoring of temperature in cryopreservation facilities
March 2021, Omniflex Remote Monitoring Specialists , Industrial Wireless
When the Medical Research Council needed to upgrade sixteen of its facilities to monitor temperature and humidity levels in its -80°C sample storage area, it engaged Omniflex to find a solution.
Read more...
---
RFID system tracks meat production in Chinese slaughterhouse
February 2021, Turck Banner , Industrial Wireless
To implement the tracking of the pork across all process levels, every pig is provided with an electronic earring containing the relevant data.
Read more...
---
Unlimited performance in limited spaces
February 2021, KROHNE , Editor's Choice
The new AF-E 400 is the culmination of KROHNE`s 70 years of expertise in electromagnetic flow measurement and was specifically designed for industrial automation applications.
Read more...
---
Three key considerations to build reliable wireless communications for AGVs
February 2021, RJ Connect , Industrial Wireless
Moxa has helped machine OEMs and system integrators worldwide to augment their AGVs and AS/RS for optimal reliability and efficiency.
Read more...
---