printer friendly version
Honeywell OneWireless at Codeco
Technews Industry Guide - Wireless 2015
Industrial Wireless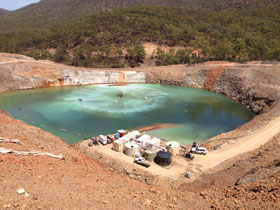 The challenge
One of the world's largest copper producers, Codelco needed to optimise the water recovery process of the thickener pools at its Norte mine in Chile. Water used in mineral processing is recovered for reuse and the thickeners need to gauge the levels with accuracy as well as communicate the information from the field to the central control room. Without that data, the multivariate predictive application based on Honeywell's Profit Controller could not optimise the water recovery process. Therefore, issues of gauging the level of several thickeners, the ability of communicating data and process optimisation required a reliable and cost-effective solution.
With a huge amount of precipitation in the pools, to process recovered water and to send residuals to the tailing was problematic, as Codelco could not retrieve accurate or timely water levels of both the dark (untreated) and recovered (clean treated) water of the pool. If clear water levels are too low, then not enough water is recovered. Plus, the pools were suddenly empty because there was no way to measure levels except manually. In addition, the topography of the region presented many obstacles including climate and distance challenges.
"The inability to gauge online and the high cost of maintaining the traditional wired network (frequently broken by heavy trucks and machinery) caused very low availability of measurement," said Guillermo Cortés, concentrator automation leader, Codelco.
The solution
Codelco chose Honeywell's OneWireless network to connect new field devices in the mine to the existing Honeywell TPS control system. The OneWireless network is used to connect Siemens S7 300 PLCs to the Honeywell infrastructure. The PLCs are then used to manage equipment and instruments installed at each tank and pool. Since installing the system, the use of water is much more efficient because the level of water in the thickeners can be accurately gauged in real-time.
"We chose the OneWireless system because it offered the most dependable solution for both our complex operation and the advanced control application, since it provides a higher capacity to support real-time gauging and instrumentation," said Cortés. "Our desert zone has many challenges including topography, the long distance between the thickeners and control room, and the extreme environment conditions of radiation, wind and temperatures. We are very pleased with the reliability of the Honeywell solution."
There are seven OneWireless multinodes covering the site. One gateway is used to send the Modbus data collected from the PLC to the Honeywell TPS. With the installation of OneWireless, operators in the control room can call information from the PLCs under the Honeywell TPS control system. This information can be fed into the Profit Controller application to optimise process control of the facility.
The benefits
After the successful implementation of the network to support PLCs, Codelco decided to install Honeywell XYR 6000 high level analogue input transmitters to monitor the level of the clear and dark water using ultrasonic transmitters. The information is automatically transmitted to operators who can make sure water levels remain accurate.
"OneWireless has given us meaningful benefits. We can now gauge and remotely transmit multiple variables with high availability in real-time. We can now gauge and manage the thickeners' levels and flows and the efficiency of the whole process has greatly improved," said Cortés.
The Honeywell OneWireless solution provides a communications network and protects investments by integrating Honeywell and other third-party products. In addition, these solutions are guaranteed to migrate to emerging wireless standards. Much more than just avoiding the cost of wire, the breakthrough value lies in the ability to integrate valuable data into existing control systems and advanced applications, while also sharing that data with other networked applications.
For more information contact Boni Magudulela, Honeywell Southern Africa, +27 (0)11 695 8000, boni.magudulela@honeywell.com, www.honeywellprocess.com
Credit(s)
Further reading:
Take data to the cloud wirelessly
February 2020, RJ Connect , Industrial Wireless
The ultimate goal of most industrial automation applications is to obtain actionable insights from data sources for more precise decision-making. To achieve this, businesses need to make their field data 
...
Read more...
---
Wireless control of pumps
February 2020, Omniflex Remote Monitoring Specialists , Industrial Wireless
The ability to control a pump remotely over distance and without using wires is simple using Omniflex Teleterm Radio RTUs over a licence free band, avoiding administration of radio frequency band use. 
...
Read more...
---
Enterprise-level wireless infrastructure management
February 2020, Emerson Automation Solutions , Industrial Wireless
Emerson has added two new IIoT solutions to its Plantweb Insight data analytics platform that will enable industrial facilities to transform the way they manage their enterprise-level wireless network 
...
Read more...
---
Vibration sensor simplifies asset monitoring
February 2020, Emerson Automation Solutions , Industrial Wireless
Emerson has introduced the AMS Wireless Vibration Monitor, a low-cost, easy to deploy vibration sensor that performs prescriptive analytics on vibration data using native software to automatically identify 
...
Read more...
---
5G – the wireless network of the future
December 2019, Siemens Digital Industries , Industrial Wireless
Mobile wireless network standards, starting with 1G, have been shaping our mobile communication for years. While previous developments have focused on improved usability in the public sector, the new 
...
Read more...
---
Dome protects communication sticks
December 2019, Beckhoff Automation , Industrial Wireless
With the new CU8210-M001 cabinet dome, the USB port of an industrial PC can be fed out of the control cabinet and still be well protected. In this way, reliable and powerful wireless connections to the 
...
Read more...
---
Instrument Area Network
December 2019 , Industrial Wireless
Modern plant managers and operations professionals can save time and money through a robust condition and preventative maintenance model enabled by wireless Instrument Area Network devices. Instrument 
...
Read more...
---
Honeywell helps transform petrochemical operations
December 2019, Honeywell ACS South Africa , News
Honeywell has announced that Braskem Idesa has adopted a hands-free, wearable connected technology solution at its plant in Veracruz, Mexico. Honeywell's Intelligent Wearables will allow Braskem Idesa 
...
Read more...
---
Local PDS at the cutting edge of technology
November 2019 , Industrial Wireless
With mine safety legislation getting progressively tighter, Booyco Electronics continues to ensure compliance with its locally developed proximity detection system (PDS). According to Pieter Janse van 
...
Read more...
---
Banner Engineering simplifies monitoring of rotating equipment
November 2019, Turck Banner , Industrial Wireless
Banner's Wireless Solutions Kit for vibration monitoring is a fully integrated and easy-to-use solution for monitoring assets with rotating motion. It is designed to make it easy for users of any experience 
...
Read more...
---