printer friendly version
SKF's wireless condition monitoring sensor
May 2015
Industrial Wireless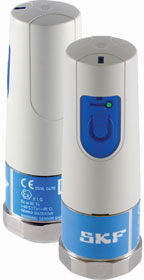 The wireless machine condition sensor from SKF provides condition monitoring on rotating machinery operating at large plants and is also suitable for hazardous and hard to reach locations.
The ATEX Zone 0 certified sensor provides dynamic vibration and temperature data for condition monitoring and machinery diagnostic applications in hazardous environments typically found in petrochemical, oil and gas and pharmaceutical plants.
The sensors use the WirelessHart communication protocol to communicate with each other, creating a mesh network. Communication capabilities include relaying data from one node to another, relaying data back to the gateway, and receiving automated commands from the Wireless Sensor Device Manager software that initiates the measurement and processing circuits to take data and transmit it back over the network. If a node is unable to receive signals directly from the WirelessHART gateway, it will instead send and receive its data through a nearby node that can pass the data to and from the gateway – ultimately creating the mesh network.
Once data is collected, the WirelessHART gateway communicates with the Wireless Sensor Device Manager software supplied by SKF. The Device Manager then automatically exports the data into SKF @ptitude Analyst, a comprehensive diagnostic and analytic software package, where a plant engineer can analyse the data and determine a course of action.
In addition to monitoring rotating machinery in large plants and in hard to reach locations, this type of communication protocol and network also provides seamless monitoring capabilities in areas where traditional WiFi communications, wired systems or hand-held devices cannot operate.
This wireless machine condition sensor presents a safer approach to machine monitoring with enhanced employee and machinesafety and delivers overall reduced condition monitoring costs through improved maintenance programmes, reduced maintenance costs, reduced installation costs and compatibility with the established SKF @ptitude Analyst software suite to end-users.
Both the sensor and router node are combined into one compact and battery operated unit the size of a typical industrial accelerometer. Because the system operates in a low power consumption mode, the battery lasts for years in the field.
For more information contact Samantha Joubert, SKF South Africa, +27 (0)11 821 3602, samantha.joubert@skf.com, www.skf.co.za
Credit(s)
Further reading:
Online monitoring of haul trucks
August 2021, SKF South Africa , Maintenance, Test & Measurement, Calibration
IMx-16 Multilog online monitoring systems on two mobile mining haul trucks at a leading copper mine in Zambia predict critical component failures and allow for planned predictive maintenance procedures to be carried out.
Read more...
---
Are you ready for the 2G/3G sunset?
August 2021, Throughput Technologies , Industrial Wireless
With widespread adoption of 4G technology and the growing availability of 5G, older technologies (2G and 3G) are now slowly being phased out.
Read more...
---
DXM series wireless controllers
August 2021, Turck Banner , Industrial Wireless
The robust, IP67-rated housing of Turck Banner's DXM1200E easily installs in most environments without the need for an additional enclosure.
Read more...
---
Wi-Fi in South African underground coal mines
August 2021, Extech Safety Systems , Industrial Wireless
In the author's opinion, Wi-Fi and all it offers can dramatically improve safety in all industries, including underground coal mines.
Read more...
---
Wireless kit for remote monitoring
August 2021, Turck Banner , Industrial Wireless
Since Turck Banners standalone DEK wireless kit includes everything needed for a remote preventive maintenance monitoring solution, complexity is removed, and installation is quick and easy.
Read more...
---
Siemens makes industrial 5G router available
July 2021, Siemens Digital Industries , Industrial Wireless
Router supports future-oriented applications such as remote access via public 5G networks or the connection of mobile devices such as automated guided vehicles in industry.
Read more...
---
NearFi couplers for contactless power and data transmission
July 2021, Phoenix Contact , Industrial Wireless
By launching NearFi, Phoenix Contact has introduced a new, innovative technology for contactless power and data transmission in the near-field range.
Read more...
---
Pallet power in the chemical industry
June 2021, Turck Banner , Industrial Wireless
Contactless detection of incoming and outgoing goods provides those involved in logistics with considerably greater transparency of stock levels.
Read more...
---
Wearable device keeps workers safe during the pandemic
June 2021, RS Components SA , Industrial Wireless
Maintaining social distancing is key to limiting the spread of coronavirus, but it can be a real challenge in busy workplaces such as manufacturing facilities, warehouses and construction sites.
Read more...
---
SKF bearings help Mars Rover collect samples on the planet's surface
April 2021, SKF South Africa , News
Enabling the Mars Rover's core operations in the harsh environment on Mars are Kaydon RealiSlim thin-section ball bearings, designed and manufactured by SKF.
Read more...
---