printer friendly version
Rockwell Automation migrates Mozal smelter compressor control to flagship PLC
May 2015
PLCs, DCSs & Controllers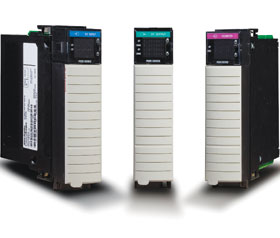 In a 12-month R7,5 million controller migration project, Rockwell Automation has upgraded the programmable controllers in the compressor house of Mozambican-based Mozal Aluminium smelter to its flagship controllers – Allen Bradley ControlLogix. The upgrade, undertaken to reduce downtime and modernise essential equipment and processes, is the first of 10 phases in a 10-year migration strategy for the smelter, which produces 580 000 tons of aluminium annually.
Project scope included design, installation and commissioning of all hardware and software, as well as interfacing ControlLogix with a competitor's scada system. It also incorporated operator and maintenance personnel training using simulation software initially developed for factory acceptance testing. Necessary time limitations were imposed on installation and commissioning, which resulted in Rockwell Automation completing aspects of the project in unprecedented times.
Hardware installation, which was done in four phases to mitigate risk, comprised 10 ControlLogix controllers and one redundant controller. On the software front, Rockwell Automation installed 11 PanelView Plus 6 HMI terminals to monitor, control, and display application status information graphically and a FactoryTalk View Site Edition workstation. Rockwell Automation Mining Solution (MS) was also implemented, including compressor anti-surge software, which was pivotal to the installation's overall success.
"MS was included in the software enhancement to standardise the upgraded Compressor Plant Control Systems and grant onsite personnel full capability with the transparent ControlLogix solutions," points out project lead engineer Jonathan Armstrong. Rockwell Automation MS also assists with fault-finding, enabling engineers to easily determine where a fault lies and quickly identify methods to rectify it.
"The upgrade has been a resounding success," says Armstrong, "and some of this success is attributable to the role Mozal played in the project. Plant management ensured we received relevant communication from all required departments, including input and feedback from both operational and maintenance personnel. This facilitated a holistic view of the project, which simplified some of the processes and enabled a conducive working environment."
The standard time for a compressor-controller upgrade is approximately 10 days. For the Mozal compressor house project, however, the Rockwell Automation team's onsite time was limited to 12 hours per control system. This was due to site safety protocol, which limits the number of permissible onsite hours in a given shift, and to avoid any plant downtime. A phased upgrade per unit approach was used, and each phase included monitoring, training and evaluation of each compressor before moving to the next. "We managed to seamlessly implement the upgrades in the limited time thanks to great co-operation from Mozal, and by using a Rockwell Automation PLC-5 migration strategy," explains Armstrong.
This migration strategy allows engineers quickly to migrate from PLC-5 controllers and 1771 I/O to Integrated Architecture while maintaining the existing field wiring and control cabinet footprint.
The project provided additional value addition for the Mozal smelter, which included the automatic starting of back-up diesel compressors, and spare compressor capacity that the plant was previously unable to realise. Automatic compressor start-up was achieved by installing the Rockwell Automation Master Control for networked compressors. Additional compressor capacity was achieved by optimising the guide vane control and dynamically changing the producer pressure set points to meet consumer demand. "This resulted in one full spare compressor," says Armstrong. "The plant, which previously had to run seven compressors 24/7 to meet the required compressed air demand, can now be run on six compressors at one hundred percent, or all seven at only seventy percent."
The effectiveness and reliability of Rockwell Automation products and processes was proven when, several months after commissioning, the plant experienced a temporary setback. "It took site engineers only 30 minutes to get back online," says Armstrong, "which we consider a more than appropriate time given all the compressors' functional requirements."
Mozal smelter is responsible for thirty percent of Mozambique's official exports and uses approximately forty-five percent of the electricity generated in that country. Planning for phase II of the controller upgrade is underway, with installation expected to begin in May 2015.
For more information contact Jonathan Armstrong, Rockwell Automation, +27 (0)11 998 1103, jarmstrong1@ra.rockwell.com, www.rockwellautomation.co.za
Credit(s)
Further reading:
Rockwell Automation and Comau partner to simplify robot integration
June 2021, Rockwell Automation , News
Rockwell Automation and Comau have announced that they are joining forces to give businesses worldwide vital tools to maximise manufacturing efficiencies through unified robot control solutions.
Read more...
---
Controller for robotic systems
June 2021, Omron Electronics , PLCs, DCSs & Controllers
Omron has announced the launch of its first 'Robotic Integrated Controller', based on its leading NJ series of machine controllers for industrial automation.
Read more...
---
Wireless controller for smarter factories
March 2021, Turck Banner , PLCs, DCSs & Controllers
Turck Banner's DXM wireless controllers are designed to facilitate Ethernet connectivity as well as enabling IIoT applications.
Read more...
---
Automation with PC-based control at UOW Malaysia KDU University
March 2021, Beckhoff Automation , PLCs, DCSs & Controllers
Eight embedded PCs and 3000 EtherCAT I/Os ensure maximum building efficiency across university campus.
Read more...
---
Open PLCnext Technology ecosystem
February 2021, Phoenix Contact , PLCs, DCSs & Controllers
With the new PLCnext Control AXC F 3152 controller, Phoenix Contact now provides a high-performance Axioline controller based on the open PLCnext Technology ecosystem.
Read more...
---
New Rockwell Automation safety devices
March 2021, Rockwell Automation , IS & Ex
Manufacturers can harness the power of data to improve their safety compliance and performance using two new smart safety devices.
Read more...
---
Controllers with real-time Ethernet solution
April 2021, Mecosa , PLCs, DCSs & Controllers
Bronkhorst is pleased to present Powerlink as its tenth on-board fieldbus interface option.
Read more...
---
New smart devices improve safety
May 2021, Rockwell Automation , IS & Ex
Manufacturers can harness the power of data to improve their safety compliance and performance using two new smart safety devices.
Read more...
---
New Kinetix integrated motion drives
February 2021, Rockwell Automation , Motion Control & Drives
The new Allen-Bradley Kinetix 5300 servo drive is a fully integrated, CIP motion solution for global machine builders designing market-competitive machines.
Read more...
---
Rockwell Automation expands visualisation offering
February 2021, Rockwell Automation , Industrial Computer Hardware
New VersaView 6300 industrial PCs and thin clients allow users to create a single, secure and dependable visualisation system.
Read more...
---