printer friendly version
Water meter does not require straight inlet and outlet runs
May 2015
Flow Measurement & Control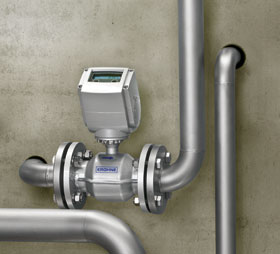 According to Krohne, two important limitations must be taken into account when using electromagnetic flowmeters (EMF) in water networks. On the one hand, the flow rates in the networks are sometimes extremely low. This often occurs at night but it can also happen when a pipeline is oversized as a consequence of planning. Due to the low flow velocity, low flow rates are not easy for electromagnetic flowmeters to measure.
On the other hand, electromagnetic flowmeters generally require sufficiently long, straight inlet and outlet runs to achieve the measuring accuracy specified by the manufacturer. Abnormal flow profiles, such as those that occur following pipe bends or slide valves, affect the measuring result and must be homogenised by providing long inlet and outlet runs. Since these conditions are not always met in practice, the goal when designing the Waterflux electromagnetic water meter was to have a device that could accurately measure both large and small flows without requiring a specific shape or length of inlet and outlet run.
Independent testing has now confirmed that this goal has been achieved: The Physikalisch-Technische Bundesanstalt (PTB; National Metrology Institute) in Berlin studied the behaviour of different measuring tube cross sections during changing flow profiles.
The performance of a conventional EMF with a round cross section was compared to that of the Waterflux electromagnetic water meter. Both devices were installed and tested with inlet and outlet runs of varying lengths and downstream from a bend in the pipe. Results showed that the Waterflux was considerably less sensitive to the installation position. Its measuring tube is constricted on the inside, changing the profile to a rectangular one and thus increasing the flow velocity, creating a uniform flow profile and reducing or completely eliminating turbulent fluctuations in the flow profile. This allows the device to measure even extremely low flow velocities with superior accuracy.
Waterflux is an electromagnetic flowmeter for applications in the field of water and wastewater and designed for custody transfer according to European Directive MI-001. The measuring accuracy reflects the most recent specifications of the ISO/EN, MI-001 and OIML standards. It lies within legal requirements with a ratio of 400 between Q1 and Q3. The high operating frequency of 1 Hz to 1/20 Hz guarantees reliable measurement results with rapid inflow and outflow rates.
For more information contact John Alexander, Krohne SA, +27 (0)11 314 1391, j.alexander@krohne.com, www.krohne.com
Credit(s)
Further reading:
Accurate flow measurement on a conveyor
August 2021, SICK Automation Southern Africa , Flow Measurement & Control
Heidelberg Cement in Lengfurt, Germany, needed a solution for the accurate metred supply of secondary material on its conveying system.
Read more...
---
Flowmeter with IO-Link
August 2021, GHM Messtechnik SA , Flow Measurement & Control
The calorimetric measuring principle makes this new Honsberg meter practically wear-free and gives users the ability to record media temperature in addition to flow measurement.
Read more...
---
Electronic flow switch with display
August 2021, WIKA Instruments , Flow Measurement & Control
The new model FSD-4 electronic flow switch from WIKA offers full flexibility in monitoring and controlling flow based on the velocities of liquid media.
Read more...
---
Key factors for picking the optimal flowmeter
July 2021, KROHNE , Flow Measurement & Control
While a variety of factors impact meter performance, the most common culprits are flawed sizing and failing to choose the most appropriate technology.
Read more...
---
KROHNE – 100 years in the spirit of creativity
August 2021, KROHNE , News
When Ludwig Krohne founded the company in 1921, the first customers were a small number of steel producers from the Ruhr area.
Read more...
---
Advances in pipeline leak detection
June 2021, KROHNE , Maintenance, Test & Measurement, Calibration
The high rate of false alarms in standard pipeline leak detection systems can force system operators to waste labour chasing down problems that do not exist. Fortunately, newer technology provides an alternative.
Read more...
---
Exact determination of fuel consumption
April 2021, Instrotech , Flow Measurement & Control
The Kobold DOE, an oval gear flowmeter, can be used with a wide range of media and chemicals
Read more...
---
Oval gear flowmeter
May 2021, Instrotech , Flow Measurement & Control
When liquid flows through the instrument, two oval geared rotors measure a constant volume per rotation.
Read more...
---
Inductive flowmeter with IO-Link
February 2021, Instrotech , Flow Measurement & Control
Instrotech is pleased to announce a new product development in Kobold's magnetic inductive flowmeter range, featuring IO-Link.
Read more...
---
Proline t-mass F/I 300/500 from Endress+Hauser
February 2021, Endress+Hauser South Africa , Flow Measurement & Control
The reliable and versatile all-rounder for pure gases and gas mixtures features alarm functions as well as bidirectional measurement and reverse flow detection.
Read more...
---