printer friendly version
Legrand's energy efficient lighting solutions
April 2015
Sensors & Transducers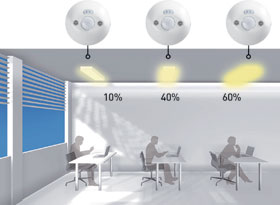 Legrand's lighting and motion management systems, which are designed to make industrial, commercial and domestic buildings more energy efficient, encompass switch sensors that reduce the amount of time lighting is left on unnecessarily.
"Lighting, together with heating and air-conditioning, accounts for the greatest energy consumption and electricity costs of a building," says Luk Ivens, general manager, Legrand Southern Africa. "With the installation of an automatic lighting and motion management system, which ensures there is exactly the right amount of light when and where it is needed, energy savings of up to 60% can be achieved.
"Reduced lighting usage not only lowers operating costs, but also helps decrease green house gas emissions. Additional savings include reduced lamp replacement and maintenance requirements and lower power demand during peak hours.
"Because various areas in a building require different lighting control strategies, we recommend a number of solutions to maximise energy savings and to ensure absolute comfort for occupants of the building."
Occupancy detection
Legrand's lighting management sensors are used to monitor the detection area for occupancy and to control lighting and HVAC circuits. Lighting is automatically switched on when a person is sensed. Where sensors are equipped with a built-in light level sensor, the lighting will be kept off when sufficient natural light is available. When the area is vacated, the lighting automatically switches off after a pre-set time delay.
Motion sensors, with an automatic switch on/off facility, are recommended for areas with little or no natural light, for example in passageways, bathrooms and equipment rooms.
Passive infrared technology motion sensors detect occupancy at up to 8 metres by identifying the difference between heat emitted from the human body in motion and the background space.
Lighting management sensors designed for shops, offices, healthcare buildings and warehouses have a manual or automatic switch on/off, according to whether there is anyone present. These sensors also have built-in adjustable lux sensors that keep the lighting switched off if there is sufficient natural light.
Detection of lighting management sensors is based on passive IR and dual technology, which ensures maximum sensitivity and coverage in applications for optimum reliability and energy saving.
Legrand sensors work in occupancy mode, where lights are automatically switched on or off according to occupancy, or in vacancy mode for additional energy saving, where lights are manually switched on and automatically switched off when the person leaves the area.
For enhanced flexibility, switch sensors can be combined with room controllers to manage a number of lighting and ventilation circuits. For example, in areas where daylight is unevenly distributed, a sensor can be combined with a row of luminaires to measure motion and light levels. The dimming controller regulates each row of luminaires and supplements the external light to obtain the required pre-set light level.
Once the sensor and controls have been selected for each installation, Legrand offers a choice of local BUS/SCS control or the global BUS/KNX solution for lighting management.
BUS/SCS (simplified cabling system) wiring enables local and remote presence and light level detection and management. Every installation, which also includes time and scenario management functions, is designed, monitored and supervised on a PC, using Legrand's advanced software.
As an addition to this local control system, the wireless Radio/ZigBee system can be used to install new radio control points, without damaging walls. This system is ideal for refurbishment installations or glazed surfaces.
In addition to BUS/SCS, BUS/KNX wiring enables supervision and integration of other building applications, including emergency lighting, HVAC and fire alarms. This building control system enhances energy and operating performance, also ensuring ease of maintenance.
Credit(s)
Further reading:
Engineers help British wine growers achieve success
Instrotech Sensors & Transducers
English growers realise that like all developing industries, as production grows so the need for efficiency increases.
Read more...
---
Steierl-Pharma uses smart cameras to modernise its labelling processes
Omron Electronics Sensors & Transducers
Steierl-Pharma of Herrsching, Germany, relies on the support of Omron automation experts for state-of-the-art labelling technology. By using a new labelling system with smart camera technology, the company 
...
Read more...
---
Brewery benefits from IO-Link devices
ifm - South Africa Sensors & Transducers
Marston's recently undertook a review of the fine ale room tank level indication system, to address certain issues.
Read more...
---
Inductive sensors with IO-Link
Turck Banner Sensors & Transducers
Turck's Banner's new non-flush sensors set new standards with maximum accuracy and smart additional information for condition monitoring.
Read more...
---
New compact capacitive sensor
Instrotech Sensors & Transducers
Instrotech has introduced a new series of capacitive sensors with more compact dimensions than older sensors on the market.
Read more...
---
Hot and cold rolling mills
Morton Controls Sensors & Transducers
One of the major consumables in steel production is the oil in water emulsion used to spray on the mill rollers to cool, lubricate and improve the finish of the final product, as well as assist with corrosion prevention and control friction.
Read more...
---
Controlling moisture content is crucial in food processing
SECO Process Instrumentation Sensors & Transducers
When it comes to food processing, excess moisture can ruin products and create unnecessary waste, economic losses and decreased productivity.
Read more...
---
High-performance photoelectric sensors
ASSTech Process Electronics + Instrumentation Sensors & Transducers
Wenglor's Type 2K photoelectric sensors within the PNG/smart product range have robust stainless steel 316L housings with IP69K protection.
Read more...
---
Omron launches new laser sensor
Omron Electronics Sensors & Transducers
New sensing technology detects difficult targets and reduces the need for complex installation design.
Read more...
---
Encoders with SAE J1939 interface
Turck Banner Sensors & Transducers
Turck Banner has extended its encoder portfolio with new encoders featuring the SAE J1939 interface, which is used particularly in mobile equipment.
Read more...
---