printer friendly version
Multi-function wireless adaptor
January 2015
Industrial Wireless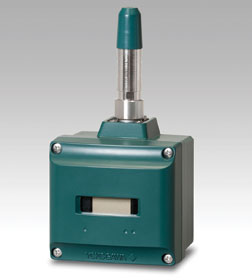 Yokogawa Electric Corporation has released a newly developed multi-function wireless adaptor that enables wired devices that transmit/receive digital On/Off signals, or receive 4-20 mA analog signals, to function as ISA100 Wireless field wireless devices.
Development background
Field wireless systems enable plant field devices and host-level monitoring, control, and other systems to communicate wirelessly with each other. Driven by the need to improve productivity and safety, companies are looking for ways to collect more data on their plant operations. Consequently, there is a rising demand for field wireless devices as they can be installed in difficult-to-wire locations. Field wireless devices have the added advantage of having a lower installation cost.
In addition to ISA100 Wireless-based field devices and systems, Yokogawa offers multi-protocol wireless adaptors that enable HART and Modbus devices to function as ISA100 Wireless devices. The development of this new multi-function wireless adaptor demonstrates Yokogawa's ongoing commitment to promoting the spread of wireless communication technologies.
Product features and applications
Plants use communication protocols such as Foundation fieldbus, HART, Modbus, and Profibus to facilitate the exchange of data. In addition, digital On/Off, 4-20 mA analog input, and other types of signals are used for a variety of purposes. This multi-function wireless adaptor has been developed with this latter category of signal types in mind. The mounting of this adaptor on a wired device that transmits/receives digital On/Off or 4-20 mA analog signals enables it to function as an ISA100 Wireless device. This increases the variety of devices that can be used with field wireless systems, and is expected to lead to a wider use of such systems in plant operations.
Signal types: for use with limit switches, solenoid valves, analog transmitters, and other device types, the adaptor has two channels for digital input signals that are used to monitor the On/Off state of devices, one channel for digital signals that output the On/Off state of devices, and one channel for receiving 4-20 mA analog process value signals from transmitters.
Environmental resistance: an all-weather model that is waterproof and dustproof and an explosion-proof model that can be used in inflammable gas environments are available.
Industries that stand to benefit from the new adaptor include oil and gas, LNG, refining, petrochemicals, chemicals, power, pulp and paper, pharmaceuticals, food, and iron and steel. Applications include switches, solenoid valves, and other device types that utilise digital On/Off signals and transmitters that utilise 4-20 mA analog input signals.
Yokogawa's approach to field wireless communications
Yokogawa released the world's first ISA100 Wireless system devices and wireless pressure and temperature transmitters in July 2010. In addition to enabling sophisticated control techniques in continuous processes, this gave customers a wider range of devices to choose from.
In line with the Wireless Anywhere concept for field wireless solutions, Yokogawa will continue to expand its lineup of ISA100 Wireless transmitters and other devices such as adaptors to develop best-in-class solutions that provide higher value to customers, and promote the use of field wireless technologies.
ISA100 wireless is a technology based on the ISA100.11a standard. It includes ISA100.11a-2011 communications, an application layer with process control industry standard objects, device descriptions and capabilities, a gateway interface, infrared provisioning and a backbone router.
For more information contact Johan van der Westhuizen, Yokogawa South Africa, +27 (0)11 831 6300, johan.vanderwesthuizen@za.yokogawa.com, www.yokogawa.com/za
Credit(s)
Further reading:
Tag-specific requirements in RFID systems for track and trace
September 2021, Turck Banner , Editor's Choice, Industrial Wireless
The BL ident complete RFID system from Turck Banner offers solutions in the HF or UHF range with interfaces for use in a plant or switch cabinet.
Read more...
---
Are you ready for the 2G/3G sunset?
August 2021, Throughput Technologies , Industrial Wireless
With widespread adoption of 4G technology and the growing availability of 5G, older technologies (2G and 3G) are now slowly being phased out.
Read more...
---
DXM series wireless controllers
August 2021, Turck Banner , Industrial Wireless
The robust, IP67-rated housing of Turck Banner's DXM1200E easily installs in most environments without the need for an additional enclosure.
Read more...
---
Wi-Fi in South African underground coal mines
August 2021, Extech Safety Systems , Industrial Wireless
In the author's opinion, Wi-Fi and all it offers can dramatically improve safety in all industries, including underground coal mines.
Read more...
---
Wireless kit for remote monitoring
August 2021, Turck Banner , Industrial Wireless
Since Turck Banners standalone DEK wireless kit includes everything needed for a remote preventive maintenance monitoring solution, complexity is removed, and installation is quick and easy.
Read more...
---
Siemens makes industrial 5G router available
July 2021, Siemens Digital Industries , Industrial Wireless
Router supports future-oriented applications such as remote access via public 5G networks or the connection of mobile devices such as automated guided vehicles in industry.
Read more...
---
NearFi couplers for contactless power and data transmission
July 2021, Phoenix Contact , Industrial Wireless
By launching NearFi, Phoenix Contact has introduced a new, innovative technology for contactless power and data transmission in the near-field range.
Read more...
---
Water resource sustainability management
July 2021, Yokogawa South Africa , System Integration & Control Systems Design
One way Yokogawa is successfully pursuing its sustainability goals is through its service to the global water industry.
Read more...
---
Pallet power in the chemical industry
June 2021, Turck Banner , Industrial Wireless
Contactless detection of incoming and outgoing goods provides those involved in logistics with considerably greater transparency of stock levels.
Read more...
---
Digital twin for refinery production
June 2021, Yokogawa South Africa , IT in Manufacturing
Within Repsol's Industrial Business, the development of a refinery digital twin leads the digitalisation program. The digital twin maximises production while optimising energy consumption.
Read more...
---