printer friendly version
Yokogawa's ProSafe-RS
January 2015
PLCs, DCSs & Controllers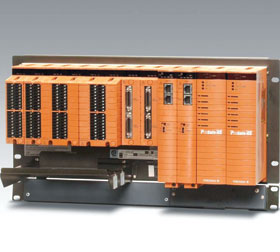 Achieving seamless integration between distributed control systems (DCS) and safety instrumented systems (SIS) for plant automation has traditionally resulted in complex design and integration challenges. Conventionally, two separate monitoring and operating environments were required for a DCS and SIS, with different sets of communications and distinctively different hardware architectures. It is a given that project lifetimes and expenses are higher for an integrated standalone DCS and SIS, compared to that of an integrated Yokogawa solution.
Yokogawa has bridged this DCS-SIS incompatibility with the ProSafe-RS, a truly integrated safety PLC for the process industries. Since its launch in 2005, ProSafe-RS has globally contributed to almost 1.2 million
I/Os, securing the position of the fastest growing safety system in the world. ProSafe-RS is ideally suitable for emergency shutdown systems (ESD), burner management systems (BMS) and fire and gas systems (FGS), due to its flexible and highly reliable architecture.
Yokogawa's ProSafe-RS (SIS) and Centum VP (DCS) both utilise the same unique, highly reliable dual redundant architecture. The architecture consists of the Yokogawa's secured dual redundant, 1 Gbps Vnet/IP control network, which communicates both as a main safety and control network. This provides reliable and fast communication to various control and monitoring (HMI) components with special safety integrity checks performed with unique safety layers embedded as per SIL 3 guidelines. In the event of a Vnet/IP interruption, the local safety controller can still work independently.
Due to its high scalability and seamless integration with the Centum VP DCS, very large plant configurations can also be achieved easily and effectively. Furthermore, various applications such as Emergency Shutdown (ESD), Fire and Gas (FGS) and Boiler Management (BMS) can be performed within the same architecture, thus providing minimal inventory, optimised footprint and reduced total cost of ownership for end-users.
SIL3 is achieved, even with a single CPU due to the ProSafe-RS's dual architecture design within each module. Additionally, the I/O modules can also be installed in a dual redundant configuration. This flexibility makes it possible for the user to configure redundancy on a module by module basis, achieving the required availability for identified critical plant areas.
ProSafe-RS can execute safety logic at 50 ms, and allows multiple inputs and outputs to be scanned rapidly. ProSafe-RS has an excellent remote I/O function, enabling the linking in either a chain or star topology of local or remote I/O nodes with distances up to 50 kilometres. This makes it possible for controllers in a central control room to communicate with I/O modules in distant locations, thereby reducing the TCO (total cost of ownership) through minimising the system hardware footprint and maintenance costs. Robustness against harsh environments is achieved with an ISA G3 corrosive protective coating option.
ProSafe-RS applications include:
• ESD and fire alarm systems for offshore platforms.
• Wellhead SIL RTU, ESD, fire and gas systems integrated with Centum VP DCS and Stardom RTU.
• Outdoor wellheads and RTUs.
• ESD, FGS, control and high integrated pressure protection system.
• Non-Yokogawa SIS replacement projects.
For more information contact Christie Cronje, Yokogawa South Africa, +27 (0)11 831 6300, christie.cronje@za.yokogawa.com, www.yokogawa.com
Credit(s)
Further reading:
Water resource sustainability management
July 2021, Yokogawa South Africa , System Integration & Control Systems Design
One way Yokogawa is successfully pursuing its sustainability goals is through its service to the global water industry.
Read more...
---
Controller for robotic systems
June 2021, Omron Electronics , PLCs, DCSs & Controllers
Omron has announced the launch of its first 'Robotic Integrated Controller', based on its leading NJ series of machine controllers for industrial automation.
Read more...
---
Digital twin for refinery production
June 2021, Yokogawa South Africa , IT in Manufacturing
Within Repsol's Industrial Business, the development of a refinery digital twin leads the digitalisation program. The digital twin maximises production while optimising energy consumption.
Read more...
---
Wireless controller for smarter factories
March 2021, Turck Banner , PLCs, DCSs & Controllers
Turck Banner's DXM wireless controllers are designed to facilitate Ethernet connectivity as well as enabling IIoT applications.
Read more...
---
Automation with PC-based control at UOW Malaysia KDU University
March 2021, Beckhoff Automation , PLCs, DCSs & Controllers
Eight embedded PCs and 3000 EtherCAT I/Os ensure maximum building efficiency across university campus.
Read more...
---
Open PLCnext Technology ecosystem
February 2021, Phoenix Contact , PLCs, DCSs & Controllers
With the new PLCnext Control AXC F 3152 controller, Phoenix Contact now provides a high-performance Axioline controller based on the open PLCnext Technology ecosystem.
Read more...
---
Controllers with real-time Ethernet solution
April 2021, Mecosa , PLCs, DCSs & Controllers
Bronkhorst is pleased to present Powerlink as its tenth on-board fieldbus interface option.
Read more...
---
Expert advice for a stress-free digital transformation journey
May 2021, Yokogawa South Africa , IT in Manufacturing
The journey begins with a digital roadmap, which is a strategic plan to bring change to the company. It is all-encompassing in the organisation and goes beyond technology, IT and OT."
Read more...
---
Industrial edge controller for pipeline operations
February 2021, Emerson Automation Solutions , PLCs, DCSs & Controllers
Denka Wangdi, of Emerson's machine automation solutions business, explains how the gathering, storage and analysis of detailed operational and diagnostic data by modern edge controllers provides significant benefits for pipeline operators.
Read more...
---
Becker Mining's upgraded chairlift PLC panels increase safety
November 2020, Becker Mining South Africa , PLCs, DCSs & Controllers
Becker Mining South Africa recently launched a new upgraded chairlift PLC panel that enhances the reliability of Becker chairlift systems, which are used to transport personnel on mines throughout the world.
Read more...
---