printer friendly version
More upgrades for Raytek Mi3 compact infrared pyrometers
January 2015
Temperature Measurement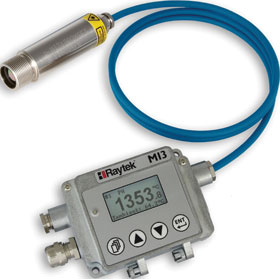 Raytek, a Fluke-owned company, is accepted as one of the largest manufacturers of infrared temperature monitoring and imaging products in the world.
In late 2012, the company introduced the successor to the old and dated MI series compact pyrometers. The introduction of the Mi3 series units uses patented digital technology for communications between the head and the control transmitter. This advancement from analog to digital technology gives the Mi3 range the unique ability to simply 'plug-and-play' different head types as the heads identify themselves to the unit on connection. No more matching of calibration codes when using a replacement head.
Also a high or low temperature head can be connected to 'any' control transmitter box, a feature not available to analog units.
The Raytek Mi3 pyrometer series represents a new generation of performance and innovation in noncontact temperature monitoring. The Mi3 miniature infrared sensors combine innovative new features with pricing that will save you time and money. Their broad feature set allows use in almost any industrial application.
The new features that have been added recently to the Mi3 range are the ability, with different heads, to measure temperatures up to 1800°C and also with the din rail unit to have four 4-20 mA outputs from a single unit with four different heads feeding it.
Unit programming via the keypad or via USB digital interface makes set-up easy. If you have Profibus, Profinet, Ethernet or Modbus networks collecting plant info, the units can connect directly onto your chosen communications protocol thus saving analog outputs and inputs on your system and the cable requirements in between.
Having these types of features and the unique digital communications between the head and the control unit make the Raytek Mi3 the most advanced compact infrared pyrometer available today.
A field-mounted control unit is mounted in an IP65 stainless steel housing with an integrated digital temperature read out.
The low temperature head, with 28 mm length and 14 mm diameter, is one of the smallest fully functional, stand-alone infrared temperature sensor for fixed installation on the market today.
For installations where more than one measurement point is required, the Mi3 series provides the lowest installation cost per measurement point. OEM users will benefit from the standalone version of the Mi3 which allows the direct wiring of up to 32 sensors to a PLC.
Precision high resolution silicon optics provides a range of optical resolutions at a very attractive price. A wide range of sensing head temperature ranges and spectral responses, USB 2.0 interface and a programmable electronics platform create a powerful sensor that solves even the most challenging OEM applications.
Credit(s)
Further reading:
Pyrometer cooling up to 315°C
September 2021, R&C Instrumentation , Temperature Measurement
The ThermoJacket from Raytek and Fluke Process Instruments gives users the ability to use selected sensing heads in ambient temperatures up to 315°C.
Read more...
---
High-speed pyrometer from Optris
September 2021, Instrotech , Temperature Measurement
With very fast processes, the requirements of the pyrometers used for temperature measurement are especially onerous.
Read more...
---
Resistance thermometers for hazardous areas
August 2021, Instrotech , Temperature Measurement
Instrotech now offers Kobold's TWL resistance thermometers with ATEX approvals for ignition protection Exd or Exia.
Read more...
---
Thermal imaging in materials testing
July 2021, R&C Instrumentation , Temperature Measurement
The Raytek ThermoView TV40 thermal imaging camera with ThermoView software is an ideal choice for material testing applications.
Read more...
---
Vibration-resistant thermowells
July 2021, WIKA Instruments , Temperature Measurement
Debottlenecking is desirable as minor percentage increases in output capacity can result in significant profit returns.
Read more...
---
Temperature measuring in steel processing
June 2021, R&C Instrumentation , Temperature Measurement
Accurate and reliable temperature measurement is a part of efficient metal processing and steel manufacturing.
Read more...
---
Temperature and humidity monitoring for vaccine rollouts
May 2021, Omniflex Remote Monitoring Specialists , Temperature Measurement
How remotely monitoring facilities maintains the vaccine cold chain.
Read more...
---
High-temperature pyrometer with Bluetooth
May 2021, R&C Instrumentation , Temperature Measurement
Raytek has added Bluetooth capability to the Raynger 3i Plus handheld pyrometer.
Read more...
---
Automated cold chain monitoring
March 2021 , Temperature Measurement
Smart, connected and automated temperature monitoring at every point helps logistics companies proactively ensure their cold chain is never broken and goods arrive in prime condition for use and sale.
Read more...
---
Accuracy of infrared temperature measurement
March 2021, R&C Instrumentation , Temperature Measurement
Infrared (IR) thermometers have the ability to measure temperature without coming into physical contact with a particular product.
Read more...
---