printer friendly version
Lined diaphragm and butterfly valves
January 2015
Valves, Actuators & Pump Control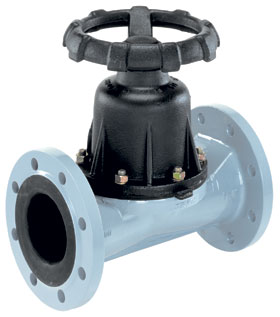 In addition to its standard range of butterfly valves, diaphragm valves and globe valves in metal or plastic, Gemü also offers a special product range for controlling and shutting off aggressive, corrosive or abrasive media.
Lined diaphragm valves
Lined diaphragm valves from Gemü are very versatile as they can withstand both corrosive media and high temperatures. They are used, for example, in water treatment, the chemical industry, the paper industry, in mining and wherever demanding operating conditions occur.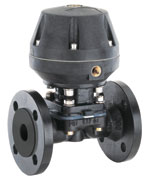 In many cases, a valve with a full metal body cannot be used since the corrosive medium attacks and can even destroy the material. On the other hand, a purely plastic body only reaches its limits at high temperatures. Gemü has the right solution with its lined metal valve bodies, which meet even the strictest requirements in conjunction with the appropriate diaphragm material, and thereby ensure a high degree of operational reliability. In these cases, metal bodies, such as those made of ductile iron or investment cast stainless steel, are lined with materials such as PFA or PP. Typical application examples include shutting off media such as sulphuric acid, chlorine or sodium hydroxide. A metal valve body with hard rubber lining can, for example, be used when processing ­ abrasive media, such as slurries from the mining industry or limestone suspensions for flue gas desulphurisation processes. In this case, the entire medium wetted part is protected by the lining.
Butterfly valve for the control of corrosive or ultrapure media
The Gemü 490 butterfly valve is fitted with a TFM liner and PFA encapsulated stainless steel disc as standard. TFM is a further developed version of classic PTFE, whereby the outstanding properties of PTFE have been improved much further. TFM thus has an optimised surface quality, reduced gas permeability and lower cold flow properties.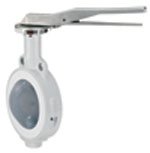 The design of the butterfly valve, especially the liner, the shaft seal and backing, has been optimised to reduce actuation torques, while providing increased tightness at the same time. The technical properties of the sealing concept increase the service life and reduce the probability of failure. Thanks to these features, the 490 butterfly valve is also suitable for use in temperatures up to 200°C, fulfilling the highest standards such as the TA Luft standard (German Clean Air Act).
The Gemü 490 butterfly valve is used in all applications where corrosive liquids and gases are to be shut off or controlled. In addition to the chemical industry, such applications can also be found in the treatment of corrosive waste water or the distribution of ultrapure water in the pharmaceutical industry or the semiconductor industry. Thanks to its con­struction, it can also be used in explosion-endangered areas (ATEX).
Depending on the application details or the given operating conditions, Gemü's team of specialists can assist in finding the best suitable technology to assist with important benefits like safety for operators and ­environment, as well as the best cost­performance ratio.
For more information contact Claudio Darpin, Gemü Valves Africa, +27 (0)11 462 7795, claudio.darpin@gemue.co.za, www.gemu-group.com
Further reading:
Schubert & Salzer and Macsteel
September 2021, Macsteel Fluid Control , Valves, Actuators & Pump Control
The demand on valves, particularly in tyre production plants, is extreme with tyre curing presses working constantly at high temperatures and pressures.
Read more...
---
Chinese LNG tanker fitted with ARCA anti-surge valves
September 2021, Valve & Automation , Valves, Actuators & Pump Control
ARCA anti-surge valves avoid surging by accurately adjusting the gas circulation or blow-off flow, effectively protecting the safety of the compressor unit.
Read more...
---
Electrified subsea actuator for offshore production
September 2021 , Valves, Actuators & Pump Control
Bosch Rexroth has engineered the SVA R2 Subsea Valve Actuator as a disruptive innovation for electrically actuating valves in the subsea process industry. It can replace conventional hydraulic cylinders 
...
Read more...
---
Eliminate bearing failures in TOVs
August 2021, Valve & Automation , Valves, Actuators & Pump Control
Bearing failures are among the highest root causes of failure in triple offset valves (TOV) for tight shutoff applications. This issue is directly attributed to the need to have metal bearings with very 
...
Read more...
---
Locally manufactured knife gate valves
August 2021, Bearing Man Group t/a BMG , Valves, Actuators & Pump Control
BMG and Abrasive Flow Solutions (AFS) play a major role in the local valves sector, through the design, distribution, supply and support of a broad range of slurry related valves.
Read more...
---
Protect your pump and keep it longer
July 2021, Elemental Analytics , Valves, Actuators & Pump Control
Unexpectedly losing a pump is often an expensive or even a dangerous problem in a chemical plant.
Read more...
---
Locally valves manufactured for tailings pipeline
June 2021 , Valves, Actuators & Pump Control
The AFS manufacturing plant in Benoni is equipped with advanced equipment and is supported by specialists who offer dependable technical support to ensure the optimum safety, efficiency and extended service life of every system.
Read more...
---
New flange monoblock with shut-off valve
March 2021, WIKA Instruments , Valves, Actuators & Pump Control
WIKA's new monoblock with flange design integrates a shut-off valve to separate the process from the instrument side.
Read more...
---
The Stafsjö HX story – greater demand calls for action
February 2021, Valve & Automation , Valves, Actuators & Pump Control
As a knife gate valve supplier, Stafsjö supplies product solutions to realise efficiency and production goals in pulp and paper applications.
Read more...
---
Drives for solar-powered pump systems
February 2021, Bearing Man Group t/a BMG , Valves, Actuators & Pump Control
BMG advises on how to optimise efficiency and extend the service life of solar-powered pumping systems by selecting the correct drives.
Read more...
---