printer friendly version
Becker Mining introduces new collision avoidance system
January 2015
Industrial Wireless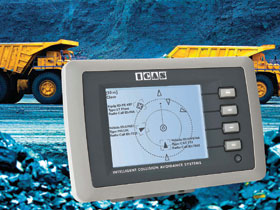 Becker Mining South Africa has launched its latest generation safety device – the Intelligent Collision Avoidance System (ICAS) – which provides situational awareness for operators, to ensure optimum safety on site. This surface collision avoidance safety system also enhances productivity and operational continuity and reduces operating costs through the elimination or reduction of damage to assets.
"ICAS is a critical safety system, which encompasses the latest industrial technology, to provide reliable real-time, 360° situation awareness for vehicle operators working in potentially dangerous and congested site applications, from coal pits to the ports," says Johann Smit, chief sales officer, Becker Mining South Africa. "Blind spots, poor visibility and driver distraction are common causes for unwanted vehicle interactions on mine sites, processing plants, rail and road networks and ports. By creating awareness and elimi­nating blind spots, these hazards are reduced, which means fewer collisions and a lower risk of injury. Operators have improved reaction time to make decisions that will avoid near misses and collisions.
"This robust IP67 marine grade device, which consists of three components – the display unit, GPS antenna and radio antenna – ensures equipped vehicles and fixed infrastructure are always visible and identifiable to operators, even in harsh, dusty environments."
Applications for ICAS include heavy vehicle (HV) to heavy vehicle, heavy vehicle to light vehicle (LV), medium vehicle (MV) to LV and HV, vehicle to personnel, fixed and mobile plant, advanced train and rail track worker warning and rail level crossing activation.
This system enhances operator awareness by providing accurate data, including vehicle orientation, using a combined industrial grade Global Positioning System (GPS) and compass heading sensor for maximum awareness at start up.
The flexibility of the system enables config­urable guard zones to suit each vehicle and ­specific site regulations and also facilitates accurate ranging with speed adaptive zoning.
The 50 channel GPS receiver provides a high level of GPS coverage and reliable 3D positioning, minimising the need for surface based repeaters. If there is existing infrastructure, it can be incorporated into the ICAS system to increase system range.
ICAS equipped vehicles and machines within the configured guard and alert zones (up to 2 km) are represented via an intuitive graphical HMI display.
Once detected, the system uses a secure radio wireless network to activate surrounding ICAS systems. The presence of vehicles and obstacles, within critical guard zones, is automatically advised to operators via visual and audible alerts.
ICAS can filter out non-priority targets and only displays the vehicles and infrastructure that may be on a collision course, thus removing the risk, uncertainty and stress related to working and interacting with vehicles in highly dangerous, congested, low visibility and isolated environments.
An ICAS portable worker unit has been designed for use by short-term contractors or visitors to a plant. This system, with magnetic mounts, is quickly installed in a vehicle. The antennas can be positioned on the vehicle's roof and power is obtained from the cigarette lighter output.
The ICAS remote worker unit is used to quickly identify hazards or fixed plant issues, until a permanent solution is installed. This mobile unit, which is housed in a carry case, is usually ­battery powered, or supports 12/24 VDC input. This system contains all necessary ICAS components, including the display, GPS antenna and radio antenna.
Although information is datalogged by each machine, ICAS and data can also be retrieved remotely via the ICAS radio network. An optional centralised PC based vehicle tracking and event reporting system is available with data collection via the peer to peer ICAS in vehicle radio systems.
This fully scalable system, with plug and play connectivity, requires minimal downtime for installation in all vehicle types. Other design ­features include easy screen navigation, low power consumption, no licensing requirements and regular firmware upgrades. ICAS is also suitable for fixed plant, hazard awareness, datalogging or access control at boom gates.
Becker Mining South Africa's collision avoidance safety systems have all been designed to facilitate future upgrades. These modular ­systems, which range from a simple, low-cost single technology device, to an integrated multi-tech­nological system, encompass all aspects of the most advanced communications and technology.
For more information contact Johann Smit, Becker Mining South Africa, +27 (0)11 617 6300, info@za.becker-mining.com, www.za.becker-mining.com
Credit(s)
Further reading:
Tag-specific requirements in RFID systems for track and trace
September 2021, Turck Banner , Editor's Choice, Industrial Wireless
The BL ident complete RFID system from Turck Banner offers solutions in the HF or UHF range with interfaces for use in a plant or switch cabinet.
Read more...
---
Are you ready for the 2G/3G sunset?
August 2021, Throughput Technologies , Industrial Wireless
With widespread adoption of 4G technology and the growing availability of 5G, older technologies (2G and 3G) are now slowly being phased out.
Read more...
---
DXM series wireless controllers
August 2021, Turck Banner , Industrial Wireless
The robust, IP67-rated housing of Turck Banner's DXM1200E easily installs in most environments without the need for an additional enclosure.
Read more...
---
Wi-Fi in South African underground coal mines
August 2021, Extech Safety Systems , Industrial Wireless
In the author's opinion, Wi-Fi and all it offers can dramatically improve safety in all industries, including underground coal mines.
Read more...
---
Wireless kit for remote monitoring
August 2021, Turck Banner , Industrial Wireless
Since Turck Banners standalone DEK wireless kit includes everything needed for a remote preventive maintenance monitoring solution, complexity is removed, and installation is quick and easy.
Read more...
---
Siemens makes industrial 5G router available
July 2021, Siemens Digital Industries , Industrial Wireless
Router supports future-oriented applications such as remote access via public 5G networks or the connection of mobile devices such as automated guided vehicles in industry.
Read more...
---
NearFi couplers for contactless power and data transmission
July 2021, Phoenix Contact , Industrial Wireless
By launching NearFi, Phoenix Contact has introduced a new, innovative technology for contactless power and data transmission in the near-field range.
Read more...
---
Pallet power in the chemical industry
June 2021, Turck Banner , Industrial Wireless
Contactless detection of incoming and outgoing goods provides those involved in logistics with considerably greater transparency of stock levels.
Read more...
---
Wearable device keeps workers safe during the pandemic
June 2021, RS Components SA , Industrial Wireless
Maintaining social distancing is key to limiting the spread of coronavirus, but it can be a real challenge in busy workplaces such as manufacturing facilities, warehouses and construction sites.
Read more...
---
Becker Mining to deliver hoists to Rustenburg mine
June 2021, Becker Mining South Africa , News
Becker Mining South Africa has secured an order for 26 Kito electric and manual chain hoists and accessories, for a processing plant at a mine in the North West Province.
Read more...
---