printer friendly version
Over-current detector
December 2014
Electrical Power & Protection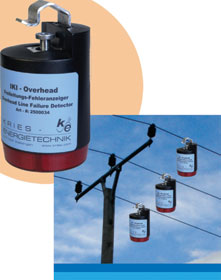 The IKI-Overhead from Kries is used to detect over-currents, short circuits, earth faults and broken overhead lines in overhead distribution lines. Suitable for use on overhead lines with nominal voltages up to 36 kV, it can be installed and removed directly on the energised line.
In solidly earthed networks and networks with NER/NEC systems, earth faults can be indicated; and with the RTU Ponline-Butler-Overhead, a message to a user's cellphone can indicate the type of fault and potential location. Two versions are available: the standard model provides local indication of faults by LEDs, while the radio option also provides remote transmission via the Ponline-Butler-Overhead remote terminal unit.
IKI-Overhead with radio option is capable of remotely transmitting a fault message via the Ponline system. The system consists of up to nine IKI-Overhead units and one Ponline-Butler-Overhead within a range of 25 metres. Transmission of fault type messages is sent from the IKI-Overhead to the Ponline-Butler via a short range radio link, while transmission of messages between the Ponline-Butler and the Ponline-Master is done via a GSM-link.
In case of a line break, the IKI-overhead (radio option only) reads a line current below 3 A for at least 10 seconds and the IKI-Overhead sends a message to the Ponline-Butler-Overhead. The Butler collects the messages from all IKI-Overheads within its tuning range and decides whether the condition for asymmetric undercurrent is given (eg, only phase L1 undercurrent, phases L2 and L3 on normal load condition). In case of an asymmetric undercurrent, Ponline-Butler-Overhead will send a fault message to Ponline-Master. In case of symmetric conditions (all phases below 3 A or all phases on load condition) no message will be sent.
Reset of this fault condition is done automatically after re-establishment of at least a 3 A primary current on all phases for at least 10 seconds. Asymmetric undercurrents are only reported by the Ponline message and not optically via LEDs on the IKI-Overhead. If the IKI-Overhead is in normal operation mode, the alarm indication can be tested. The magnet adaptor has to be positioned close to the test/reset mark. Thus the IKI-Overhead is switched into alarm mode and the light begins to flash in a cycle of 0,5 s on – 0,5 s off. For 5 s the IKI-Overhead is in alarm mode and all internal measurement systems are switched off. Additionally the radio-option sends an alive-message to the Butler.
IKI-Overhead meets IP68 requirements and has an ultra-bright alarm indication that is easily visible, even in extreme sunlight. It is also applicable for closed loop networks and networks with secondary feeders, such as wind turbines or generators, when an automatic reclosing function is used at one feeder side.
For more information contact Paul Van As, Surgetek, +27 (0)11 792 1303, info@surgetek.co.za, www.surgetek.co.za
Further reading:
Energy data acquisition made easy
August 2021, Phoenix Contact , Electrical Power & Protection
By developing the new components of the EMpro product family, Phoenix Contact has found a solution that satisfies most energy data gathering applications.
Read more...
---
Power supply for machine applications
August 2021, Vepac Electronics , Electrical Power & Protection
With vacuum encapsulated technology, MTM Power's focus is on encapsulated, robust, long-life, temperature-resistant and maintenance-free power supply modules.
Read more...
---
Transformer for special applications
July 2021, ASSTech Process Electronics + Instrumentation , Electrical Power & Protection
The Jumo IPC 300 was developed for the control of heating loads that previously required an additional transformer for power control.
Read more...
---
ABB launches new MCB range
July 2021, ABB South Africa , Electrical Power & Protection
The circuit breaker industry sees the local launch of a high-quality product as ABB Electrification introduces its new range of 3 kA SR200T miniature circuit breakers.
Read more...
---
Hitachi ABB Power Grids powers SA to a greener future
August 2021 , Electrical Power & Protection
The move towards decentralised power grids and a large-scale adoption of renewable energy will significantly alter the energy market in South Africa.
Read more...
---
The Pepperl+Fuchs M-LB-5000 surge protection system
June 2021, Pepperl+Fuchs , Electrical Power & Protection
Using the modular M-LB-5000 system with diagnostics eliminates extensive testing and operational interruptions. It is supplemented by the M-LB-2000 system for applications in which a minimum specification is sufficient.
Read more...
---
Beckhoff expands power supply portfolio
June 2021, Beckhoff Automation , Electrical Power & Protection
Buffer and redundancy modules for 24/48 VDC power supply increase system availability.
Read more...
---
Legrand's new P17 Tempra Pro plugs
June 2021, Legrand , Electrical Power & Protection
New to Legrand's range of plugs and sockets is the versatile P17 Tempra Pro range, which has been developed for safe installation in indoor and outdoor environments.
Read more...
---
UPS series with One Cable Technology
April 2021, Beckhoff Automation , Electrical Power & Protection
Beckhoff's new CU81xx UPS series is designed for universal use. Due above all to the flexible connection options extending up to One Cable Technology for uninterruptible power supply (UPS-OCT), the series 
...
Read more...
---
Flameproof switchgear for system protection
April 2021, Becker Mining South Africa , Electrical Power & Protection
Becker Mining South Africa's Energy Distribution division manufactures customised switchgear, designed for the efficient distribution of electrical power.
Read more...
---