printer friendly version
Wireless link enables pump control
December 2014
Data Acquisition & Telemetry
Agri Seeds Research Center in Canterbury New Zealand commissioned Define Instruments to provide a wireless link between a reservoir and a pump station. The site evaluation showed that there was no line of sight between the reservoir and the station and that there were significant RF obstacles in the form of large trees and buildings on the site.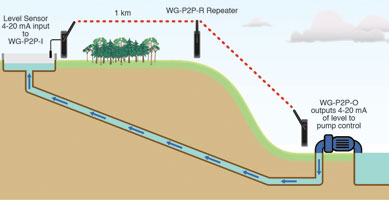 Taking the evaluation into account, Intech decided to install a Define Instruments P2P (point to point) wireless system. Three devices were required to complete the job. These were the WG-P2P-I, which takes two isolated input signals including temperature sensors, process inputs and frequency, as well as four digital inputs. In this case it was used to measure a single 4-20 mA output signal from the reservoir level sensor. This signal was converted to a digital message and transmitted wirelessly to a WG-P2P-R repeater. The repeater automatically forwarded this digital message to a WG-P2P-O output device. This output device reconstructed the signal into a 4-20 mA output that was wired to an existing pump controller.
"Commissioning the system was straight forward," commented John Green the Intech installer. "The radio system is based on self-configuring Zigbee technology and within minutes of power-up the system was functional. However, we found out from the input units front LEDs that the RF signal link quality was poor. To overcome this we changed the antennas to higher gain versions to punch through the obstacles. Once this was done the signal link quality LEDs indicated maximum quality and we were confident that we had achieved a reliable setup for our customer."
Define Instruments Rolla Afrogheh suggested that it would be possible to reduce costs in a new installation by programming the input device as a controller to control the pump directly, removing the need for a separate pump controller. The digital inputs and outputs are transparently transmitted between the input and output devices. So in the case when the input is set-up as a controller the output relay states are automatically routed to the output devices relays.
For more information contact Dylan Swartz, Define Instruments South Africa, +27 (0)87 945 2700, dylan.swartz@defineinstruments.co.za, www.defineinstruments.co.za
Further reading:
Clip-on indicator with Bluetooth and logging
September 2020, WIKA Instruments , Data Acquisition & Telemetry
Monitor live process values and diagnostic information on any iOS/Android device running the free PPS application, or monitor directly on the display.
Read more...
---
RS Components introduces RX23E-A
July 2020, RS Components SA , Data Acquisition & Telemetry
RS Components has introduced a new series of single-chip devices from Renesas, the RX23E-A microcontrollers (MCUs) which combine an analog front end (AFE) and an MCU core for use in equipment that delivers 
...
Read more...
---
Advanced controller for data acquisition
December 2019, RJ Connect , Data Acquisition & Telemetry
The ioThinx 4530 series is an advanced modular controller product with a unique hardware design, making it an ideal solution for a variety of industrial data acquisition applications. The controller has 
...
Read more...
---
Top data management on the DIN rail
October 2019, Endress+Hauser South Africa , Data Acquisition & Telemetry
The data manager family of Endress+Hauser is growing. To meet the strong demand from the market for a smart, compact DIN rail data manager for mounting in the control cabinet, development of the RSG45 
...
Read more...
---
IoT data logger
October 2019 , Data Acquisition & Telemetry
IMS is known across the globe as a leading industry expert and manufacturer of condition monitoring data loggers and telemetry. The company performs data logger engineering, manufacturing and servicing 
...
Read more...
---
Fieldlogger for data acquisition
June 2019 , Data Acquisition & Telemetry
The Fieldlogger is a great asset to the Novus automation range of products. It is one of the most comprehensive instruments for the acquisition of data recording, and is capable of analog and digital 
...
Read more...
---
New network function for digital ­indicator
October 2018, Yokogawa South Africa , Data Acquisition & Telemetry
Yokogawa has added a network function to the UM33A digital indicator with alarms. With this network function, a single UM33A digital indicator can receive, process and sequentially display data from up 
...
Read more...
---
Remote monitoring and telemetry at power station water plants
July 2018, Omniflex Remote Monitoring Specialists , Data Acquisition & Telemetry
The wireless ability to manage pumps remotely over long distances is now available using Omniflex's Teleterm M3 Radio RTUs. This full functionality IEC61131 PLC enables both control and wireless communications 
...
Read more...
---
Purely analog signal conditioning
June 2018, GHM Messtechnik SA , Data Acquisition & Telemetry
IMTRON, part of the GHM Group, has launched the Purely Analogue Signal Conditioning TSA modules that offer well-established methods for processing, filtering, amplifying and galvanically isolating sensor 
...
Read more...
---
KPMs rotary consistency transmitter boosts pulp mill performance
May 2018 , Data Acquisition & Telemetry
In today's pulp and paper-making market place, consistency measurement is one of the most important ways to keep costs as low as possible without sacrificing quality or production throughput. KPM's KC/5 
...
Read more...
---