printer friendly version
Wireless access to remote or mobile equipment
December 2014
Data Acquisition & Telemetry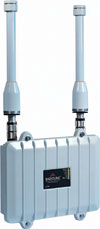 The RadioLinx 802.11abg Water Resistant Industrial Hotspot model RLX-IH65W brings real-time wireless access for the most demanding, hazardous and time-critical applications. This is a cost-effective wireless solution for plant and field engineers who need real-time access to remote or mobile equipment, particularly when the environment is exposed to harsh temperatures, moisture, dust, and weather. The radios allow users to reduce costs including those associated with downtime, labour and installation, and leased-line or wireless service fees.
Field applications exposed to severe conditions, such as on an oil rig or in the wash down area of a manufacturing plant, can benefit from this latest addition to ProSoft Technology's RadioLinx wireless product family. This radio functions as an access point, repeater, or client. It also offers Power over Ethernet (PoE), which allows it to be installed close to the antenna, reducing antenna cable loss and so maximising range.
IGMP Snooping
The RLX-IH65W is equipped with RF-based Internet Group Management Protocol (IGMP) Snooping, a tool which allows multicast filtering at the wireless level, so that the radio transmitting data from the producer (such as a distributed I/O block) is able to identify the consumer (e.g. PLC) and transmit the producer data directly to the consumer as opposed to multicasting the information to the entire wireless network. Since the RLX-IH65W sends the data directly to each of the consumers, it is able to confirm receipt of the data and retransmit the data if necessary. RF-based IGMP prevents crowding over the air by sending messages only where they need to go and it increases reliability by confirming receipt of the data.
Industrial design
The IP65 rated enclosure protects the device from water jets and against dust. The RLX-IH65W can be used in industrial operating temperatures, and is vibration and shock resistant.
Security
The radio offers cryptographic strength security with WPA2 (802.11i-128/192/256 bit) Advanced Encryption Standard (AES) and CCM (Counter with Cipher Block Chaining Message Authentication Code) integrity check. The radio is also equipped with MAC ID filtering to limit access to approved device MAC IDs. It also monitors the wireless environment for approved and rogue radios.
OFDM modulation
The hotspot uses OFDM (Orthogonal Frequency Division Multiplexing) modulation for high noise immunity at maximum speeds. This technique distributes data over multiple carriers which are ­assigned individual frequencies, translating into less distortion or interference.
Additional product features
These include:
• Dual frequency band (2,4 GHz and 5 GHz).
• OPC server included to embed diagnostics in HMI clients.
• Programmable RF power output to meet regional regulations.
• Support for high-speed applications like video and EtherNet/IP I/O.
• UL1604 Class 1, Div 2 approved for hazardous environments.
• Support for Voice over IP (VoIP).
• Automatic network configuration with self-healing network.
• Multiple master network architecture for large networks such as scada.
• Includes bracket for mounting to poles up to 3 inches in diameter.
• Die-cast Aluminium enclosure.
• Supports distances of up to 8 km at 54 Mbps.
For more information contact Bob Petrie, Throughput Technologies, +27 (0)11 705 2497, info@throughput.co.za, www.throughput.co.za
Credit(s)
Further reading:
Are you ready for the 2G/3G sunset?
August 2021, Throughput Technologies , Industrial Wireless
With widespread adoption of 4G technology and the growing availability of 5G, older technologies (2G and 3G) are now slowly being phased out.
Read more...
---
Clip-on indicator with Bluetooth and logging
September 2020, WIKA Instruments , Data Acquisition & Telemetry
Monitor live process values and diagnostic information on any iOS/Android device running the free PPS application, or monitor directly on the display.
Read more...
---
Completing the remote maintenance circle
July 2020, Throughput Technologies , IT in Manufacturing
What do the world's machine builders want from a next generation remote maintenance solution? Secomea has been listening to thousands of them and has spotted a pattern. In this collective vision the 
...
Read more...
---
RS Components introduces RX23E-A
July 2020, RS Components SA , Data Acquisition & Telemetry
RS Components has introduced a new series of single-chip devices from Renesas, the RX23E-A microcontrollers (MCUs) which combine an analog front end (AFE) and an MCU core for use in equipment that delivers 
...
Read more...
---
Advanced controller for data acquisition
December 2019, RJ Connect , Data Acquisition & Telemetry
The ioThinx 4530 series is an advanced modular controller product with a unique hardware design, making it an ideal solution for a variety of industrial data acquisition applications. The controller has 
...
Read more...
---
Top data management on the DIN rail
October 2019, Endress+Hauser South Africa , Data Acquisition & Telemetry
The data manager family of Endress+Hauser is growing. To meet the strong demand from the market for a smart, compact DIN rail data manager for mounting in the control cabinet, development of the RSG45 
...
Read more...
---
The power of data
October 2019, Throughput Technologies , IT in Manufacturing
Gain access to important information with ProSoft's new OPC UA-based gateway and data logger.
Read more...
---
IoT data logger
October 2019 , Data Acquisition & Telemetry
IMS is known across the globe as a leading industry expert and manufacturer of condition monitoring data loggers and telemetry. The company performs data logger engineering, manufacturing and servicing 
...
Read more...
---
Securing the smart factory?
Technews Industry Guide: Industrial Internet of Things & Industry 4.0, Throughput Technologies , IT in Manufacturing
Secomea provides secure remote access without the need for advanced firewall configuration.
Read more...
---
Fieldlogger for data acquisition
June 2019 , Data Acquisition & Telemetry
The Fieldlogger is a great asset to the Novus automation range of products. It is one of the most comprehensive instruments for the acquisition of data recording, and is capable of analog and digital 
...
Read more...
---