printer friendly version
Servo drives key to vertical packing revolution
December 2014
Motion Control & Drives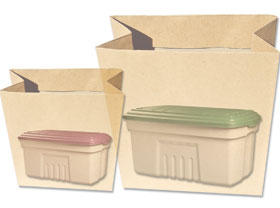 One of Italy's leading packaging companies is using the speed and accuracy of Control Techniques' servodrive, Digitax ST at the heart of its vertical form, fill and seal packaging machines.
Sabalpack of Mortara is an innovative young company that has the capability to produce 100% custom machines alongside proven mass production products. Its flagship 'Leopard' Stabilo packaging line is a range of fully automatic electronic vertical packaging machines that are fitted with brushless motors to provide the sealing crimper and packaging feed functions.
The stylish and practical stabilo bag has four sealed corners that give it strength and stability, effectively protecting the product inside and guaranteeing its quality. This type of bag forming unit is integrated into each forming tube so that changes in bag size and format can be easily achieved in a few simple steps – the operator needs only enter an instruction using the control panel (number of bags, format, product etc). This information is then sent by Profibus to the SM Applications Plus programmable processor in the Control Techniques Digitax ST servodrive that runs the crimper motor and film feed so that the appropriate amount of film is fed for each batch. The accuracy of this operation is so precise and repeatable, that it can be replicated meticulously over time, ensuring that bag seams are perfect each time, every time.
The stainless steel machines, designed primarily for the food industry, have an output rate in excess of 150 packages per minute. In addition to the stabilo bag, the machines can accommodate traditional bag formats including pillow and square block bottom bags.
More and more, the food industry is looking to the new format 'Tray & Bag' style of packaging that shows the product fresh and double packed, preserved by the bag and kept intact by the tray at the same time. This concept combines flexibility and quality of vertical filling with the faster throughput of horizontal packaging. The new solution fills trays vertically, which is an intelligent solution to the problem of product spillage, focusing more on end results and producing high quality packages. In fact, in the Tray & Bag system, products are looked after more carefully thanks to the special combination of the four-side seal, high quality 'stabilo' package – again produced using the consistency assured by the repeatability of Digitax ST servodrives – and the tray, which shows the quality of the product to the customer in a traditional and wholesome way.
Furthermore, unlike flow-packs, Tray & Bag has the unique advantage of remaining upright on both supermarket shelving and in household larders.
The recently introduced Digitax ST range encompasses four models, each with industry-leading features and extremely compact in size – Base, Indexer, EZ Motion and Digitax ST Plus. Sabalpack opted for the top of the range Digitax ST Plus that features a full functionality motion controller, optimised for high performance machines requiring synchronised motion. The on-board drive-to-drive networking links multiple axes and enables true distributed control. Configured using CTSoft, the drive's advanced motion features are configured in a flexible IEC6113-3 software development environment using PLCopen motion function blocks within Control Techniques' SyPT software.
Digitax ST combines reliability, high-performance to increase operating speed, repeatability and accuracy, whilst at the same time reducing panel sizes and costs.
For more information contact Sanjith Singh, Emerson Industrial Automation Southern Africa, +27 (0)11 462 1740, sanjith.singh@emerson.com, www.emersonindustrial.com
Credit(s)
Further reading:
Drives for the chemical sector
July 2021, Bearing Man Group t/a BMG , Motion Control & Drives
BMG's range of Danfoss electronic, mechanical and intelligent mechatronic devices are designed to optimise automation processes and reduce energy consumption in many sectors, including the chemical industry.  
...
Read more...
---
The benefits of mobile robots and cobots
July 2021, Omron Electronics , Motion Control & Drives
Easily configurable production lines will in future consist of collaborative and flexible transport and transfer solutions, tailored to specific production environments.
Read more...
---
XTS transport system handles demanding packaging applications
July 2021, Beckhoff Automation , Motion Control & Drives
Beckhoff's intelligent XTS transport system sorts bottles while managing automatic format changeovers.
Read more...
---
BMG's integrated geared motors for efficiency
June 2021, Bearing Man Group t/a BMG , Motion Control & Drives
An integrated geared unit that combines the recently launched Nord IE5+ synchronous motor and a single-stage helical gear unit offers optimum system efficiency.
Read more...
---
New motors extend the Sinamics S210 system
June 2021, Siemens Digital Industries , Motion Control & Drives
Siemens has added new servo motors to its proven Sinamics S210 single-cable servo drive system, thereby expanding its range of applications.
Read more...
---
Why Cobots? From myths to a simpler reality
May 2021, SMC Corporation South Africa , Motion Control & Drives
While robotics led the way for the rapid growth of automation, cobots are the democratisation of robotics technology. They eliminate the cost and complex programming that robots usually require while providing much greater flexibility.
Read more...
---
Adroit connection to solar powered VSDs
May 2021, Adroit Technologies , Motion Control & Drives
Adroit Connect is a simple and cost-effective solution that allows users to remotely monitor their Mitsubishi solar VSDs, change parameters from anywhere and save unnecessary trips to site.
Read more...
---
New Fenner couplings ensure effective torque transfer
March 2021, Bearing Man Group t/a BMG , Motion Control & Drives
BMG's new reinforced Fenner Triflex couplings, with forged steel flanges, provide an integrated solution for the safe and efficient transfer of torque, even in extreme conditions.
Read more...
---
Enhance machine safety with locking cylinders
March 2021, SMC Corporation South Africa , Motion Control & Drives
Stopping the flow of compressed air using an air circuit combined with a mechanical locking cylinder gives the most enhanced level of safety.
Read more...
---
30 years of linear motion technology
March 2021 , Motion Control & Drives
This year, factory automation specialist Bosch Rexroth celebrates 30 years of linear motion technology and innovation.
Read more...
---