printer friendly version
Emerson introduces 3D solids scanners
December 2014
Level Measurement & Control
Emerson Process Management has introduced the Rosemount 5708 series of 3D Solids Scanners for the continuous measurement of level, volume and mass of bulk solids and powders in large vessels, bins and silos. The new series uses acoustic measurement and 3D mapping technologies to provide accurate and reliable results even when measuring uneven or sloping surfaces under dusty conditions.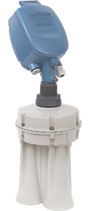 The scanners provide highly accurate measurements of stored contents for improved process and inventory control. Unlike laser-based technologies that can take several hours to take measurements and require the process to be shut down, Rosemount 3D Solids Scanners provide continuous volume measurements which are representative of the material's surface. They can measure practically any kind of material including difficult-to-measure fly ash and materials with a low dielectric that would challenge other technologies. The self-cleaning design requires low maintenance even when used in the dustiest environments.
Rosemount 3D Solids Scanners are suitable for measuring solids in silos, large open bins, bulk solid storage rooms, stockpiles and warehouses. There are models to deliver either level data only or both level and volume data using intuitive monitoring software. The Rosemount scanner maps the uneven surface typically found in solids applications and can provide the minimum and maximum level, the total volume and a 3D visualisation of the surface.
The series includes level scanners for silos up to 5 m diameter and 70 m height, and there is also a version for larger vessels and silos up to 12 m diameter and 70 m height. Emerson can also supply systems of multiple devices to cover large areas such as 30 x 70 m warehouses.
The new Rosemount 3D Solids Scanners are part of Emerson's comprehensive range of level measurement devices for many applications across a range of industries. 3D solids scanners complement Emerson's existing Rosemount 5400 series of non-contacting radar level transmitters and the Rosemount 5300 series guided wave radar for solids measurement in smaller vessels.
For more information contact Ron Raubenheimer, Emerson Process Management, +27 (0)11 451 3700, ron.raubenheimer@emerson.com, www.emersonprocess.com
Credit(s)
Further reading:
Level transmitter for hygienic applications
August 2021, Emerson Automation Solutions , Level Measurement & Control
The Rosemount 1408H Level Transmitter with IO-Link provides accurate, non-contacting measurement to help optimise operations and ensure food safety.
Read more...
---
Ready for use anywhere
August 2021, Endress+Hauser South Africa , Level Measurement & Control
The first 2-wire loop-powered compact transmitter enters the market.
Read more...
---
Make level sensor checks redundant
August 2021, DRH Components , Level Measurement & Control
The Roto-Bin-Dicator PRO is a simple paddlewheel device that monitors the level of dry bulk material.
Read more...
---
Level switches master viscous substances
July 2021, VEGA Controls SA , Level Measurement & Control
VEGA has developed the new front-flush level switch, Vegapoint 24, especially for use with sticky, viscous or abrasive products.
Read more...
---
Level sensors shorten the distance from the field to supermarket shelves
August 2021, VEGA Controls SA , Level Measurement & Control
VEGAPULS C 11 ensures fast processing of carrots and onions with reliable measured values.
Read more...
---
New horizontal float switch
June 2021, ASSTech Process Electronics + Instrumentation , Level Measurement & Control
The R40 LSH now includes devices for point level measurement with features such as floats and reed contacts.
Read more...
---
Bypass level indicators
June 2021, Instrotech , Level Measurement & Control
Instrotech now offers Kobold's NBK level indicators for continuous measurement, display and monitoring of liquid levels in above or below-ground tanks.
Read more...
---
Thief hatch monitoring
June 2021, Emerson Automation Solutions , Operator Interfaces, Switches & Relays
As thief hatches on oil storage tanks are necessary for maintenance, it is essential to monitor the hatch is closed so that it does not contribute to overall emissions limits.
Read more...
---
Emerson introduces Digital Maturity Quick Index
April 2021, Emerson Automation Solutions , IT in Manufacturing
Resource helps companies self-assess operations and identify opportunities for the highest potential return on investment.
Read more...
---
Delivering modern SIS for wellhead applications
April 2021, Emerson Automation Solutions , IS & Ex
Keeping the safety and non-safety functions separate while achieving seamless integration.
Read more...
---