printer friendly version
Reliable level measurement in the steam drum
December 2014
Level Measurement & Control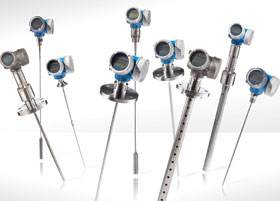 If the water level is too low, overheating of the water wall tubes may cause serious accidents, resulting in downtime, expensive repairs and injury or death to personnel. If the level is too high, boiler water carry-over into the superheater or turbine may cause damage resulting in extensive maintenance costs or outages of the turbine or boiler. Controlling the water level requires sophisticated techniques as the level measurement must be accurately transmitted to the control system.
Higher availability with an innovative alternative
This is why Endress+Hauser offers integrated guided-wave radar transmitters (Levelflex) as an alternative to differential pressure. These transmitters ensure higher plant availability by offering more reliable level detection capabilities, even under harsh conditions. Levelflex offers the following benefits:
• Compact design.
• Easy installation and operation.
• Better reliability measurements and higher performance.
• Fast response time.
• Improved control, analysis and communication.
Furthermore, Levelflex can be offered as a complete quality bypass solution which reduces costs by approximately 25% when designing a new plant or modernising one. As the Levelflex guided radar device can also be pre-mounted in the bypass and preconfigured when delivered, users can minimise the loading and mounting costs. Also, the Levelflex guided radar is practically maintenance-free as it has no mechanical moving parts.
The Levelflex M as well as the new Levelflex FMP 54 are T&220;V certified according to the standards EN 12952 and EN 12953. This means that constructors of steam vessels can install the Levelflex in a redundant combination (1oo2 or 2oo3) as a low water level (LWL) or high water level (HWL) protection together with either the universal transmitter with control function RMA42 or a safety PLC.
Differential pressure level measurement can be tricky
Plant personnel are quite familiar with dp transmitters as they have a long operation history. On the other hand, they do have boundaries. The output of a conventional dp transmitter has inaccuracies mainly caused by changes of static pressure and water density in each leg, and in the steam and water inside the drum. Water at high pressures experiences density changes, independent of those caused by temperature variations.
For more information contact Jan Gerritsen, Endress+Hauser, +27 (0)11 262 8000, info@za.endress.com, www.za.endress.com
Credit(s)
Further reading:
Level transmitter for hygienic applications
August 2021, Emerson Automation Solutions , Level Measurement & Control
The Rosemount 1408H Level Transmitter with IO-Link provides accurate, non-contacting measurement to help optimise operations and ensure food safety.
Read more...
---
Ready for use anywhere
August 2021, Endress+Hauser South Africa , Level Measurement & Control
The first 2-wire loop-powered compact transmitter enters the market.
Read more...
---
Make level sensor checks redundant
August 2021, DRH Components , Level Measurement & Control
The Roto-Bin-Dicator PRO is a simple paddlewheel device that monitors the level of dry bulk material.
Read more...
---
Level switches master viscous substances
July 2021, VEGA Controls SA , Level Measurement & Control
VEGA has developed the new front-flush level switch, Vegapoint 24, especially for use with sticky, viscous or abrasive products.
Read more...
---
Endress+Hauser opens vaccination centre
July 2021, Endress+Hauser South Africa , News
As part of a model project, Endress+Hauser is operating a vaccination centre for employees in Maulburg.
Read more...
---
Level sensors shorten the distance from the field to supermarket shelves
August 2021, VEGA Controls SA , Level Measurement & Control
VEGAPULS C 11 ensures fast processing of carrots and onions with reliable measured values.
Read more...
---
A new generation of sensors for liquid analysis
May 2021, Endress+Hauser South Africa , News
Endress+Hauser introduces the next generation of Memosens digital technology for simple, safe and connected liquid analysis.
Read more...
---
New horizontal float switch
June 2021, ASSTech Process Electronics + Instrumentation , Level Measurement & Control
The R40 LSH now includes devices for point level measurement with features such as floats and reed contacts.
Read more...
---
Endress+Hauser holds its ground despite the pandemic
June 2021, Endress+Hauser South Africa , News
Endress+Hauser weathered the 2020 pandemic year well. The Group created new jobs and expanded its global sales and production network.
Read more...
---
Bypass level indicators
June 2021, Instrotech , Level Measurement & Control
Instrotech now offers Kobold's NBK level indicators for continuous measurement, display and monitoring of liquid levels in above or below-ground tanks.
Read more...
---