printer friendly version
King-size acid pump from Richter
December 2014
Valves, Actuators & Pump Control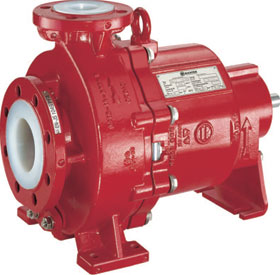 Leading manufacturer of chemical process pumps, Richter, has extended its product range of centrifugal pumps for conveying corrosive, aggressive, hazardous or contaminated chemicals such as acetic acid.
The use of emission-free pumps is mandatory for many applications in the chemical industry. This was the case in a plant at the Burghausen site of Wacker Chemie. But which leak-free alternative should be selected? The team under Richard Losbichler, head of the service centre for machines and pumps, is best qualified to answer such questions. "In the pump centre employees advise our colleagues on the procurement of continuous flow machines i.e. pumps, compressors and ventilators. In the service centre we maintain these units. These workers are therefore the best judges as they know the specific strengths and weaknesses of the products offered on the market."
In this case the in-house contract awarder was the engineering department of the acetyls supply chain division. "We look after the basic material plants of the polymers division in Burghausen, maintain the technical equipment and perform optimisation tasks so that the plants run for as long and as well as possible. And we ensure that the environmental protection requirements are observed," says plant maintenance manager, Gerhard Bauer.
The acetyls production unit is an important supplier of raw materials within the Wacker Group. Starting with ethylene, the division produces acetaldehyde and, in another oxidation stage, formic acid which is then further processed into vinyl acetate and ketene. The pumps in question convey a highly corrosive fluid consisting of acetic acid, formic acid and acetaldehyde in a temperature range of between 50 and 80°C.
Emissions free is not enough
In principle, double acting mechanical seal systems, canned motor pumps and metallic or plastic lined magnetic drive pumps are available as emission free technologies. In this particular application however, the selection options were limited as Losbichler explains: "Metallic pumps have problems with crevice corrosion when conveying acetic acid at elevated temperatures. In the case of double mechanical seals major problems arise on the shaft sleeve, with metallic magnetic drive pumps crevice corrosion can be expected on the separating can itself and in other areas of the pump."
A magnetic drive pump lined with fluoro-plastic was seen as an obvious solution, but such a pump was not previously available on the market with the required flow rate. Therefore, metallic magnetic drive pumps were installed despite the known risks of corrosion, relatively high running costs as well as the maintenance and repair outlays at intervals of six and 12 months.
And so it suited Losbichler and his team when Richter developed a suitably high-performance magnetic drive pump lined with fluoro-plastic. "We have gained good experience with PFA and PTFE-lined MNK pumps with similarly aggressive media. We are therefore assuming that such a pump will have a considerably longer service life than the pumps previously used."
Series for highly corrosive media
Richter Chemie-Technik is a pioneer in this field and as far back as 1983 presented the first magnetic drive centrifugal pump lined with fluoro-plastic, the MCK series. This developed into the MNK series: all components which come into contact with the medium either have a thick PFA fluoro-plastic lining; are made of solid PTFE fluoro-plastic or are made of sintered silicon carbide.
The concept was convincing and the MNK was rapidly accepted in the market after its launch. At Wacker Chemie 750 Richter pumps are now in operation. In addition to the aspects of robustness and reliability, the exchangeability of components among the different sizes is also an important advantage of this series. Today, the MNK is a recognised alternative to magnetic drive pumps made of special metals such as Hastelloy, Alloy20, tantalum and nickel. The reasons are that it is cheaper to procure, generates no eddy-current losses and the delivery time for the pump and spare parts is only four to eight weeks.
According to Losbichler and Bauer, the pumps have been operating without any problems and the expected life cycle cost savings are estimated at 70% or more.
For more information please contact Fred Venter, Valve & Automation, +27(0) 11 397 2833, fred.venter@valve.co.za, www.valve.co.za
Credit(s)
Further reading:
Eliminate bearing failures in TOVs
August 2021, Valve & Automation , Valves, Actuators & Pump Control
Bearing failures are among the highest root causes of failure in triple offset valves (TOV) for tight shutoff applications. This issue is directly attributed to the need to have metal bearings with very 
...
Read more...
---
Locally manufactured knife gate valves
August 2021, Bearing Man Group t/a BMG , Valves, Actuators & Pump Control
BMG and Abrasive Flow Solutions (AFS) play a major role in the local valves sector, through the design, distribution, supply and support of a broad range of slurry related valves.
Read more...
---
Protect your pump and keep it longer
July 2021, Elemental Analytics , Valves, Actuators & Pump Control
Unexpectedly losing a pump is often an expensive or even a dangerous problem in a chemical plant.
Read more...
---
Locally valves manufactured for tailings pipeline
June 2021 , Valves, Actuators & Pump Control
The AFS manufacturing plant in Benoni is equipped with advanced equipment and is supported by specialists who offer dependable technical support to ensure the optimum safety, efficiency and extended service life of every system.
Read more...
---
New flange monoblock with shut-off valve
March 2021, WIKA Instruments , Valves, Actuators & Pump Control
WIKA's new monoblock with flange design integrates a shut-off valve to separate the process from the instrument side.
Read more...
---
Erratum
February 2021, Valve & Automation, Technews Publishing (SA Instrumentation & Control) , News
Read more...
---
The Stafsjö HX story – greater demand calls for action
February 2021, Valve & Automation , Valves, Actuators & Pump Control
As a knife gate valve supplier, Stafsjö supplies product solutions to realise efficiency and production goals in pulp and paper applications.
Read more...
---
Drives for solar-powered pump systems
February 2021, Bearing Man Group t/a BMG , Valves, Actuators & Pump Control
BMG advises on how to optimise efficiency and extend the service life of solar-powered pumping systems by selecting the correct drives.
Read more...
---
Optimise fermentation in alcoholic beverage manufacturing through proper valve selection
February 2021, ASCO , Valves, Actuators & Pump Control
Emerson can help select the right fluid automation products to meet all unique requirements.
Read more...
---
Smart positioners of the future
January 2021, SMC Corporation South Africa , Valves, Actuators & Pump Control
SMC's new range of Smart Positioners was designed to pair perfectly with a variety of process control valves and actuators.
Read more...
---