printer friendly version
Link sensors ­directly to open networks
September 2014
PLCs, DCSs & Controllers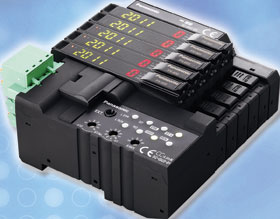 Reducing wiring and the time required for installation are critical factors for lowering overall network costs. Panasonic's SC-GU3 communication unit provides users with a quick way to mount sensor amplifiers side by side and communicate with a PC via an open network. The PC can then be used to monitor the digital and analogue signals, or even to alter the sensor settings.
Set and check incident light intensity for digital sensors (FX-301/305) by using the SC-GU1-485, which improves ease of operation by allowing users to start, monitor and manage equipment.
Up until now, communication between intelligent sensors and controllers has been realised via serial or parallel interfaces built into the sensors. In order to remove the limitation for any specific fieldbus type, Panasonic began developing its solution for transferring data between controllers and the required sensors.
It continued this philosophy with the SC-GU series, i.e. units were developed that provided an interface between bus and sensor. Though RS-485 is still the most prevalent interface in use, units for CC-Link, DeviceNet and EtherCAT have also been introduced as solutions for open networks. Features include:
* Sensor information can be checked and changed via the RS-485 network.
* Sensor information can be monitored and settings can be changed by a PC on the network.
* Up to 16 sensor amplifiers can be connected to one communication unit (only 12 for FX-500 series).
* No tools are needed to install the sensor amplifiers.
* Sensors can be easily replaced without removing adjacent sensor amplifiers.
Credit(s)
Further reading:
New Modicon IIoT-ready controller
September 2020, Schneider Electric South Africa , PLCs, DCSs & Controllers
The Modicon M262 is IIoT-ready, designed and delivered with intuitive direct cloud connectivity and no gateways are required for OEMs to design solutions for performance demanding applications.
Read more...
---
Modular mid-range PLC series
June 2020, ElectroMechanica , PLCs, DCSs & Controllers
The Delta compact modular mid-range AS series PLCs, available locally from ElectroMechanica (EM), is a high-performance, multi-purpose controller designed for all kinds of automated equipment. The series 
...
Read more...
---
Enclosures with modular design
April 2020, Vepac Electronics , Enclosures, Cabling & Connectors
CamdenBoss CNMB DIN rail enclosures, feature a modular design. Terminal guards and top covers can be snap-fitted for a quick and simple assembly. PCBs can be placed into the DIN rail enclosure in five 
...
Read more...
---
Ultra-compact soft starter with protection
December 2019, Vepac Electronics , Electrical Power & Protection
The Tele Christian P4.0/RL/TP/IC electronic soft starter is, with all of its integrated functionality, designed for ultra-compact installation. It helps to reduce wiring material, installation time and 
...
Read more...
---
Fishery relies on Siemens process management
December 2019 , PLCs, DCSs & Controllers
The fishery in Steinach, Switzerland, breeds fish species which are under threat so that they can be released into domestic waterways in the canton of St. Gallen. The quality and temperature of the water, 
...
Read more...
---
Meet the Future: Edge Programmable Industrial Controllers
November 2019, Opto Africa Holdings , PLCs, DCSs & Controllers
All controls engineers are familiar with PLCs and PACs (programmable automation controllers). Both have been used and improved over many years, incorporating capabilities that used to be found only in 
...
Read more...
---
Precise control in joining applications
October 2019, ASSTech Process Electronics + Instrumentation , PLCs, DCSs & Controllers
Digiforce is the trusted name when comprehensive monitoring of press-fit, joining, riveting and caulking processes is needed. The models 9306 and 9310 are being successfully used in innumerable applications 
...
Read more...
---
Ultra slim DIN rail power supplies
September 2019, Vepac Electronics , Electrical Power & Protection
XP Power has announced the DSR range of AC-DC DIN rail power supplies approved for industrial control systems and information technology equipment applications. These versatile supplies provide reliable 
...
Read more...
---
PS17 differential pressure ­transmitter
August 2019, Vepac Electronics , Pressure Measurement & Control
Differential pressure transmitters are used for regulating HVAC systems and for monitoring filters. The devices can also monitor under and overpressures in cleanrooms or mini-environments. halstrup-walcher, 
...
Read more...
---
The powerful Festo modular control system CPX-E
Technews Industry Guide: Industrial Internet of Things & Industry 4.0, Festo South Africa , PLCs, DCSs & Controllers
Designed as an EtherCAT master and motion controller with protection to IP20, the powerful automation system CPX-E for factory and process automation with NE21-specific certifications is becoming the 
...
Read more...
---