printer friendly version
SKF actuators deliver ultimate product confidence
August 2014
Motion Control & Drives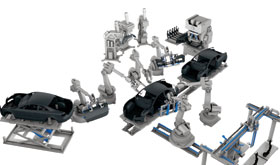 SKF actuation system solutions are widely acknowledged for their quality and accurate and efficient performance across a broad range of market sectors. "Our turnkey actuation system solutions position us extremely competitively in the market," says SKF Mechatronics product manager for southern Africa, John Storm. "The actuation systems are offered through SKF Mechatronics, which is one of SKF's six global core technologies together with bearings and units, seals, power transmission, lubrication systems and services. Mechatronics is briefly defined as anything mechanical that is electrically driven and SKF's portfolio comprises linear guidance systems, linear driving technology and actuation systems.
"Actuation is our primary focus, and more specifically, electrically driven actuator systems with AC, DC and servo options. The electric system delivers substantial end-user benefits compared to hydraulic and pneumatic systems. In addition to being sealed and maintenance free, the system features quality, reliability, high efficiency rates, low power consumption, high repeatable accuracy, system diversity and simple integration."
Storm explains that choosing the most appropriate linear guidance system is dependent on a number of factors such as load capacity, stiffness, required speed, travel and the attainable degree of precision. SKF offers three types of linear guidance systems to meet customers' diverse guiding needs:
* Linear ball bearings (ball-recirculation sleeves on shafts).
* Profile rail guides (carriage with rows of re-circulating balls running on a profiled rail).
* Precision rail or prismatic guides (two guide rails positioned one upon the other with a ball, crossed roller or needle roller cage between them).
Linear driving technology involves rolled ball screws, ground ball screws, and roller screw systems. Ball and roller screw technology, which according to Storm, transforms rotary motion (provided by a motor) into linear motion, with very high efficiency. Rolled ball screws offer high precision to cover most requirements and reduce or eliminate backlash. Ground ball screws are the best solution for applications demanding greater rigidity and precision. Ball screws handle push and pull forces and run with linear guides which take up the lateral force. Roller screws can operate far beyond the limits of ball screws and ensure ultimate precision and rigidity, high speed and acceleration, a technology created by SKF.
"Our expansive linear range, available from 100 N to 600 kN, pushing forces out in precision at high speed, offers a tailored solution to meet any linear application demand whether to position, lift, pick, raise and lower or wrap," reveals Storm. "The fact that SKF electric actuation systems are sealed eliminates contamination risk, making them ideally suited to the food and beverage industry. They are also widely used in agriculture for electronic parking brakes on tractors as well as bearings with encoders and integrated GPS tracking for positioning and adjusting feeders or sieves on combine harvesters offer advantages such as reduced operational costs and increased life span, speed, agility and production.
"Whether it is a new installation or after-market fitment, we assess and evaluate the customer's unique requirements to offer the best, most reliable and efficient solution," concludes Storm.
For more information contact Samantha Joubert, SKF South Africa, +27 (0)11 821 3602, samantha.joubert@skf.com, www.skf.co.za
Credit(s)
Further reading:
Conveyor chain for special applications
Bearing Man Group t/a BMG Motion Control & Drives
BMG's comprehensive range of power transmission components incorporates ZMC industrial conveyor chains that offer dependable service in diverse applications, especially in food production.
Read more...
---
BMG'S Nord IE5+ motor generation
Bearing Man Group t/a BMG Motion Control & Drives
BMG and German precision engineers, Getriebebau Nord, entered a partnership agreement in 1996 to assemble, distribute and support Nord Drive Systems throughout southern Africa.
Read more...
---
SKF increases paper machine reliability
SKF South Africa Maintenance, Test & Measurement, Calibration
SKF's virtually maintenance-free rope sheave units offer a unique solution to the pulp and paper industry through improved machine reliability.
Read more...
---
V-belts designed for food applications
Bearing Man Group t/a BMG Motion Control & Drives
BMG supplies a wide range of power transmission components, designed to enhance efficiency and safety in the food and beverage sector.
Read more...
---
Control automation excellence
SEW-Eurodrive Motion Control & Drives
Movi-C from SEW-EURODRIVE is a unique automation control system that sets a new benchmark in control automation, embracing Industry 4.0 technology.
Read more...
---
Online monitoring of haul trucks
SKF South Africa Maintenance, Test & Measurement, Calibration
IMx-16 Multilog online monitoring systems on two mobile mining haul trucks at a leading copper mine in Zambia predict critical component failures and allow for planned predictive maintenance procedures to be carried out.
Read more...
---
Efficient agriculture systems from BMG
Bearing Man Group t/a BMG Motion Control & Drives
BMG's Boer Slim/Smart-Farming agricultural team works closely with farmers throughout southern Africa, assisting them with the selection, installation and operation of new electromechanical systems. These 
...
Read more...
---
Energy from the power of the moon
SKF South Africa Electrical Power & Protection
Fully integrated holistic power train solution designed by SKF now installed at the Scottish sea.
Read more...
---
Inertial spin filters save energy
Motion Control & Drives
RTS Africa's inertial spin filters provide an effective, maintenance-free solution to dust problems in MCC rooms, transformer rooms, control rooms and the like.
Read more...
---
Drives for the chemical sector
Bearing Man Group t/a BMG Motion Control & Drives
BMG's range of Danfoss electronic, mechanical and intelligent mechatronic devices are designed to optimise automation processes and reduce energy consumption in many sectors, including the chemical industry.  
...
Read more...
---