printer friendly version
Total valve solutions
August 2014
Valves, Actuators & Pump Control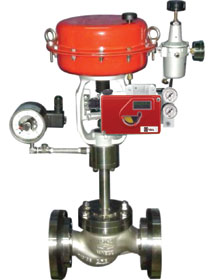 Valve & Automation provides total valve and control solutions to the chemical, refining, mining and minerals, pulp and paper, sugar, steel, power generation and other key process industries throughout South Africa. V&A iCon offers a wide range of control valve positioners, from pneumatic and analogue devices to advanced smart positioners for all industries. These valve positioners are certified for hazardous areas, provide solutions for HART, FF H1, Profibus PA communication and are SIL3 certified for applications with safety valves.
Based on the FDT/DTM standard, the advanced and premium diagnostics for the SRD series positioners offer a full range of tools for predictive maintenance of the complete valve. Features such as valve footprint, cycles counters, position history and online friction enable a complete diagnostic view for optimised predictive maintenance.
Technical challenge
Advanced diagnostics also offers a powerful tool for predictive maintenance on the packing. The cycle and stroke counters give a relatively good idea of the status of the packing, since the consumption of the packing is correlated to its use. After a consequent amount of movement, the packing starts to lose its rigidity, which can lead to emissions into the atmosphere.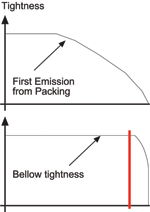 In some cases, these emissions can be dangerous to people and the environment, and consequently a bellows seal is used to prevent any leakage occurring. However, these rupture and the consequences can be extremely damaging. In this case, the cycle counter and a regular check-up of the bellows are not enough to prevent a leakage of the chemical into the atmosphere.
That is why a valve manufacturer asked Valve & Automation to provide a solution to minimise this avoidable risk. The specification was to initiate an alarm when packing rigidity starts to decrease to allow enough time to evacuate the area and ensure safe equipment operation before emissions become harmful.
The solution
To meet these requirements, V&A iCon has a unique solution based on a pressure switch gauge, measuring the pressure directly in the bonnet. The pressure switch gauge is connected to the positioner through a binary input. As soon as the pressure increases in the bellows because of a fugitive emission, the pressure gauge switches a binary input in the positioner as an alarm.
The positioner then alerts the control room via fieldbus communication (Hart, Profibus PA or Fieldbus H1). The solution does not require additional power supply or cabling since the pressure switch gauge loop is supplied by the positioner. It is ATEX certified and it has been patented by Foxboro US 6,112,638.
Results
An alarm is raised as soon as fugitive emissions are detected in the bonnet of the valve. This alarm is displayed on the home page of the DTM and on a dedicated page for an easy visualisation of the problem. In addition, a fail back position (open or closed) can be configured in order to stop the emissions and limit the damages. The fugitive emission monitoring solution can easily be implemented on an existing valve since no additional cabling is required and the diagnostic can be read with existing facilities. The reading and the analysis of the positioner data is safely done from the control room and backup can be achieved automatically.
For more information contact Fred Venter, Valve & Automation, +27 (0)11 397 2833, fred.venter@valve.co.za, www.valve.co.za
Credit(s)
Further reading:
Smart pumping – a new era in water management and supply
Schneider Electric South Africa Valves, Actuators & Pump Control
Smart pumping can address the high cost and energy usage challenges faced by private and municipality-managed facilities.
Read more...
---
Schubert & Salzer and Macsteel
Macsteel Service Centres Valves, Actuators & Pump Control
The demand on valves, particularly in tyre production plants, is extreme with tyre curing presses working constantly at high temperatures and pressures.
Read more...
---
Chinese LNG tanker fitted with ARCA anti-surge valves
Valve & Automation Valves, Actuators & Pump Control
ARCA anti-surge valves avoid surging by accurately adjusting the gas circulation or blow-off flow, effectively protecting the safety of the compressor unit.
Read more...
---
Electrified subsea actuator for offshore production
Valves, Actuators & Pump Control
Bosch Rexroth has engineered the SVA R2 Subsea Valve Actuator as a disruptive innovation for electrically actuating valves in the subsea process industry. It can replace conventional hydraulic cylinders 
...
Read more...
---
Eliminate bearing failures in TOVs
Valve & Automation Valves, Actuators & Pump Control
Bearing failures are among the highest root causes of failure in triple offset valves (TOV) for tight shutoff applications. This issue is directly attributed to the need to have metal bearings with very 
...
Read more...
---
Locally manufactured knife gate valves
Bearing Man Group t/a BMG Valves, Actuators & Pump Control
BMG and Abrasive Flow Solutions (AFS) play a major role in the local valves sector, through the design, distribution, supply and support of a broad range of slurry related valves.
Read more...
---
Protect your pump and keep it longer
Elemental Analytics Valves, Actuators & Pump Control
Unexpectedly losing a pump is often an expensive or even a dangerous problem in a chemical plant.
Read more...
---
Locally valves manufactured for tailings pipeline
Valves, Actuators & Pump Control
The AFS manufacturing plant in Benoni is equipped with advanced equipment and is supported by specialists who offer dependable technical support to ensure the optimum safety, efficiency and extended service life of every system.
Read more...
---
New flange monoblock with shut-off valve
WIKA Instruments Valves, Actuators & Pump Control
WIKA's new monoblock with flange design integrates a shut-off valve to separate the process from the instrument side.
Read more...
---
Erratum
Valve & Automation Technews Publishing (SA Instrumentation & Control) News
Read more...
---