printer friendly version
Heaton Valves Africa wins ESDV project
August 2014
Valves, Actuators & Pump Control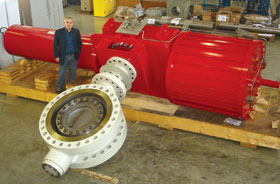 In recent years, triple eccentric valves have come into vogue for process design engineers when designing new or upgrading existing plants. Many data sheets nowadays specify triple eccentric valves as opposed to the traditional ball, plug or butterfly valve. However, it was the forward thinking of the project engineering team that helped Heaton Valves Africa score a contract win over its competitors.
The client saw the benefit of buying a valve for life, rather than opting for the less expensive standard type triple eccentric valve with its limited maintenance options.
Since its launch at Valve World 2000, Orton gained an edge in this highly competitive technology by introducing its second generation triple eccentric valve – a valve where not only the seal on the disc can be changed, but the seat in the body as well. Something nobody else was offering at the time of this particular project.
Triple eccentric valves are metal seated with resilient seat capabilities – there is zero leakage through the seat and because of the triple offset design there is no rubbing between seat and seal ring on the disc, thus sealing integrity is maintained. That is the theory, however, in practice the body seat will sometimes wear and the valve could eventually start to leak. According to Heaton, the costs of re-machining the body seat of a standard type valve is unviable, which then means the valve must be replaced.
Another motivating factor for Orton to develop their bolted seat design was to extend the range of applications for the valve. Being able to service a valve is an important feature for applications where abrasive fluids, corrosive media, high cycles or thermal stresses may cause damage to the sealing components (body seat and seal ring). With the introduction of this feature, the choice of suitable seat materials has increased over the limited traditional ones that may only be welded to the base body material.
Actuation
Again, the client chose an option with a unique feature. The DVG actuator provides a compact design and has a patented mechanism to reduce the wear effect on all loaded and sliding components, thus extending the overall lifespan. All actuators were reliability tested under temperature and subjected to severe endurance in order to get:
* SIL 3 product certification.
* SNAM Rete Gas qualification.
* Shell Global Solutions international qualification.
For more information contact Keith Mitchell, Heaton Valves Africa, +27 (0)31 902 8241, keithmitchell@heatonvalves.co.za, www.heatonvalves.co.za
Further reading:
Smart pumping – a new era in water management and supply
Schneider Electric South Africa Valves, Actuators & Pump Control
Smart pumping can address the high cost and energy usage challenges faced by private and municipality-managed facilities.
Read more...
---
Schubert & Salzer and Macsteel
Macsteel Service Centres Valves, Actuators & Pump Control
The demand on valves, particularly in tyre production plants, is extreme with tyre curing presses working constantly at high temperatures and pressures.
Read more...
---
Chinese LNG tanker fitted with ARCA anti-surge valves
Valve & Automation Valves, Actuators & Pump Control
ARCA anti-surge valves avoid surging by accurately adjusting the gas circulation or blow-off flow, effectively protecting the safety of the compressor unit.
Read more...
---
Electrified subsea actuator for offshore production
Valves, Actuators & Pump Control
Bosch Rexroth has engineered the SVA R2 Subsea Valve Actuator as a disruptive innovation for electrically actuating valves in the subsea process industry. It can replace conventional hydraulic cylinders 
...
Read more...
---
Eliminate bearing failures in TOVs
Valve & Automation Valves, Actuators & Pump Control
Bearing failures are among the highest root causes of failure in triple offset valves (TOV) for tight shutoff applications. This issue is directly attributed to the need to have metal bearings with very 
...
Read more...
---
Locally manufactured knife gate valves
Bearing Man Group t/a BMG Valves, Actuators & Pump Control
BMG and Abrasive Flow Solutions (AFS) play a major role in the local valves sector, through the design, distribution, supply and support of a broad range of slurry related valves.
Read more...
---
Protect your pump and keep it longer
Elemental Analytics Valves, Actuators & Pump Control
Unexpectedly losing a pump is often an expensive or even a dangerous problem in a chemical plant.
Read more...
---
Locally valves manufactured for tailings pipeline
Valves, Actuators & Pump Control
The AFS manufacturing plant in Benoni is equipped with advanced equipment and is supported by specialists who offer dependable technical support to ensure the optimum safety, efficiency and extended service life of every system.
Read more...
---
New flange monoblock with shut-off valve
WIKA Instruments Valves, Actuators & Pump Control
WIKA's new monoblock with flange design integrates a shut-off valve to separate the process from the instrument side.
Read more...
---
The Stafsjö HX story – greater demand calls for action
Valve & Automation Valves, Actuators & Pump Control
As a knife gate valve supplier, Stafsjö supplies product solutions to realise efficiency and production goals in pulp and paper applications.
Read more...
---