printer friendly version
Pin down the sedimentation process
August 2014
Level Measurement & Control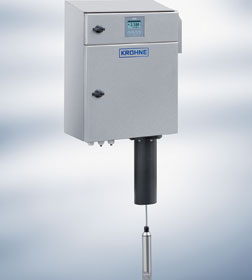 Krohne has introduced the Optisys SLM 2100 optical measuring system for sedimentation profile measurement and continuous tracking of sludge blanket. It allows for reliable tracking of sedimentation layers in industrial and municipal applications, e.g. in the sedimentation basins of power plants and waterworks, as well as sludge blanket measurement in clarifiers and sludge thickeners in sewage treatment plants.
Optisys SLM 2100 is the successor of the Optisens OAM 2080 sludge blanket measuring system, which has been completely reengineered to extend its area of application to sedimentation processes. It uses an optical suspended solids sensor, which is submerged into the basin. Unlike ultrasonic-based sludge level meters, the optical measuring principle is not subject to echo returns from walls or separating zones as well as signal damping by fluff or floating sludge.
The sedimentation measuring system offers three measuring modes:
* Measurement of sedimentation profile.
* Two-zone monitoring.
* Zone-tracking.
For sedimentation profile measurement, the system measures the suspended solids concentration at all heights as the sensor travels through all layers of the medium. The two-zone monitoring feature enables monitoring of the heights of two predefined concentrations, e.g. fluff and sludge. It can be used to prevent sludge washout into the next stage.
For continuous level measurement of a predefined concentration, also known as zone-tracking, the optical sensor moves within the medium until it detects the concentration and follows or tracks this zone continuously. This can be used to monitor the change of the sludge blanket level when pumping the sludge. Here, the system replaces two measurements commonly used in this application: with an ultrasonic level meter, disturbances of sludge blanket can lead to false measurements or even loss of signal for the ultrasonic device. To compensate for this, an additional turbidity measurement is installed in the line. Both can be replaced by the new Optisys SLM 2100.
The unit has two 4-20 mA outputs that communicate height and concentration according to the selected measuring mode. Inputs include a rake guard switch that protects the sensor from being caught by the rake. Also maintenance mode and interim measurements can be started remotely via digital inputs.
Both sensor and housing are made of stainless steel. The IP54 rated housing has a built-in fan to cool the electronics in hot environments; it also houses a heater to prevent the cable and mechanics from freezing in cold conditions. As an option, an integrated spray cleaning system cleans both the sensor and the transport cable following each measuring cycle, keeping maintenance costs to a minimum.
For more information contact John Alexander, Krohne SA, +27 (0)11 314 1391, j.alexander@krohne.com, www.krohne.com
Credit(s)
Further reading:
Specialist instrumentation for specialised applications
GHM Messtechnik SA Level Measurement & Control
Over 30 years of experience puts Val.co at the forefront to supply specialist liquid level, flow, pressure and temperature instrumentation.
Read more...
---
Radar transmitter ensures efficiency at Australian mine
VEGA Controls SA Level Measurement & Control
To eliminate supply bottlenecks at an Australian iron ore mine, the processes were better coordinated with VEGAPULS 69 playing an important role.
Read more...
---
High-reliability float switch
ASSTech Process Electronics + Instrumentation Level Measurement & Control
ASSTech has added a new simple-to-mount horizontal design of float switch to its Jumo range.
Read more...
---
Multi-application radar level transmitters
Instrotech Level Measurement & Control
Instrotech now offers Kobold's NGR, a robust, maintenance-free level sensor that uses TDR (time domain reflectometry) technology.
Read more...
---
Level transmitter for hygienic applications
Emerson Automation Solutions Level Measurement & Control
The Rosemount 1408H Level Transmitter with IO-Link provides accurate, non-contacting measurement to help optimise operations and ensure food safety.
Read more...
---
Ready for use anywhere
Endress+Hauser South Africa Level Measurement & Control
The first 2-wire loop-powered compact transmitter enters the market.
Read more...
---
Make level sensor checks redundant
DRH Components Level Measurement & Control
The Roto-Bin-Dicator PRO is a simple paddlewheel device that monitors the level of dry bulk material.
Read more...
---
Level switches master viscous substances
VEGA Controls SA Level Measurement & Control
VEGA has developed the new front-flush level switch, Vegapoint 24, especially for use with sticky, viscous or abrasive products.
Read more...
---
Key factors for picking the optimal flowmeter
KROHNE Flow Measurement & Control
While a variety of factors impact meter performance, the most common culprits are flawed sizing and failing to choose the most appropriate technology.
Read more...
---
KROHNE – 100 years in the spirit of creativity
KROHNE News
When Ludwig Krohne founded the company in 1921, the first customers were a small number of steel producers from the Ruhr area.
Read more...
---