printer friendly version
High-density I/O modules from Pepperl+Fuchs
August 2014
Data Acquisition & Telemetry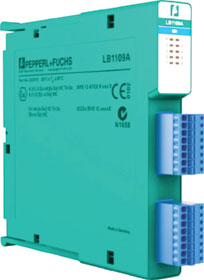 Pepperl+Fuchs has complemented its range of LB remote I/O modules with the super slim 8-channel digital input units to deliver a compact Ex i remote I/O solution.
The high-density modules hold true to their name for two reasons: high-density applies first to the compact design of the modules themselves and second to the space saving implementation of Ex i remote I/O solutions. The new electrical design enables integration of the multichannel digital input modules into a housing measuring just 16 mm across. The new housing on the input modules can be made just half as wide as on the previous version owing to the extremely compact design of the plugs; there are two 8-contact plugs on the front of the housing. In addition, the redesigned housing features status LEDs for each of the eight available channels, enabling quick diagnostics and accelerating both commissioning and maintenance.
For the entire product range
The new 8-channel, digital input modules complete the series of slimmer, single and multichannel modules for analogue and digital I/Os. The analogue counterparts introduced some time ago were a result of innovative electrical design. But what is important is the power they save; more specifically, a special power management system that considerably reduces power dissipation in the modules and thus allows for extremely compact housing has been the focus.
The universal I/O modules fit into the concept of high-density remote I/O solutions. They process analogue and binary inputs and outputs, supply 2-wire transducers, drive solenoid valves and serve as an interface for proportional valves or valve positioners. Thus, they combine a number of functions in one module.
LB remote I/O systems
The slim multichannel digital and analogue I/O modules belong to a wide range of modular LB Remote I/O systems from Pepperl+Fuchs. They allow for efficient communication between established, conventional field devices in areas with explosion risk (Zone 2 and 22, Class I, Division 2) or safe areas, and modern process control systems via a fieldbus.
They link intrinsically safe inputs and outputs on sensors and actuators to different fieldbuses, receive signals from Namur initiators and mechanical contacts, measure analogue readings such as temperature and capacity levels and control IS power coils. The connection technology can be used to connect actuators with increased safety (Ex e), such as signal lamps or acoustic sensors, which require more power.
Remote I/O modules use various types of bus technology to communicate with the master process control system, a PLC or the scada system. The most popular are Profibus DP, Modbus RTU and Foundation fieldbus.
One Remote I/O system consists of single or multichannel modules plugged into a backplane in any configuration depending on the number of connected field devices. This in turn can be screwed onto a mounting plate or clicked into a standard DIN rail. This supplies the modules with power and provides the connection between modules and the com unit. LB remote I/O systems can run redundantly, by using two bus couplers and a dual power supply. One bus coupler controls up to 80 analogue and 184 binary inputs and outputs.
Room for more
In practice, LB Remote I/O systems are often installed remotely in process plants and in very tight spaces, which is why they need to be housed as compactly as possible in small switch cabinets. This is why Pepperl+Fuchs provides various sizes of backplane, so that these terminals can be built according to the number of modules and in a space-saving manner.
The innovative super-slim modules mean that users can now install LB remote I/O systems in places that could not accommodate larger sized switch cabinets before. This increases flexibility when planning automation solutions, and in addition, the narrow housing allows existing systems to be extended or modified.
For more information contact Mark Bracco, Pepperl+Fuchs, +27 (0)87 985 0797, mbracco@za.pepperl-fuchs.com, www.pepperl-fuchs.co.za
Credit(s)
Further reading:
Pepperl+Fuchs acquires Aava Mobile Oy
Pepperl+Fuchs News
On 2 September, Pepperl+Fuchs strengthened its Mobile Computing and Communication business unit through the acquisition of Aava Mobile Oy.
Read more...
---
Migration from factory automation to process engineering
Pepperl+Fuchs System Integration & Control Systems Design
Pepperl+Fuchs has developed a range of high-tech sensors that have proven themselves in discrete applications. With added explosion protection, they are also suitable for process engineering in zones 1/21 and 2/22.
Read more...
---
Futureproof industrial networks with technology from Pepperl+Fuchs
Pepperl+Fuchs System Integration & Control Systems Design
Preventing unplanned process interruptions, maintaining an overview and ensuring security are key requirements in modern cloud-based applications.
Read more...
---
Wireless IIoT sensors optimise new areas for smart applications
Pepperl+Fuchs Sensors & Transducers
Pepperl+Fuchs' WILSEN.sonic.level battery-operated wireless level sensor has been developed to record the fill level and geoposition of containers and transmit this data securely to the Internet.
Read more...
---
Pepperl+Fuchs' VariKont inductive sensors with Active Shielding Technology
Pepperl+Fuchs Sensors & Transducers
Active Shielding Technology from Pepperl+Fuchs enables high switching distances regardless of the installation conditions, which simplifies equipment design.
Read more...
---
Ultrasonic sensor for PL d applications
Pepperl+Fuchs Pressure Measurement & Control
Pepperl+Fuchs has expanded its factory automation portfolio and acquired the USi safety ultrasonic sensor from Mayser, a renowned supplier of products and system solutions, many of which are relevant to safety engineering.
Read more...
---
The Pepperl+Fuchs M-LB-5000 surge protection system
Pepperl+Fuchs Electrical Power & Protection
Using the modular M-LB-5000 system with diagnostics eliminates extensive testing and operational interruptions. It is supplemented by the M-LB-2000 system for applications in which a minimum specification is sufficient.
Read more...
---
3D vision for service robots
Pepperl+Fuchs Sensors & Transducers
With its high precision, reliability, and compact size, the R2300 multi-layer scanner tackles mobile service robot applications in an efficient manner.
Read more...
---
Enterprise mobility for hazardous areas
Pepperl+Fuchs IS & Ex
Enterprises can easily select and manage Android devices and services with the new Android Enterprise Recommended devices – verified by Google.
Read more...
---
Pepperl+Fuchs to explore the future of automation technology at Digital Expo event
Pepperl+Fuchs News
Pepperl+Fuchs and its subsidiaries, VMT and ecom, are pioneering their first Digital Expo virtual trade fair that will take place from 19-23 April.
Read more...
---