printer friendly version
Honeywell's new ultrasonic ­flowmeter for pipeline monitoring
August 2014
Flow Measurement & Control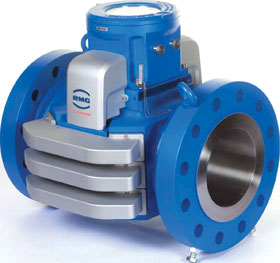 Honeywell has released its newest ultrasonic flowmeter designed to help natural gas producers improve efficiency by more accurately tracking the movement of gas through pipelines. The USM GT400 ultrasonic flowmeter helps to reduce the amount of effort needed to maintain pipeline metering, which is especially critical today given the skills shortage many oil and gas companies are facing as veteran engineers retire.
Honeywell flowmeters are currently used in thousands of installations worldwide to measure the volume of gas across the supply and value chain. The USM GT400 measures the volume of natural gas at every stage of its movement, storage and utilisation, which is important because the volume of gas transported via pipelines to consumers is metered for billing purposes.
"As the natural gas industry continues expanding, companies have a tighter margin of error when it comes to lowering operating and capital costs, improving uptime and reducing risks," said Tony Tielen, vice president of Honeywell Process Solutions' engineered field solutions division. "Accuracy is the key to staying within those margins, and the USM GT400 uses a unique blend of multi-path measuring technology, field-proven electronics, sophisticated diagnostics and a user-friendly interface to achieve true metering intelligence."
The USM's electronics are used to handle path-specific measurements while optimising internal diagnostics. It includes speed of sound (SoS) and flow velocity calculations, signal processing and data storage capabilities, and can interface to flow computers, gas chromatographs and scada systems. The meter's transducer – which operates at standard frequencies of 120 or 200 kHz, and alternate frequencies are available for noisy environments – consists of piezoelectric crystals fully encapsulated in titanium housing for resistance to dirt. This unique configuration is field-replaceable under pressure.
Regulator noise has marginal impact on the flowmeter's measurements, thanks to Honeywell's proprietary, MID-approved detection algorithm, coupled with the unique transducer design. This combination extends signal amplitude for a high signal-to-noise ratio (SNR) versus traditional intrinsically safe transducers. Additionally, Honeywell's patented 'live precision adjustment maintains the measurement accuracy of the meter at all times.
Windows-based RMGViewUSM software allows manufacturers to monitor the health of the flowmeter, alerts users to upset conditions, and provides diagnostics for alarming. It also allows direct access to the electronic measuring system via a PC to read out and change parameters, represent measured values, and create test certificates and data sheets.
For more information contact Boni Magudulela, Honeywell Southern Africa, +27 (0)11 695 8000, boni.magudulela@honeywell.com, www.honeywell.com
Further reading:
Compact ultrasonic flow controller
Mecosa Flow Measurement & Control
Bronkhorst's new, compact ES-Flow ultrasonic flowmeter/controller series ES-113C was designed for the OEM market to measure or dose low volume flows with high precision, high linearity and low pressure drop.
Read more...
---
Safe supply in CNG operations
SICK Automation Southern Africa Flow Measurement & Control
The Flowsic500 compact ultrasonic gas meter enables extremely accurate natural gas distribution measurement.
Read more...
---
Accurate flow measurement on a conveyor
SICK Automation Southern Africa Flow Measurement & Control
Heidelberg Cement in Lengfurt, Germany, needed a solution for the accurate metred supply of secondary material on its conveying system.
Read more...
---
Flowmeter with IO-Link
GHM Messtechnik SA Flow Measurement & Control
The calorimetric measuring principle makes this new Honsberg meter practically wear-free and gives users the ability to record media temperature in addition to flow measurement.
Read more...
---
Electronic flow switch with display
WIKA Instruments Flow Measurement & Control
The new model FSD-4 electronic flow switch from WIKA offers full flexibility in monitoring and controlling flow based on the velocities of liquid media.
Read more...
---
Key factors for picking the optimal flowmeter
KROHNE Flow Measurement & Control
While a variety of factors impact meter performance, the most common culprits are flawed sizing and failing to choose the most appropriate technology.
Read more...
---
Exact determination of fuel consumption
Instrotech Flow Measurement & Control
The Kobold DOE, an oval gear flowmeter, can be used with a wide range of media and chemicals
Read more...
---
Oval gear flowmeter
Instrotech Flow Measurement & Control
When liquid flows through the instrument, two oval geared rotors measure a constant volume per rotation.
Read more...
---
Inductive flowmeter with IO-Link
Instrotech Flow Measurement & Control
Instrotech is pleased to announce a new product development in Kobold's magnetic inductive flowmeter range, featuring IO-Link.
Read more...
---
Proline t-mass F/I 300/500 from Endress+Hauser
Endress+Hauser South Africa Flow Measurement & Control
The reliable and versatile all-rounder for pure gases and gas mixtures features alarm functions as well as bidirectional measurement and reverse flow detection.
Read more...
---