printer friendly version
Coriolis mass flowmeters in dairy applications
August 2014
Mass Measurement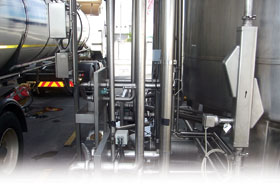 Precise measurement of milk quantities and fat content is key to increasing productivity and improving product quality. In the past, volumetric flowmeter systems such as electromagnetic flowmeters (EMFs) have been used for these kinds of applications, for example at milk delivery stations. These systems record volume (in litres/hectolitres) but do not take fluctuations in milk consistency or fat content into account. In addition, the accuracy of EMF systems (typically accurate between 0,2 and 0,4%) is inferior to the accuracy achieved by mass flowmeters (accurate up to 0,1%).
Accuracy is improved using Coriolis technology
As many production processes, as well as production capacity calculations relating to milk as a raw material, are based on measurements of mass, Coriolis measurement technology now enables users to measure mass flow, medium density (fat content) and medium temperature at the same time using only one measuring device. Measurements are recorded continuously in an online system, so there is no need to take additional samples, use other measurement devices, or convert volume to mass.
Continuously recording the fat content of the milk supplied allows producers to monitor milk quality from different supply regions and means that different milk types can be blended at a later stage to ensure that the milk sent as a raw material to the production line is of a consistent, high quality. This consistency in raw materials is essential to achieving consistency in the taste and quality of the final product.
A practical example
The example below explains the benefits of using mass flowmeter technology and demonstrates how quickly the investment pays for itself in this kind of application.
The reason for installing a mass flowmeter was the difference between the recorded values at the milk delivery stage and the balance at final production. Approximately two full tanker loads of raw milk were missing each month – a shortfall caused by fluctuating density values and the measuring accuracy of the EMF. Based on a milk volume of 40 000 litres and an average price per litre of R3.85, the shortfall equates to a loss of R154 000. Thanks to mass flowmeter technology and the higher accuracy of the Coriolis meter, the shortfall at final production was significantly reduced and the investment payback period was around two months. In addition, the continuous monitoring of fat concentration and milk quality through density measurements boosted efficiency in production while also improving product quality.
Coriolis mass flowmeters are increasingly being used in applications where raw milk is processed to create other dairy products, such as whole milk, pasteurised milk, flavoured milk products, yogurts and cheeses. The illustration shows how milk values are measured from the storage tank to the pasteuriser. The next stage of the production process, when the milk is transferred from the pasteuriser to the production line, is also controlled and regulated by mass flowmeters.
The high-precision mass, density and concentration measurement uses a double-tube device designed to achieve the best possible signal-to-noise ratio – a prerequisite for accurate, reproducible measurement results. The technical properties of the CoriolisMaster FCB330/350, including the enlarged tube internal diameters and an increased measuring range combined with reduced pressure loss, are the key strengths of the product. The Coriolis mass flowmeter' s resistance to vibrations, its ability to withstand medium/cleaning temperatures of up to 200°C, hygienic process connections such as DIN 11851 or Tri-Clamp, as well essential certifications such as EHEDG, are further testament to how straightforward and practical the device is in food and beverage industry and general hygienic applications.
For more information contact Jacolize Goosen, ABB South Africa, +27 (010) 202 5000, jacolize.goosen@za.abb.com, www.abb.com/za
Credit(s)
Further reading:
ABB moves toward zero-carbon mines
ABB South Africa System Integration & Control Systems Design
ABB has launched ABB Ability eMine, a portfolio of solutions that will help accelerate the move toward a zero-carbon mine.
Read more...
---
ABB and Stäubli to develop solutions for electric mines
ABB South Africa News
Global industrial electrical connectors providers Stäubli and ABB to explore technologies to support the decarbonisation of mining operations.
Read more...
---
ABB opens Digital Solutions Centre in Johannesburg
ABB South Africa News
ABB recently unveiled its new South African Digital Solutions Centre, which aims to help companies overcome their most pressing technology and digitalisation challenges.
Read more...
---
Female talent switches on to engineering careers with ABB
ABB South Africa News
ABB's Sustainability Strategy incorporates driving social progress, equality and diversity to create safe, fair and inclusive working environments and support community building.
Read more...
---
ABB launches new MCB range
ABB South Africa Electrical Power & Protection
The circuit breaker industry sees the local launch of a high-quality product as ABB Electrification introduces its new range of 3 kA SR200T miniature circuit breakers.
Read more...
---
ABB technology can help make SA steel industry competitive
ABB South Africa IT in Manufacturing
South Africa's steel industry needs to invest in technology like automation and data analytics if it is to improve its productivity to the point where it is globally competitive.
Read more...
---
Cable, components and critical space exploration
ABB South Africa News
ABB provides Ty-Rap cable ties for NASA Mars 2020 Perseverance Rover mission.
Read more...
---
ABB sensor onboard SpaceX rocket to detect greenhouse gas emissions
ABB South Africa News
An optical sensor manufactured by ABB was deployed with the successful launch of satellite Hugo from GHGSat, the emerging leader in greenhouse gas sensing services in space.
Read more...
---
ABB urges adoption of high-efficiency motors to combat climate change
ABB South Africa Analytical Instrumentation & Environmental Monitoring Electrical Power & Protection
Global electricity consumption could be reduced by 10%.
Read more...
---
ABB Food Safe motors for wash-down cycles
ABB South Africa Motion Control & Drives
ABB Food Safe motors address the wash-down challenge as they feature a stainless steel housing to resist corrosion and IP69 ingress protection.
Read more...
---