printer friendly version
Honeywell's future of plant control
July 2014
IT in Manufacturing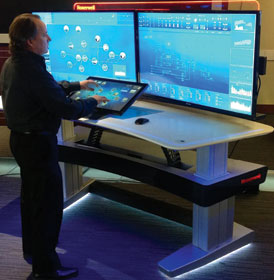 Honeywell Process Solutions has announced the availability of the Experion Orion Console, an advanced display technology that brings the plant control room of the future to the present by meeting the changing needs of the increasingly mobile plant operator.
The console, which builds on Honeywell's flagship Experion PKS control platform, features an improved ergonomic design and better displays to simplify control system management, reduce operator fatigue and improve situational awareness.
The Experion Orion Console's design was based on operator input gleaned from numerous visits to plant control rooms around the world and across industries, in both newer and older plants. The design and capabilities are the result of behaviour observations, as well as insights collected in multiple phases at plants, including process start-ups and during periods of abnormal operations.
"The state of plant control today is like putting operators on a sleepless, 12 hour flight in economy class seating and then asking them to make a critical decision that impacts their company's production and employee safety," says Jason Urso, chief technology officer, Honeywell Process Solutions. "Operators need more than just process data to make a decision like that; they need an environment that helps keep them alert, allows them to move about more freely and presents information more intuitively. The Experion Orion Console was designed with all of those factors in mind."
The console's features include a flexible, ultra-high definition overview and detailed touchscreen displays that provide clear status assessments of process operations in a single glance for better and more-informed management. This flexibility also enables operators to customise these displays for context-specific process issues, and incorporates advanced alarm management and pan and zoom capabilities. This enables operators to respond to changing conditions and prevent situations that could lead to plant incidents and emergencies.
Aside from the actual information, however, the improved display also reduces operator fatigue by allowing personnel to move about the control room more freely than before. When paired with wireless-enabled mobile technologies, the system also allows operators to view the same displays on hand-held devices in other areas of the plant.
"Plants must be designed and built according to a company's specific production needs, but the control rooms themselves should be built around the operators' needs," explains Urso. "If you meet the operators' needs, they can manage the plant more effectively and at optimum levels, which ultimately impacts plant safety, reliability and efficiency more than anything else."
For more information contact Boni Magudulela, Honeywell Southern Africa, +27 (0)11 695 8000, boni.magudulela@honeywell.com, www.honeywell.com
Credit(s)
Further reading:
Siemens' software for digital transformation of automotive design
September 2021, Siemens Digital Industries , IT in Manufacturing
Model-based development process and systems are used in Japan and globally to adapt to the biggest automotive transformation in 100 years.
Read more...
---
Is track and trace through the factory a waste of time?
September 2021, Iritron , IT in Manufacturing
Modern track and trace solutions are purpose-built to introduce as little disruption to the existing production process as possible, while also being flexible enough to cater for plants that range from fully manual to fully automated.
Read more...
---
Modularity for scalability
September 2021, RJ Connect , IT in Manufacturing
Businesses are looking for versatile solutions that are easy to maintain to ensure smooth operations while keeping costs down.
Read more...
---
Saryx launches TMP
September 2021 , IT in Manufacturing
The digital transformation that has swept the world in the past few years has fundamentally altered most people's approach to technology, with an increasing number seeking the ability to manage their 
...
Read more...
---
Secure boundaries enhance industrial cybersecurity
September 2021, RJ Connect , IT in Manufacturing
When enhancing cybersecurity, it is important to understand how industrial systems are exchanging data and how they connect to IT-level systems.
Read more...
---
Siemens drives digital transformation at virtual Smart Mining forum
September 2021, Siemens Digital Industries , IT in Manufacturing
With its motto: 'On the road to the digital future', Siemens hosted its virtual Smart Mining forum from 3-5 August.
Read more...
---
Deep-learning AI made accessible
September 2021, SICK Automation Southern Africa , IT in Manufacturing
SICK Automation has launched a set of deep-learning software and services called dStudio, making artificial intelligence (AI) more accessible to the southern African market. This software works with machine 
...
Read more...
---
How safe are our factories? Part 1: Cybersecurity for operational technology.
August 2021, Wolfpack Information Risk , IT in Manufacturing
If companies are regularly being subjected to cyber hacks overseas, isn't it only a matter of time before someone with enough motivation, skill and resources targets us?
Read more...
---
HSEC Online simplifies health and safety compliance for companies
Technews Industry Guide: Sustainable Manufacturing 2021 , IT in Manufacturing
This automated, cloud-based solution provides a transparent, collaborative workflow platform which eliminates most of the manual complexities of health and safety document management compliance.
Read more...
---
Creating factories of the future
Technews Industry Guide: Sustainable Manufacturing 2021, SEW-Eurodrive , IT in Manufacturing
Raymond Obermeyer, managing director of SEW-Eurodrive South Africa, explains that Industry 4.0 includes all the opportunities for digitally networked production.
Read more...
---