printer friendly version
Honeywell's future of plant control
July 2014
IT in Manufacturing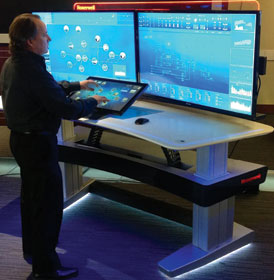 Honeywell Process Solutions has announced the availability of the Experion Orion Console, an advanced display technology that brings the plant control room of the future to the present by meeting the changing needs of the increasingly mobile plant operator.
The console, which builds on Honeywell's flagship Experion PKS control platform, features an improved ergonomic design and better displays to simplify control system management, reduce operator fatigue and improve situational awareness.
The Experion Orion Console's design was based on operator input gleaned from numerous visits to plant control rooms around the world and across industries, in both newer and older plants. The design and capabilities are the result of behaviour observations, as well as insights collected in multiple phases at plants, including process start-ups and during periods of abnormal operations.
"The state of plant control today is like putting operators on a sleepless, 12 hour flight in economy class seating and then asking them to make a critical decision that impacts their company's production and employee safety," says Jason Urso, chief technology officer, Honeywell Process Solutions. "Operators need more than just process data to make a decision like that; they need an environment that helps keep them alert, allows them to move about more freely and presents information more intuitively. The Experion Orion Console was designed with all of those factors in mind."
The console's features include a flexible, ultra-high definition overview and detailed touchscreen displays that provide clear status assessments of process operations in a single glance for better and more-informed management. This flexibility also enables operators to customise these displays for context-specific process issues, and incorporates advanced alarm management and pan and zoom capabilities. This enables operators to respond to changing conditions and prevent situations that could lead to plant incidents and emergencies.
Aside from the actual information, however, the improved display also reduces operator fatigue by allowing personnel to move about the control room more freely than before. When paired with wireless-enabled mobile technologies, the system also allows operators to view the same displays on hand-held devices in other areas of the plant.
"Plants must be designed and built according to a company's specific production needs, but the control rooms themselves should be built around the operators' needs," explains Urso. "If you meet the operators' needs, they can manage the plant more effectively and at optimum levels, which ultimately impacts plant safety, reliability and efficiency more than anything else."
For more information contact Boni Magudulela, Honeywell Southern Africa, +27 (0)11 695 8000, boni.magudulela@honeywell.com, www.honeywell.com
Credit(s)
Further reading:
The Fourth Industrial Revolution
July 2020 , IT in Manufacturing
Read more...
---
Smart engineering directly in the cloud
June 2020, Beckhoff Automation , IT in Manufacturing
PC-based control is an open, central control platform that integrates a full range of machine functionality and optimally supports the implementation of highly efficient IoT-based automation strategies. 
...
Read more...
---
Creating specific SensorApps
June 2020, SICK Automation Southern Africa , IT in Manufacturing
Create individual SensorApps without programming skills and solve new automation tasks easily. Starting at the end of the year, this will all be possible in the SICK AppStudio, part of the SICK AppSpace 
...
Read more...
---
Mobile robots speed production at new smart factory
July 2020, Omron Electronics , IT in Manufacturing
A dozen industrial robots, each in individual workstations or cells, perform different steps in the manufacturing process. However, to attain the high efficiency, safety, and convenience of a modern 
...
Read more...
---
The administration of digital twins
July 2020, SICK Automation Southern Africa , IT in Manufacturing
In order to access the virtual representation of the sensor and its data, SICK Automation uses LiveConnect to deliver a standardised connection from an edge gateway to SICK Asset Hub. This visualises 
...
Read more...
---
How IIoT solutions can help your plant go digital
July 2020, Endress+Hauser South Africa , IT in Manufacturing
Everyone is talking about the new normal, a shift that is forcing companies to adopt a digital strategy, one way or another, in order to remain relevant and competitive in these unprecedented times. Many 
...
Read more...
---
Fast IT rack launched in South Africa
July 2020, Rittal , IT in Manufacturing
Introducing a new generation of IT racks
Conceived as a universal modular system, the VX IT has been designed for all common applications and its versatility makes it suitable for use as a network and 
...
Read more...
---
Engineering 4.0: Automatic dashboard generation
July 2020, Beckhoff Automation , IT in Manufacturing
Many machine builders and systems integrators looking to transform their business models have identified machine and plant process data as being a core fundamental. When it comes to tailoring new data-driven 
...
Read more...
---
Completing the remote maintenance circle
July 2020, Throughput Technologies , IT in Manufacturing
What do the world's machine builders want from a next generation remote maintenance solution? Secomea has been listening to thousands of them and has spotted a pattern. In this collective vision the 
...
Read more...
---
Tools keep HVACR professionals on the cutting edge
June 2020, Danfoss , IT in Manufacturing
Danfoss has announced that Refrigerant Slider, its popular P/T calculation app that has over 2 million downloads, will transform into Ref Tools, an essential, all-in-one mobile app for air conditioning 
...
Read more...
---