printer friendly version
Cat 7 railway approved Ethernet data cable
July 2014
Enclosures, Cabling & Connectors
Belden's new railway approved high temperature Cat 7 Ethernet data cable supports a superior travel experience by delivering additional bandwidth for expanded Ethernet connections.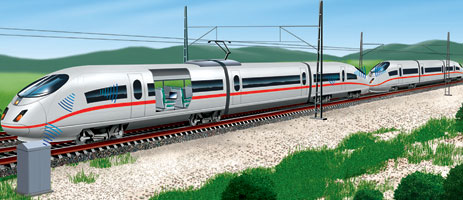 Applications
Train builders and designers are now specifying data networks that can support increased bandwidth and data transfer rates in order to future-proof passenger and operator service systems.
The new cable is designed for the transmission of data and signals using Ethernet technology, effectively future proofing the on board Ethernet backbone and enabling compliance with the new series of IEC standards; IEC EN 61375 "Train Communication Network (TCN)" and IEC EN 62580 'On-board Multimedia and Telematic Subsystems for Railways'.
Key areas of application include:
* Train Consist Network (TCN).
* Passenger information and entertainment.
* Multimedia services.
* Security and surveillance.
* Train diagnostics.
* Fare collection and ticketing.
* Communications Based Train Control (CBTC).
Benefits
The new RailTuff Cat 7 railway cable enables operators to integrate more services and supports the drive to deliver a superior travel experience. Its transmission performance of 10 000 Mbps provides higher bandwidth for increased data transfer and expanded network applications.
The halogen-free, flame and oil resistant railway approved cable is unique because it uses a 19 stranded conductor and has an operating temperature up to 90°C, exceeding the 85°C short term temperature requirement of the Class TX EN 50155:2007 railway applications standard.
Belden BE43802 is constructed for reliable Cat 7 transmission performance. The high 19 strand conductor provides added flexibility and the small bend radius allows optimal installation within limited space applications.
Other benefits include:
* A distinctive blue cable jacket for ease of identification after installation.
* Cat 7 Patch Cable 10 Gigabit signal transmission for enhanced system performance, reduced costs and increased functionality.
* Highly stranded copper conductor (AWG 24/19) with a combination of braid and foil shielding for superior strength.
* Consistent system performance thanks to S/FTP, individually foil-screened pairs and high overall braid coverage with Belden Beldfoil for increased electromagnetic interference (EMI) compatibility.
* Customised cable design to withstand vibration, EMI and mechanical stress for maximum reliability.
For more information contact Greg Pokroy, Jaycor International, +27 (0)21 447 4247, greg@jaycor.co.za, www.jaycor.co.za
Further reading:
Rittal and Eplan join forces to add value for customers
September 2021 , Enclosures, Cabling & Connectors
By joining forces, sister companies Rittal and Eplan deliver solutions to speed up processes and boost productivity.
Read more...
---
Adjustable cable gland is easy to fit
August 2021, Pratley , Enclosures, Cabling & Connectors
Pratley, produces a uniquely adjustable cable gland that fits any size armouring.
Read more...
---
Legrand's Atlantic stainless steel cabinets
July 2021, Legrand , Enclosures, Cabling & Connectors
Legrand's Atlantic stainless steel cabinets have been designed for safe use in corrosive conditions and in areas requiring a high level of hygiene.
Read more...
---
Clean air for control systems
June 2021 , Enclosures, Cabling & Connectors
RTS Inertial Spin Filters provide an effective maintenance-free solution to dust problems in MCC rooms, transformer rooms, control rooms and other industrial spaces.
Read more...
---
Cable locator for failsafe cable fault diagnostics
May 2021, Comtest , Enclosures, Cabling & Connectors
What sets the UAT-600 Series apart from other underground locators is its CAT IV 600 V safety rating.
Read more...
---
Pratley develops another cable gland world-first
April 2021, Pratley , Enclosures, Cabling & Connectors
Pratley is well-known in the market for producing world-class electrical termination products.
Read more...
---
Legrand's Starfix ferrules, crimping tools and applicators
May 2021 , Enclosures, Cabling & Connectors
Legrand's Starfix ferrules, cable crimping tools and applicators are designed for new installations and renovations in commercial installations, offices and domestic environments.
Read more...
---
Monitoring for control cabinets
September 2020, Turck Banner , Enclosures, Cabling & Connectors
The IM18-CCM is particularly suitable for OEMs wishing to provide basic condition monitoring values in their IT system. It detects critical states of the control cabinet directly in the field.
Read more...
---
Automated marking of terminal strips
August 2020, Phoenix Contact , Enclosures, Cabling & Connectors
The Mark Master terminal strip marking system from the Phoenix Contact ClipX product range uses patented high-speed technology for the fast and efficient processing of marking tasks. In control cabinet 
...
Read more...
---
Rittal's range of compact and small enclosures
August 2020 , Enclosures, Cabling & Connectors
After more than 50 years and 35 million enclosures sold, Rittal has introduced its small and compact enclosures in the form of the AX and KX series. According to managing director of Rittal South Africa, 
...
Read more...
---