printer friendly version
Lightning and surge protection
July 2014
Electrical Power & Protection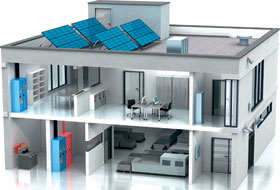 Lightning strikes and surges are made up of short-time voltage impulses, also referred to as transients, which last less than a second. Power supply systems, information technology and telecommunication systems, machine and system controllers, and heating, air-conditioning and ventilation systems may all be subjected to the destructive effects of these transients.
For any organisation, if no protection measures are taken, this can have dire consequences. A thunderstorm can put information technology, telecommunication and automation systems out of operation with disastrous business consequences. However, surge damage is easily prevented.
Threats
There are three main threats: direct lightning strikes, nearby lightning strikes and switching operations.
Direct lightning strikes are a common cause of fires and mechanical damage to buildings. This damage can be prevented by an external lightning protection system. However, lightning current arresters must also be installed to protect electrical installations and information technology systems from a resultant flashover to the supply systems entering the building.
Nearby lightning strikes cause transient voltage impulses on the supply lines of the building due to the high lightning electromagnetic field. These voltage impulses can reach peak values of several thousand volts. Surge arresters for power supply and information technology systems are required to protect these systems from the effects of these impulses.
Switching high loads can cause switching over-voltages in electrical systems. These can interfere with, or even destroy, electrical devices. If power supply and data lines are routed in parallel over long distances, switching over-voltages can also be injected into data lines and interfere with or destroy electrical devices.
Protection methods
A comprehensive and combined protection design, utilising combined lightning current, and surge arresters, is indispensable for protecting sensitive electrical and electronic devices and systems. Lightning current arresters discharge high energies and must be installed as close as possible to the entry point of the electrical system into the building. Surge arresters protect terminal devices and are installed as close as possible to the device they are supposed to protect.
Combined lightning current and surge arresters are designed for an 'all-in-one installation'; the arresters integrate lightning equi-potential bonding and surge protection in a single device, making them ideal for compact electrical installations; whilst energy co­ordinated arresters even allow for the protection of terminal devices.
Ensuring undisturbed operation in office and administration buildings
Office and administration buildings are, at the very least, equipped with PCs, servers, network and telecommunication systems. Failure of these systems would bring operations to a standstill. Moreover, building automation systems, such as KNX and LON, are frequently used in these buildings.
Combined surge arresters can be used to protect power supply systems, whilst modular and pluggable surge arresters, protective multiple socket outlets, or surge protective devices for use in flush-type boxes and cable ducts will protect terminal devices and reduce induced voltages and switching over-voltages to safe values.
To ensure the safe operation of information and telecommunication systems, both data and voice transmission require adequate protection elements. Networks are typically designed in the form of universal cabling systems as per EN 50173. Even if fibre optic cables between building and floor distributors are standard today, copper cables are typically installed between the floor distributor and the terminal device. Therefore, the hubs, bridges or switches must be protected by an arrester specifically designed for data and telecommunication systems; whilst a data protection module, for example, can be used for the system telephones.
The failure of building automation systems can have critical consequences. If the air-conditioning system fails as a result of surges, a data centre may have to be disconnected or a server may have to be shut down. Therefore it is essential that bus systems be protected by specialised surge arresters.
Increasing operational safety in industrial companies
Automation systems are standard in most industrial companies. If the automation system fails, production grinds to a halt. To increase operational safety, lines extending beyond the building should be located and protected. The potential short-circuit current must be particularly taken into account for the power supply system. Lightning current arresters that have been tested with short-circuit currents up to 100 kA, are ideally suited for industrial applications.
With this, in conjunction with an intermeshed equi-potential bonding and earth termination system, surge related downtime and interruption of operations can be prevented. It is important to remember that lightning and surge protection is an investment that pays.
For more information contact Alexis Barwise, Dehn Protection South Africa, +27 (0)11 704 1487, alexis.barwise@dehn-africa.com, www.dehn-africa.com
Credit(s)
Further reading:
Power supplies for building automation
June 2020, Phoenix Contact , Electrical Power & Protection
The new Step Power power supplies from Phoenix Contact are specifically tailored to the needs of modern building automation. With their comprehensive approval package, which includes the standard 
...
Read more...
---
Skid-mounted dry-type transformer
June 2020 , Electrical Power & Protection
In a specialised application on a coal mine, Trafo Power Solutions recently supplied a dry-type transformer mounted on a mobile skid. "The harsh environment of a coal mine required us to specially 
...
Read more...
---
Customised transformers for renewables and beyond
June 2020 , Electrical Power & Protection
A focus on application engineering allows Trafo Power Solutions to supply customised dry-type transformers for a range of sectors including renewable energy. "We begin at the proposal stage by engaging 
...
Read more...
---
Electrical certificate of compliance (COC) for instrumentation: non-hazardous installations
June 2020, Everest Equipment & Control , Electrical Power & Protection
An instrument and control installation's scope of work often never makes a request for a certificate of compliance: it is assumed to be an electrical function and hence many installations are non-compliant. 
...
Read more...
---
Five tips to manage energy use while staying at home
May 2020 , Electrical Power & Protection
Covid-19 continues to impact many aspects of our lives. Many are now required to stay at home in an effort to curb the spread of the pandemic. One of the many implications of staying at home will be the 
...
Read more...
---
Holistic approach to energy security
April 2020 , Electrical Power & Protection
As South Africans settle into the routine and inconvenience of load shedding and planning their activities around shifting electricity supply, it is businesses that are taking the biggest hit through 
...
Read more...
---
Save energy costs with highly-efficient Delta VFDs
April 2020, ElectroMechanica , Electrical Power & Protection
Customers can realise significant savings on their total energy costs by replacing older motor starters with energy-efficient Delta variable frequency drives (VFDs), distributed locally by ElectroMechanica 
...
Read more...
---
Utility made easy
April 2020, Schneider Electric South Africa , Electrical Power & Protection
In recognition of the growing demand for reliable power provision, Schneider Electric strives to assist network operators to deliver electricity safely and efficiently. The company's Advanced Distribution 
...
Read more...
---
Specialised transformers for renewable energy projects
April 2020, Zest WEG Group , Electrical Power & Protection
Zest WEG's local transformer manufacturing facility has supplied 36 specialised photovoltaic (PV) transformers to a solar energy generation plant in the Northern Cape. According to sales team leader, 
...
Read more...
---
Meeting the needs of the mining industry
April 2020, Varispeed (Div of Hudaco Trading) , Electrical Power & Protection
Both above and below ground, Varispeed keeps the interests of its customers top of mind, all the time. The company was recently approached by a platinum mine in South Africa to assist with a robust application. 
...
Read more...
---