printer friendly version
Lightning and surge protection
July 2014
Electrical Power & Protection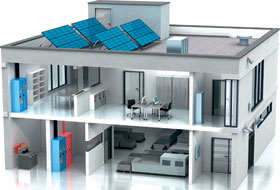 Lightning strikes and surges are made up of short-time voltage impulses, also referred to as transients, which last less than a second. Power supply systems, information technology and telecommunication systems, machine and system controllers, and heating, air-conditioning and ventilation systems may all be subjected to the destructive effects of these transients.
For any organisation, if no protection measures are taken, this can have dire consequences. A thunderstorm can put information technology, telecommunication and automation systems out of operation with disastrous business consequences. However, surge damage is easily prevented.
Threats
There are three main threats: direct lightning strikes, nearby lightning strikes and switching operations.
Direct lightning strikes are a common cause of fires and mechanical damage to buildings. This damage can be prevented by an external lightning protection system. However, lightning current arresters must also be installed to protect electrical installations and information technology systems from a resultant flashover to the supply systems entering the building.
Nearby lightning strikes cause transient voltage impulses on the supply lines of the building due to the high lightning electromagnetic field. These voltage impulses can reach peak values of several thousand volts. Surge arresters for power supply and information technology systems are required to protect these systems from the effects of these impulses.
Switching high loads can cause switching over-voltages in electrical systems. These can interfere with, or even destroy, electrical devices. If power supply and data lines are routed in parallel over long distances, switching over-voltages can also be injected into data lines and interfere with or destroy electrical devices.
Protection methods
A comprehensive and combined protection design, utilising combined lightning current, and surge arresters, is indispensable for protecting sensitive electrical and electronic devices and systems. Lightning current arresters discharge high energies and must be installed as close as possible to the entry point of the electrical system into the building. Surge arresters protect terminal devices and are installed as close as possible to the device they are supposed to protect.
Combined lightning current and surge arresters are designed for an 'all-in-one installation'; the arresters integrate lightning equi-potential bonding and surge protection in a single device, making them ideal for compact electrical installations; whilst energy co­ordinated arresters even allow for the protection of terminal devices.
Ensuring undisturbed operation in office and administration buildings
Office and administration buildings are, at the very least, equipped with PCs, servers, network and telecommunication systems. Failure of these systems would bring operations to a standstill. Moreover, building automation systems, such as KNX and LON, are frequently used in these buildings.
Combined surge arresters can be used to protect power supply systems, whilst modular and pluggable surge arresters, protective multiple socket outlets, or surge protective devices for use in flush-type boxes and cable ducts will protect terminal devices and reduce induced voltages and switching over-voltages to safe values.
To ensure the safe operation of information and telecommunication systems, both data and voice transmission require adequate protection elements. Networks are typically designed in the form of universal cabling systems as per EN 50173. Even if fibre optic cables between building and floor distributors are standard today, copper cables are typically installed between the floor distributor and the terminal device. Therefore, the hubs, bridges or switches must be protected by an arrester specifically designed for data and telecommunication systems; whilst a data protection module, for example, can be used for the system telephones.
The failure of building automation systems can have critical consequences. If the air-conditioning system fails as a result of surges, a data centre may have to be disconnected or a server may have to be shut down. Therefore it is essential that bus systems be protected by specialised surge arresters.
Increasing operational safety in industrial companies
Automation systems are standard in most industrial companies. If the automation system fails, production grinds to a halt. To increase operational safety, lines extending beyond the building should be located and protected. The potential short-circuit current must be particularly taken into account for the power supply system. Lightning current arresters that have been tested with short-circuit currents up to 100 kA, are ideally suited for industrial applications.
With this, in conjunction with an intermeshed equi-potential bonding and earth termination system, surge related downtime and interruption of operations can be prevented. It is important to remember that lightning and surge protection is an investment that pays.
For more information contact Alexis Barwise, Dehn Protection South Africa, +27 (0)11 704 1487, alexis.barwise@dehn-africa.com, www.dehn-africa.com
Further reading:
Energy data acquisition made easy
August 2021, Phoenix Contact , Electrical Power & Protection
By developing the new components of the EMpro product family, Phoenix Contact has found a solution that satisfies most energy data gathering applications.
Read more...
---
Power supply for machine applications
August 2021, Vepac Electronics , Electrical Power & Protection
With vacuum encapsulated technology, MTM Power's focus is on encapsulated, robust, long-life, temperature-resistant and maintenance-free power supply modules.
Read more...
---
Supermarkets heat stores with surplus energy from refrigeration units
Technews Industry Guide: Sustainable Manufacturing 2021, Danfoss , Electrical Power & Protection
With climate change and the pressure for lower environmental impact, supermarkets are rapidly investing in green energy transition.
Read more...
---
Citrus farming with sustainability in mind
Technews Industry Guide: Sustainable Manufacturing 2021 , Electrical Power & Protection
Sunny climate and vitamin C prove to be a winning combination for one of South Africa's largest citrus farmers.
Read more...
---
Energy from the power of the moon
Technews Industry Guide: Sustainable Manufacturing 2021, SKF South Africa , Electrical Power & Protection
Fully integrated holistic power train solution designed by SKF now installed at the Scottish sea.
Read more...
---
Transformer for special applications
July 2021, ASSTech Process Electronics + Instrumentation , Electrical Power & Protection
The Jumo IPC 300 was developed for the control of heating loads that previously required an additional transformer for power control.
Read more...
---
ABB launches new MCB range
July 2021, ABB South Africa , Electrical Power & Protection
The circuit breaker industry sees the local launch of a high-quality product as ABB Electrification introduces its new range of 3 kA SR200T miniature circuit breakers.
Read more...
---
Hitachi ABB Power Grids powers SA to a greener future
August 2021 , Electrical Power & Protection
The move towards decentralised power grids and a large-scale adoption of renewable energy will significantly alter the energy market in South Africa.
Read more...
---
The Pepperl+Fuchs M-LB-5000 surge protection system
June 2021, Pepperl+Fuchs , Electrical Power & Protection
Using the modular M-LB-5000 system with diagnostics eliminates extensive testing and operational interruptions. It is supplemented by the M-LB-2000 system for applications in which a minimum specification is sufficient.
Read more...
---
Beckhoff expands power supply portfolio
June 2021, Beckhoff Automation , Electrical Power & Protection
Buffer and redundancy modules for 24/48 VDC power supply increase system availability.
Read more...
---