printer friendly version
Honeywell's SmartLine temperature transmitters
July 2014
Temperature Measurement
Honeywell Process Solutions has launched its new range of SmartLine industrial temperature transmitters, which improve overall plant and employee efficiency even in harsh and noisy process environments.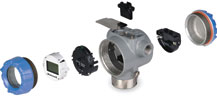 "The SmartLine temperature transmitter is based on the same proven platform as our current SmartLine pressure transmitter," says Don Maness, vice president and general manager, Field Products, Honeywell Process Solutions. "They provide our customers with better performance, unique features that lower their total cost of ownership and the best integration capabilities available when used with our ExperionPKS. SmartLine helps reduce project costs and startup time, avoids unplanned downtime, improves product quality, and shortens time to repair."
In industrial plants, field instruments that measure temperature are used throughout the manufacturing process to enable operational safety and product quality. Large industrial complexes, such as those for refining crude oil or producing chemical products, can employ thousands of these devices within their manufacturing processes.
SmartLine temperature transmitters lower plant lifecycle costs by making it easier to maintain field devices with their unique efficiency-enhancing features such as an advanced graphic display capable of showing process data in graphical formats and communicating messages from the control room. In addition, all SmartLine transmitters, whether they measure pressure or temperature, utilise modular components which simplify field repairs and reduce the parts inventory required to make those repairs. These parts can be easily upgraded and even exchanged between the two different product lines.
The range includes several features to ensure plant reliability and safety. For example, the transmitter incorporates a dual-compartment housing for maximum robustness. In addition, it features intuitive diagnostics for both the transmitter and sensor. This diagnostic information is also uniquely available on the transmitter display providing a real-time view of the sensor health to support proactive maintenance.
To reduce lifecycle costs, the transmitter features a built-in dual-input and digital output option to minimise the number of instruments needed for both monitoring and switching needs. Along with its unique modularity, SmartLine reduces complexity along the entire lifecycle, from avoiding initial purchasing costs to reducing maintenance and inventory expenses by eliminating spare parts requirements and simplifying module replacements and upgrades.
"Companies today are trying to do more with fewer experts," says Maness. "The SmartLine platform makes employees more efficient with the ability to use the display to communicate with field personnel. In addition, with the modular design, employees can use similar parts between both pressure and temperature models, making it faster and easier to change a part or upgrade the devices."
Employee efficiency features include wiring polarity insensitivity and local configuration capabilities. Unlike most other transmitters, SmartLine transmitters cannot be damaged by reversed loop wiring polarity and will function correctly if reverse connected. This protection significantly helps during a plant startup, when time can be wasted locating and repairing incorrectly wired devices. In addition, an advanced display and local configuration provides capabilities for field operators to configure the device in the field and solve problems with no need for a handheld device.
Honeywell's unique Smart Connection Suite control system integration delivers transmitter messaging, maintenance mode indication and tamper alerts to improve field time to repair and control room communication, avoid unit trips and make employees more efficient.
For more information contact Boni Magudulela, Honeywell Southern Africa, +27 (0)11 695 8000, boni.magudulela@honeywell.com, www.honeywell.com
Credit(s)
Further reading:
Pyrometer cooling up to 315°C
September 2021, R&C Instrumentation , Temperature Measurement
The ThermoJacket from Raytek and Fluke Process Instruments gives users the ability to use selected sensing heads in ambient temperatures up to 315°C.
Read more...
---
High-speed pyrometer from Optris
September 2021, Instrotech , Temperature Measurement
With very fast processes, the requirements of the pyrometers used for temperature measurement are especially onerous.
Read more...
---
Resistance thermometers for hazardous areas
August 2021, Instrotech , Temperature Measurement
Instrotech now offers Kobold's TWL resistance thermometers with ATEX approvals for ignition protection Exd or Exia.
Read more...
---
Thermal imaging in materials testing
July 2021, R&C Instrumentation , Temperature Measurement
The Raytek ThermoView TV40 thermal imaging camera with ThermoView software is an ideal choice for material testing applications.
Read more...
---
Vibration-resistant thermowells
July 2021, WIKA Instruments , Temperature Measurement
Debottlenecking is desirable as minor percentage increases in output capacity can result in significant profit returns.
Read more...
---
Temperature measuring in steel processing
June 2021, R&C Instrumentation , Temperature Measurement
Accurate and reliable temperature measurement is a part of efficient metal processing and steel manufacturing.
Read more...
---
Temperature and humidity monitoring for vaccine rollouts
May 2021, Omniflex Remote Monitoring Specialists , Temperature Measurement
How remotely monitoring facilities maintains the vaccine cold chain.
Read more...
---
High-temperature pyrometer with Bluetooth
May 2021, R&C Instrumentation , Temperature Measurement
Raytek has added Bluetooth capability to the Raynger 3i Plus handheld pyrometer.
Read more...
---
Automated cold chain monitoring
March 2021 , Temperature Measurement
Smart, connected and automated temperature monitoring at every point helps logistics companies proactively ensure their cold chain is never broken and goods arrive in prime condition for use and sale.
Read more...
---
Accuracy of infrared temperature measurement
March 2021, R&C Instrumentation , Temperature Measurement
Infrared (IR) thermometers have the ability to measure temperature without coming into physical contact with a particular product.
Read more...
---