printer friendly version
Converter for the water and wastewater industry
July 2014
Flow Measurement & Control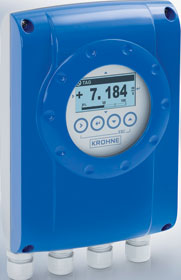 Water is destined to become an ever scarcer resource. Therefore reliable measurement of water flows is extremely important, even under difficult environmental conditions where robust devices are needed. In addition, different requirements call for different output signals.
This is where Krohne's new electromagnetic converter IFC 050 comes into action. In combination with the Optifluc and Waterflux series it completes the well-known sensor technology with new ­features, making it applicable to any kind of water and wastewater metering task.
The IFC 050 fulfils all industry-specific requirements and its electronics are protected against condensate with an extra coating, so it can even be used in tropical areas. The housing is protected with dual-layer painting, keeping it safe from aggressive fluids such as salt water. And of course it is sturdy and shock resistant for outdoor use.
Intelligent modularity
When it comes to selecting a device for a specific metering task, the IFC 050 offers a variety of options. The converter can be delivered as compact or wall mounted, with a display or as a blind version. Suitable application combinations include the following:
* Optiflux 1050 for fertiliser distribution, sprinkler/irrigation systems, fire fighting systems, water distribution for buildings, office and recreational facilities.
* Optiflux 2050 for raw water, waste and sea water to cooling water and leak detection.
* Waterflux 3050 for portable water, ground and surface water measurement, leak detection and installation without the need for inlet or outlet runs.
Multiple outputs including active pulse output and RS-485 Modbus
IFC 050 is an easy to use converter with basic output signals. The blind version is the perfect option in any situation where display readings are not required and the menu is permanently set. This converter is equipped with basic I/O with HART and active pulse output (optional Modbus RS-485).
Even triple output is possible:
* Current output 4-20 mA for process input.
* Modbus output for communication with microcontrollers, PLCs and PCs.
* Active pulse output to trigger a counter.
For the blind version a separate display can be temporarily connected to configure the device. The active pulse output can also trigger devices that have no power supply, such as electromechanical counters.
For more information contact John Alexander, Krohne SA, +27 (0)11 314 1391, j.alexander@krohne.com, www.krohne.com
Credit(s)
Further reading:
Safe supply in CNG operations
September 2021, SICK Automation Southern Africa , Flow Measurement & Control
The Flowsic500 compact ultrasonic gas meter enables extremely accurate natural gas distribution measurement.
Read more...
---
Accurate flow measurement on a conveyor
August 2021, SICK Automation Southern Africa , Flow Measurement & Control
Heidelberg Cement in Lengfurt, Germany, needed a solution for the accurate metred supply of secondary material on its conveying system.
Read more...
---
Flowmeter with IO-Link
August 2021, GHM Messtechnik SA , Flow Measurement & Control
The calorimetric measuring principle makes this new Honsberg meter practically wear-free and gives users the ability to record media temperature in addition to flow measurement.
Read more...
---
Electronic flow switch with display
August 2021, WIKA Instruments , Flow Measurement & Control
The new model FSD-4 electronic flow switch from WIKA offers full flexibility in monitoring and controlling flow based on the velocities of liquid media.
Read more...
---
Key factors for picking the optimal flowmeter
July 2021, KROHNE , Flow Measurement & Control
While a variety of factors impact meter performance, the most common culprits are flawed sizing and failing to choose the most appropriate technology.
Read more...
---
KROHNE – 100 years in the spirit of creativity
August 2021, KROHNE , News
When Ludwig Krohne founded the company in 1921, the first customers were a small number of steel producers from the Ruhr area.
Read more...
---
Advances in pipeline leak detection
June 2021, KROHNE , Maintenance, Test & Measurement, Calibration
The high rate of false alarms in standard pipeline leak detection systems can force system operators to waste labour chasing down problems that do not exist. Fortunately, newer technology provides an alternative.
Read more...
---
Exact determination of fuel consumption
April 2021, Instrotech , Flow Measurement & Control
The Kobold DOE, an oval gear flowmeter, can be used with a wide range of media and chemicals
Read more...
---
Oval gear flowmeter
May 2021, Instrotech , Flow Measurement & Control
When liquid flows through the instrument, two oval geared rotors measure a constant volume per rotation.
Read more...
---
Inductive flowmeter with IO-Link
February 2021, Instrotech , Flow Measurement & Control
Instrotech is pleased to announce a new product development in Kobold's magnetic inductive flowmeter range, featuring IO-Link.
Read more...
---