printer friendly version
Trends in wastewater treatment and level monitoring
July 2014
Level Measurement & Control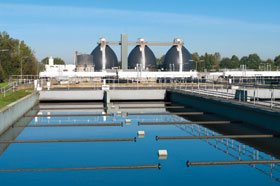 The traditional wastewater treatment plant in the industrialised world relies on outdated systems and networks for wastewater treatment and uses standard methods for level monitoring to control the processes. However, new trends in wastewater treatment and level monitoring are beginning to appear, which may revolutionise how wastewater is handled and treated in the future, drastically improving the efficiency.
Developing countries are early adopters out of necessity

Very often developing countries, as early adopters of new technologies, set the trends in wastewater treatment and level monitoring. They are able to combine existing systems and new technologies as they develop their wastewater treatment networks, and so build modern infrastructure for their growing populations and the increasing demand for clean water.
Modern sewage systems feature separation of the heavily contaminated black water from the less contaminated grey water, using the grey water for wetland construction and irrigation. The most modern systems will also separate rain and storm water from the regular sewage, harvesting rain as a cheaply available source of fresh water. Level monitoring of wastewater plays an important part in each stage of the treatment process as even in the most modern systems, level monitoring solutions are a core component in overall efficiency.
One of the most innovative trends in waste water treatment and level monitoring is to use constructed wetland systems devised to mimic nature in the treatment of water and bacteria. Constructed wetland is flooded with wastewater to let nature biodegrade the contaminated water. As long as they are not overloaded they can consume organic matter and neutralise many pollutants. Where space permits, large lagoons or wetlands can ensure they are not overwhelmed by wastewater and these areas will then be utilised for purification.
Level monitoring technology evolves to suit the need
The trends in wastewater treatment and level monitoring go hand in hand controlling these modern processes and ensuring that wastewater does not pollute the environment. The technology and trends will continue to evolve as developing nations become aware of the dangers of untreated wastewater and increase their need for clean and potable water.
Today, wastewater level is most often measured using submersible pressure transmitters in these developing treatment systems as they are simple to install and will work in environments that few other types of level probes will tolerate.
Credit(s)
Further reading:
Pressure switches with metal bellows
September 2021, WIKA Instruments , Pressure Measurement & Control
What advantages do pressure switches with metal bellows offer and what is the basis for these?
Read more...
---
High-reliability float switch
September 2021, ASSTech Process Electronics + Instrumentation , Level Measurement & Control
ASSTech has added a new simple-to-mount horizontal design of float switch to its Jumo range.
Read more...
---
Multi-application radar level transmitters
September 2021, Instrotech , Level Measurement & Control
Instrotech now offers Kobold's NGR, a robust, maintenance-free level sensor that uses TDR (time domain reflectometry) technology.
Read more...
---
Level transmitter for hygienic applications
August 2021, Emerson Automation Solutions , Level Measurement & Control
The Rosemount 1408H Level Transmitter with IO-Link provides accurate, non-contacting measurement to help optimise operations and ensure food safety.
Read more...
---
Ready for use anywhere
August 2021, Endress+Hauser South Africa , Level Measurement & Control
The first 2-wire loop-powered compact transmitter enters the market.
Read more...
---
Make level sensor checks redundant
August 2021, DRH Components , Level Measurement & Control
The Roto-Bin-Dicator PRO is a simple paddlewheel device that monitors the level of dry bulk material.
Read more...
---
Electronic flow switch with display
August 2021, WIKA Instruments , Flow Measurement & Control
The new model FSD-4 electronic flow switch from WIKA offers full flexibility in monitoring and controlling flow based on the velocities of liquid media.
Read more...
---
Level switches master viscous substances
July 2021, VEGA Controls SA , Level Measurement & Control
VEGA has developed the new front-flush level switch, Vegapoint 24, especially for use with sticky, viscous or abrasive products.
Read more...
---
Vibration-resistant thermowells
July 2021, WIKA Instruments , Temperature Measurement
Debottlenecking is desirable as minor percentage increases in output capacity can result in significant profit returns.
Read more...
---
Level sensors shorten the distance from the field to supermarket shelves
August 2021, VEGA Controls SA , Level Measurement & Control
VEGAPULS C 11 ensures fast processing of carrots and onions with reliable measured values.
Read more...
---