printer friendly version
The Jim Pinto Column: Big Data and chaotic ­storage
July 2014
News
The term 'Big Data' was coined in 2008 and caught on quickly as a blanket term for any collection of data sets so large and complex that it becomes difficult to process using traditional data processing applications.
Big Data is being generated by everything around us at all times. Every digital process and social media exchange produces it. Systems, sensors and mobile devices transmit it. Big Data arrives from multiple sources at high speed, huge volume and variety. To extract meaningful value from big data requires optimal processing power, analytics capabilities and skills.
Analysing Big Data is becoming a key competitive advantage, generating waves of productivity growth, innovation and consumer surplus. Every business will have to grapple with the implications. The increasing amount and detail of information captured by enterprises, the rise of multimedia and social media and the Internet of Things will fuel exponential growth.
McKinsey Research reports that Big Data is now an important factor of production, along with labour and capital. By 2009, every company with more than 1000 employees, in nearly all sectors in the US economy, already had an average of 200 terabytes of stored data per company.
There are five broad ways in which using Big Data can create value:
1. Unlock significant value by making information transparent and usable at much higher speed.
2. As organisations create and store more transactional data in digital form, they can collect more accurate and detailed performance information on everything, to expose variability and boost performance.
3. Big Data allows ever-narrower segmentation of customers and much more precisely tailored products and services.
4. Big Data analytics can substantially improve decision-making.
5. Big Data can be used to improve the development of the next generation of products and services.
The use of Big Data will become a key basis of competition and growth. Every company needs to take Big Data seriously. In most industries, established competitors and new entrants alike will leverage data-driven strategies to innovate, compete and capture value from wide ranging, deep and real-time information.
McKinsey predicts that there will be a shortage of talent necessary for organisations to take advantage of Big Data.
Several issues will have to be addressed to capture the full potential of Big Data. Policies related to privacy, security, intellectual property and even liability will need to be addressed in a Big Data world.
Organisations need not only to put the right talent and technology in place but also structure workflows and incentives to optimise the use of Big Data.
Amazon warehouse automation
I hate shopping and I'm an Amazon nut – I buy everything via Amazon, the world's largest online retailer. My selection arrives on my doorstep within just a couple of days.
Do you wonder how Amazon manages to deliver any of the huge variety of products to your doorstep so cheaply and so quickly? What does it cost them to put all those items on the shelf, select them unerringly and deliver them so quickly?
Amazon delivers from 80 giant warehouses, strategically located near key shipping hubs around the world. At the heart of this global operation are people and a logistics system known as 'chaotic storage' which is like organised confusion. It is an organic shelving system without permanent areas or sections. There is no area just for books, or any specific products, as you might expect in a retail store layout. The product's characteristics and attributes are irrelevant. What is important is the unique barcode associated with every product that enters the warehouse.
Every single shelf space inside an Amazon warehouse has a barcode. Every incoming product that requires storage is assigned a specific barcode that matches the shelf space in which it will be stored, allowing free space to be filled quickly and efficiently.
There are several key advantages to the chaotic storage system. The first is flexibility – freed-up space can be refilled immediately. Next is simplicity – new employees don't need to learn where products are located; they simply need to find the storage shelf within the warehouse. They don't need to know what the product is, just where it is.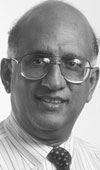 Last is optimisation. Amazon must handle many millions of orders, which means that at any given moment there is a long list of products that need to be picked from the shelves and prepared for shipment.
Since Amazon deals with such a wide variety of products there are a few exceptions to the rule. Really fast-moving articles do not adhere to the same storage system since they enter and leave the warehouse so quickly. Really bulky and heavy products still require separate storage areas and perishable goods are not ideal for obvious reasons.
With this storage system a wide variety of products can be found located next to each other – a necklace could be located beside a DVD and underneath a set of power tools.
It's a fascinating system and chaotic storage is the best way to describe it.
Jim Pinto is a technology futurist, international speaker and automation industry commentator. You can e-mail him at jim@jimpinto.com
Or review his prognostications and predictions on his website www.jimpinto.com
Further reading:
From the editor's desk: Is additive manufacturing poised to go mainstream?
March 2021, Technews Publishing (SA Instrumentation & Control) , News
As digital manufacturing technology pushes its way further towards the production floor, additive manufacturing (3D printing) is emerging as a viable option to complement the more traditional methods 
...
Read more...
---
Female talent switches on to engineering careers with ABB
September 2021, ABB South Africa , News
ABB's Sustainability Strategy incorporates driving social progress, equality and diversity to create safe, fair and inclusive working environments and support community building.
Read more...
---
MESA Africa – call for papers 2021
September 2021, MESA Africa NPC , News
We invite you – the manufacturing community – to submit papers showcasing your success stories and inspiring ideas, coping under restrictions, and illustrating this year's theme: The Art of the Possible: Manufacturing Without Limits.
Read more...
---
Hazardous locations seminar and cable gland training
September 2021 , News
The courses equip artisans and engineers with the skills needed to gain maximum benefit from Pratley's electrical products.
Read more...
---
Endress+Hauser integrates concentration measurement specialist
September 2021, Endress+Hauser South Africa , News
SensAction was founded in 2008 and has been part of the Endress+Hauser Group since 2017.
Read more...
---
Omron joins The Valuable 500
September 2021, Omron Electronics , News
The Valuable 500 aims to get leaders of multinational companies to bring about changes in business, society and the economy so that persons with disabilities can realise their true potential.
Read more...
---
Endress+Hauser honours its inventors
September 2021, Endress+Hauser South Africa , News
More than 500 inventors gathered virtually for Endress+Hauser's 21st Innovators' Meeting.
Read more...
---
Neles to acquire the valve and pump businesses of Flowrox
September 2021, Neles South Africa , News
Neles has signed an asset purchase agreement to acquire the valve and pump businesses of the Finland-based technology company, Flowrox.
Read more...
---
Bosch Holdings celebrates 60 years
September 2021 , News
In 1961, it was inconceivable for the founders of Bosch Holdings to have known that 60 years later, the company would have expanded into a global operation.
Read more...
---
Danfoss completes acquisition of Eaton's hydraulics business
September 2021, Danfoss , News
Danfoss has officially finalised its US$3,3 billion acquisition of Eaton's hydraulics business, following confirmation of all necessary regulatory approvals and closing conditions.
Read more...
---