printer friendly version
Vegabar series 80
June 2014
Pressure Measurement & Control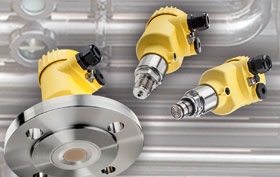 Vega has completely re-engineered its Vegabar series 80 pressure transmitter family and simplified it to just three innovative ranges that make it easy for the user to choose the ideal instrument for any application.
Rugged reputation
One major feature that underpins and differentiates all Vega pressure transmitters is the uniquely-designed Certec ceramic measuring cell. It has an extremely high overload resistance of up to 200 times – more than double that of other ceramic transmitters.
Another unique feature is the 'radial sealing' concept of the Vegabar 82 ceramic cell – a design that fully protects the elastomeric seal behind the metal body. This allows truly front-flush mounting as well as delivering ultimate wear resistance. (Some other designs seal against the front of the cell, which inevitably creates a small recess and also exposes the elastomer seal to scouring, wear and damage). It is no wonder, therefore, that this design is used frequently in applications where particulates can damage the sensitive diaphragm. Build up is also consigned to the past; the sensor simply cleans itself in the flowing medium, no pockets, however small, to block up.
Vega pressure sensors find many applications in the water, aggregates, metals, chemicals and oil and gas sectors. They are also used across more than 20 000 measuring points in the global paper industry.
No shocks
When it comes to ceramic measuring cell innovation, one of the major breakthroughs is the virtual elimination of temperature shock susceptibility. For example, after hot cleaning, when chilled processes are reintroduced, thermal shock in the sensor often occurs in metal or ceramic ­sensors. The rapid increase in temperature causes the transducer's diaphragm to deform in response to the thermal stress. For the Vegabar 82, a new temperature measurement system for fast shock compensation has resulted in a patent-pending design. Fast temperature fluctuations now have minimal influence on the measurement – this new direct diaphragm temperature compensates faster and is even responsive enough to be transmitted as a temperature value. Also, a new internal cell design virtually eliminates moisture sensitivity in the heart of the measuring cell itself, particularly useful in chilled products and humid environments.
Hotting up
Progress has also been made with an increase in temperature range: from the previous 120°C, Certec can now withstand temperatures up to 130°C. This additional 10 degrees may not sound much, but for the food and pharmaceutical industry it is of particular interest, as in many cases users will no longer have to buy special high-temperature devices for their CIP/SIP sterilisation processes. In the other ranges, Vegabar 81 sensors in the range can go to 400°C and Vegabar 83 to 200°C.
Defensive measures
Another important topic is 'Second Line of Defence'. This feature is absolutely indispensable in applications involving products such as chlorine, ammonia or phosgene. To protect people and the environment, it is imperative that any risk of toxic leaks into the terminal compartment is prevented. At present, users have to resort to fully encapsulated absolute pressure sensors in such applications. A new electronics design allows Vega to offer a fully isolated and welded sensor module with a ceramic measuring cell for the gauge reference measurement. This allows small process fittings to be used, realising high measurement accuracy.
Three for any eventuality
Vega has revolutionised its pressure transmitter family, adding extra capabilities and that in future will allow users across all industries to solve their application challenges with only three process pressure transmitters.
For standard applications, the all-rounder Vegabar 82 is the ideal solution. In high temperatures and aggressive media, Vegabar 81 is the best choice and for high pressures Vegabar 83 is the solution.
For more information contact Chantal Groom, Vega Instruments SA, +27 (0)11 795 3249, chantal.groom@vega.com, www.vega.com
Credit(s)
Further reading:
Pressure transmitters for mobile equipment
June 2019, Turck Banner , Pressure Measurement & Control
In order to provide solutions for use in mobile equipment, Turck has expanded its portfolio of pressure sensors with the introduction of the PT1100/2100 transmitters. This includes mining, forestry, agricultural 
...
Read more...
---
Understanding accuracy specifications
May 2019, EOH Process Automation Solutions , Pressure Measurement & Control
Pressure measurement device accuracies are commonly specified as percentage of full scale, or percentage of reading, and the difference is significant. If an accuracy statement simply names a percentage 
...
Read more...
---
Miniature IR thermometer for plastic film
May 2019, Instrotech , Pressure Measurement & Control
Temperature is a key physical variable for ensuring quality in the production of plastic film. The application of non-contact temperature measurement technology poses the challenge that films with a thickness 
...
Read more...
---
Pressure sensor with IO-Link
May 2019, WIKA Instruments , Pressure Measurement & Control
WIKA has a new, flexible pressure sensor with IO-Link in its portfolio. The model A-1200 is used for pressure monitoring or as a PNP/NPN switch, especially in intelligent machines. The new pressure sensor 
...
Read more...
---
Get your sensor data faster
Africa Automation Fair 2019 Preview, VEGA Controls SA , Sensors & Transducers
VEGA's Tools App enables sensor parameters and configuration settings to be read and adjusted via Bluetooth on any smartphone or tablet. They are easy to operate and all data is permanently available 
...
Read more...
---
Pressure and level transmitter
Africa Automation Fair 2019 Preview, Morton Controls , Pressure Measurement & Control
The Anderson-Negele L3 pressure and level transmitter is designed for measuring variable process pressure or hydrostatic applications in the hygienic industry. It can be viewed at Stand C13. Features 
...
Read more...
---
Hoses and fittings for water blasting
April 2019, Parker Hannifin Sales Company South , Pressure Measurement & Control
Water blasting is the use of water with high pressure and high speed to clean and treat various surfaces. It can also be used to cut through different solid materials like steel and concrete. The advantage 
...
Read more...
---
80 GHz for liquids
April 2019, VEGA Controls SA , Level Measurement & Control
Vegapuls 64 radar level measurement improves efficiency for bitumen supplier.
Read more...
---
New pressure sensor with IO-Link
April 2019, ifm - South Africa , Pressure Measurement & Control
Besides continuous process value monitoring via IO-Link, the new PV type pressure sensor from ifm electronic offers two switching outputs. It also features a compact design with G ¼ process connection 
...
Read more...
---
New pressure switch for process industry
April 2019, WIKA Instruments , Pressure Measurement & Control
WIKA has released a new pressure switch with high switch differential adjustability for the process industry. The model PSM-700 mechanical pressure switch has been designed for control and monitoring 
...
Read more...
---