printer friendly version
Eliminate difficulties associated with differential pressure systems
June 2014
Pressure Measurement & Control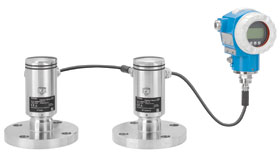 Differential pressure (dp) measurement is widely used to measure level in pressurised and vacuum tanks. However, traditional dp measurement using impulse lines and capillaries has its drawbacks in terms of accuracy and total cost of ownership.
Put an end to incorrect measurements: The problems often encountered with conventional dp systems that use impulse lines include clogging, icing, leaks and condensation. Even those dp systems that use oil-filled capillaries face issues in applications with changing ambient temperatures. Electronic dp Deltabar FMD71 and FMD72 eliminate these problems – you not only benefit from precise measured values but also increased reliability and safety in your process.
Proven sensor technology for reliable, safe and cost-effective measurement: Endress+Hauser's new electronic dp system, consisting of one transmitter with two sensors, offers proven pressure sensor technology in a new and innovative manner. The transmitter calculates the differential pressure from both sensors and transmits the level, volume or mass via 4-20 mA/HART as a standard 2-wire loop-powered device. This increases reliability and safety and reduces costs.
Modular design for minimal downtime: The system's modular design ensures that repair costs and downtime are drastically reduced. Individual components can be replaced separately, significantly reducing maintenance costs and ensuring maximum plant availability. It's also easy to retrofit the FMD71 and FMD72 into existing mechanical systems, using the same transmitter mounting position.
Simultaneous top pressure measurement: Additional measurement parameters are available via HART, enabling users to improve process control. Besides dp and level it is also possible to get the process pressure information as well as the sensor temperature. This valuable information can not only help with maintenance but also improves safety, for example, by avoiding overpressure.
The best sensor for the application
Endress+Hauser's electronic dp systems allow users to select the ideal process connections, housing and measuring cells based on application needs. The Ceraphire ceramic cell (FMD71) is vacuum-resistant and best suited to corrosive and abrasive media. Based on capacitive sensor technology, the cell offers additional safety with its self-monitoring function. The silicon cell on the FMD72 offers fast-acting temperature compensation for consistently accurate measurement – even in applications with rapidly changing temperatures.
Increased process safety in the oil and gas, chemical and food and beverage industries
Safety risks are minimised with the new electronic dp system architecture and design:
* Elimination of tubing and connection leaks often encountered in traditional systems.
* Elimination of line condensation or evaporation events (dry/wet leg inconsistencies) and plugging events.
* Fully vacuum resistant Ceraphire® ceramic cells with the highest overload protection.
* Reliability: New electronic dp system eliminates traditional mechanical issues resulting in greater measurement accuracy, process availability and reliability.
* Safety: Safety risks are minimised with the new electronic dp system architecture and design.
* Cost-effectiveness: Low total cost of ownership due to reduced installation time, maintenance, downtime and spare requirements.
For more information contact Natlee Chetty, Endress+Hauser, +27 (0)11) 262 8000, info@za.endress.com, www.za.endress.com
Credit(s)
Further reading:
Endress+Hauser's IIoT technology masters the mining challenge
June 2019, Endress+Hauser , IT in Manufacturing
Endress+Hauser aims to improve the processes of its customers with regards to efficiency, quality, safety and sustainability.
Read more...
---
Endress+Hauser expands patent portfolio
June 2019, Endress+Hauser , News
The number of patents submitted by the Endress+Hauser Group continues to rise. As reported during the annual Innovators' Meeting held this year in France, the Group submitted 287 initial patents in 2018, 
...
Read more...
---
An alliance for the IIoT
June 2019, Endress+Hauser , News
At Hannover Messe 2019, seven leading suppliers from mechanical engineering, industrial automation and software announced the founding of the Open Industry 4.0 Alliance. With this cooperation, the companies 
...
Read more...
---
Pressure transmitters for mobile equipment
June 2019, Turck Banner , Pressure Measurement & Control
In order to provide solutions for use in mobile equipment, Turck has expanded its portfolio of pressure sensors with the introduction of the PT1100/2100 transmitters. This includes mining, forestry, agricultural 
...
Read more...
---
Temperature transmitter family for all industries
June 2019, Endress+Hauser , Temperature Measurement
Endress+Hauser has introduced its first temperature transmitter with Bluetooth (BT) connectivity. This feature is unique because it does not require a BT modem to be able to communicate with the device 
...
Read more...
---
The Heartbeat of plant processes
May 2019, Endress+Hauser , Maintenance, Test & Measurement, Calibration
Self-diagnostics and predictive maintenance.
Read more...
---
Understanding accuracy specifications
May 2019, EOH Process Automation Solutions , Pressure Measurement & Control
Pressure measurement device accuracies are commonly specified as percentage of full scale, or percentage of reading, and the difference is significant. If an accuracy statement simply names a percentage 
...
Read more...
---
Miniature IR thermometer for plastic film
May 2019, Instrotech , Pressure Measurement & Control
Temperature is a key physical variable for ensuring quality in the production of plastic film. The application of non-contact temperature measurement technology poses the challenge that films with a thickness 
...
Read more...
---
Pressure sensor with IO-Link
May 2019, WIKA Instruments , Pressure Measurement & Control
WIKA has a new, flexible pressure sensor with IO-Link in its portfolio. The model A-1200 is used for pressure monitoring or as a PNP/NPN switch, especially in intelligent machines. The new pressure sensor 
...
Read more...
---
Taking the air out of dairy
May 2019, Endress+Hauser , Mass Measurement
The dairy industry has been plagued for years with the challenge of accurate flow measurement in both processing and offloading applications. Often, the most common cause of inaccuracies in flow measurement 
...
Read more...
---