printer friendly version
Level measurement in storage silo applications
June 2014
Mass Measurement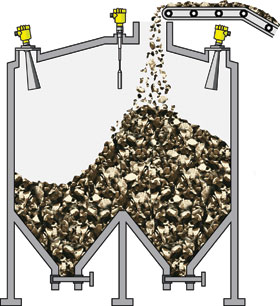 In the mining industry a ready supply of mineral rock needs to be kept on hand in order to ensure a continuous production process. The raw material is stocked in large bunkers with heights of over 30 m and diameters up to 20 m. The huge dimensions of the silos make it necessary to fill and empty at several places. To ensure an even filling and emptying of the bunker, the mineral rock level is measured at different places inside the bunker. Vega has a product especially developed for bulk solids applications.
Level measurement with Vegapuls 68
The radar sensor Vegapuls 68 measures the level of the mineral rock without interference from dust, abrasion, product dampness and filling noise. Silo height is no problem either, as horn and parabolic antennas are available for the reliable handling of measuring ranges up to 75 m. Through the use of multiple radar sensors, different filling points can be measured and an even distribution of material ensured: the different measurement setups do not influence each other.
Setup and commissioning is as simple as selecting a few application parameters and the software ensures optimal instrument configuration. Users can even retrofit on already installed instruments, quickly bringing an existing system up to date.
Overfill protection with Vegacap 65
Vega has another instrument that is ideal for use in the bulk solids silo situation. The capacitive level switch, Vegacap 65, is a tried and tested solution for reliable bunker overfill protection. Its robust construction makes it ideal for rough operating conditions and its sensor delivers a reliable switching signal regardless of the nature of the rock. The gravity weight on the cable probe can be shortened or lengthened. It is made of standard or high-grade steel which resists the hardest blows and ensures a long service life.
For more information contact Chantal Groom, Vega Instruments SA, +27 (0)11 795 3249, chantal.groom@vega.com, www.vega.com
Credit(s)
Further reading:
What is the next big thing in Coriolis mass flowmeters?
June 2019, KROHNE , Mass Measurement
With such fast moving technology it can be difficult to forecast the 'next big thing', but it is possible to focus on two recent developments that look set to influence the market in the near future: high capacity flowmeters; and the ability of Coriolis meters to measure liquids with entrained gas.
Read more...
---
Taking the air out of dairy
May 2019, Endress+Hauser , Mass Measurement
The dairy industry has been plagued for years with the challenge of accurate flow measurement in both processing and offloading applications. Often, the most common cause of inaccuracies in flow measurement 
...
Read more...
---
Get your sensor data faster
Africa Automation Fair 2019 Preview, VEGA Controls SA , Sensors & Transducers
VEGA's Tools App enables sensor parameters and configuration settings to be read and adjusted via Bluetooth on any smartphone or tablet. They are easy to operate and all data is permanently available 
...
Read more...
---
Small and powerful weighing indicator
Africa Automation Fair 2019 Preview, Richter Scale Co. , Mass Measurement
Specially developed for devices and machines which control limit values via weight measurements, Richter Scale's SMART-2 is a small and simple weighing indicator with a rugged and durable housing. It 
...
Read more...
---
80 GHz for liquids
April 2019, VEGA Controls SA , Level Measurement & Control
Vegapuls 64 radar level measurement improves efficiency for bitumen supplier.
Read more...
---
Monitoring the level of molten polyethylene
March 2019, VEGA Controls SA , Level Measurement & Control
More than ever before, the number of car parts made from plastics and plastic composites is on the increase. According to the American Chemistry Council, plastics account for approximately 50% of the 
...
Read more...
---
VEGA Controls SA appoints new managing director
February 2019, VEGA Controls SA , News
VEGA Controls SA has announced the appointment of Fredrick Streicher as the company's new managing director, effective from 1 January.    He has been with the company for the last 13 years where he was 
...
Read more...
---
Mass flow measurement of gases
November 2018, Instrotech , Mass Measurement
The Kobold MAS mass flowmeter works according to the calorimetric method and was conceived for gas flow measurement. Since gases can be compressed, the volume changes with pressure and temperature. In 
...
Read more...
---
VEGA launches VIS in South Africa
September 2018, VEGA Controls SA , News
VEGA Controls SA announced the local launch of the VEGA Inventory System (VIS) at a function held at Montecasino on 24 July. With VIS, VEGA combines its expertise in level measurement technology with 
...
Read more...
---
Pushing the pulper towards maximum efficiency
August 2018, VEGA Controls SA , Level Measurement & Control
Non-contact measuring methods have become well established in the paper industry.
Read more...
---