printer friendly version
Scada Review 2014: Wonderware Southern Africa
June 2014
SCADA/HMI
End-user details
Name: Jacques Jansen
Designation: Automation Solution Analyst
Company: Exxaro Grootegeluk Coal Mine
Phone: +27 (0)14 763 9740
E-mail: jacques.jansen@exxaro.com
SI details
Name: System integration performed as joint operation between end-user and vendor
Product details
Product name and version: InTouch and System Platform
Vendor: Wonderware Southern Africa
Phone: +27 (0)11 607 8100
E-mail: contact@wonderware.co.za
URL: www.wonderware.co.za
Application details
Location: Exxaro Grootegeluk Coal Mine, Ellisras, Limpopo Province, South Africa
Industry: Mining
Date project started: 2013-01
Date project completed: 2013-02
Application: Monitoring the health of the Wonderware industrial automation system and its hardware platform
Application statistics
Tag count: N/A
Updates per day: N/A
Disk space: Galaxy Repository database is maintained at <900 MB and is flushed every 5 minutes
Physical I/O count: N/A
Assets monitored by Sentinel Services:
2 * Wonderware Historian Servers
3 * Galaxy Repositories
15 * Wonderware Application Servers
1 * InTouch Terminal Server
Licences: N/A – see section: Licensing, maintenance & support model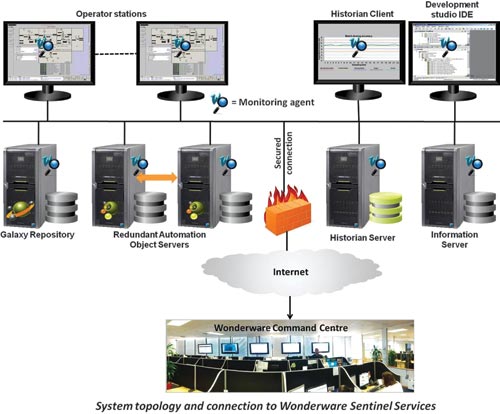 System architecture
End–user responses
General
Q: Briefly describe the application including information on any pre-existing control system.
The implementation of Wonderware Sentinel Services included installing agents at significant nodes of the pre-existing HMI/SCADA system.
Q: What was the primary motivation for the project?
To ensure optimal system health and performance and system availability of the existing Wonderware infrastructure.
Q: What were the main goals established for the project?
* To pro-actively monitor and automatically notify end-users of potential system malfunctions.
* To detect server issues before they cause major downtime.
* To improve and optimise the scada system availability.
Q: In the procurement decision-making process what were the primary considerations that influenced the product selection?
Ease of use, support from the vendor, upgrade path.
Q: What Project Management principles and/or methodologies did you employ as end-user to mitigate risk, ensuring the project came out on time and within budget?
Formalised change control with close interaction between end-user and vendor.
Licensing, maintenance & support
Q: What upgrade agreements are in place for this application?
Upgrades are included in the monthly support of Wonderware Sentinel Services.
Q: How is after-sales support handled on this application?
For Sentinel Services, daily feedback is given to the end-user, detailing alerts that have been received with possible solutions. A monthly feedback meeting is also held with the end-user giving feedback with regards to the month's alerts and to discuss possible process improvements to the monitored system (continuous improvement).
Architecture, integration, reporting and archiving
Q: Is the scada system integrated onto an intranet or the Internet?
Sentinel Services provides scada system performance monitoring via the Internet.
Q: Has any asset management functionality been configured in the application (for software assets, control system assets or for plant assets)?
Wonderware Sentinel Services monitors the performance of the scada system assets and highlights deviations and anomalies in software and system behaviour as they occur. This continuous, proactive monitoring is done remotely by the vendor and means that issues or potential problems can be addressed before they affect production.
If an unacceptable threshold is reached, an alarm is raised and Wonderware engineers are alerted before an issue develops. Remote connectivity is also designed to ensure that, if there is a problem, Wonderware experts can work with the end-user to make appropriate adjustments to correct the issue and return the system to normal operation quickly and easily.
Q: Does the application include data archiving / historian capabilities with an historical data reporting system?
The HMI/SCADA system uses Wonderware Historian for process control and information collation but the data archiving for Wonderware Sentinel Services occurs at the vendor's premises.
Q: Have any production benchmarking tools been configured as part of the scada system?
Yes. We keep records of resolved issues on a monthly basis. Between October 2013 and March 2014, Wonderware Sentinel Services helped to reduce monthly system issues from 468 to 50.
End-user conclusion
Q: What was the predominant feature (or features) that made you decide to purchase this scada product over all others for this application?
We already had a Wonderware-based system and so this was a natural next step but our decision was based on the level of support offered by the vendor and the upgrade path for existing and future assets.
Q: What was the most significant change that you implemented in scada engineering practice / technology in this project?
While our scada system monitors our production processes, there was little in place to monitor the health of the scada system. We needed expert, proactive monitoring of this key plant asset's health and performance.
Q: What single operational feature most impresses you about the product now that it is in operation?
The detection of server issues before they cause major downtime.
Vendor responses
Product

Q: Vendor comments on product / modules?
Operating systems / VMware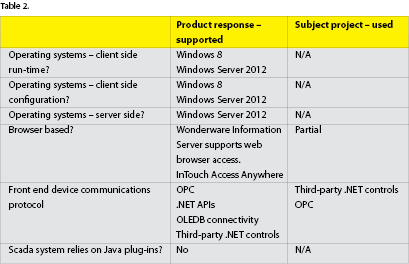 Q: Vendor comments on operating systems?
The close relationship between Wonderware and Microsoft helps to ensure high-quality software coordinated with the Microsoft development roadmap, conceived to work on and thoroughly tested with Microsoft software.
Licensing, maintenance & support model
Q: What sort of licensing agreement options are offered?
For Sentinel Services, licences are not sold to the end-user. The remote monitoring is sold as a service for a fixed period, which is currently 12 months. At the end of the period the service can be renewed. The service is priced according to the number of devices monitored.
For Wonderware scada site infrastructure, licences are based on the functionality or modules that are required for the specific solution.
Q: Are licences sold outright or subject to periodic (e.g. annual) renewal?
For Wonderware scada site infrastructure, licensing is a once-off purchase for a particular version.
Q: What upgrade agreements are offered?
Customer First is a comprehensive support network that allows for version upgrades for purchased modules. Customer First requires annual renewal in order to use the service.
Q: What after-sales offerings iro support and maintenance are available, and which technologies are used to deliver them?
The Customer First program is available in four tiers. Each tier includes support services for both hardware and software products with elements such as parts replacement, version upgrades, and technical support and access to a wide range of additional, optional services such as application support, on-site resources and value-added consulting. Invensys also offers advanced remote monitoring technology that enhances its ability to deliver higher availability and reliability of plant assets to customers.
Q: Do you have a documented process in place to manage and test OS patches and to release scada system software patches?
Wonderware tests its products on platforms that are configured with all cumulative Microsoft updates. During the Wonderware software development and testing lifecycle, every attempt is made to ensure that the products work with the latest supported operating systems and updates available at that point in time.
Technology incorporated
Q: What new technology has been introduced into the product in the last 12 months?
* New animation capabilities.
* Situational Awareness technology.
* Content-aware script editor.
* Quick Script exception handling.
* XML import or export capability.
* Support for Windows 8, Windows Server 2012 and Windows 7 Embedded.
* HTML 5 support.
Integration and reporting
Q: What generic and/or product specific interfaces does the product have iro well-known MES packages?
Wonderware Enterprise Integrator offers powerful site to enterprise integration capabilities. Interface technologies supported include Web Services, File Drop, FTP, MSMQ, XML, HTTP, and SOAP, B2MML message definitions based upon ISA-S95 standards and message repository leveraging MS SQL Server.
Q: What native historical data reporting options are available?
Wonderware Historian Client generates real-time and historical data charts and reports directly from the Wonderware Historian. Data can be viewed, analysed and consumed via a desktop application, web browsers or by external applications such as Microsoft Office, Wonderware's InTouch HMI or custom clients.
Reports and data charts from Wonderware Historian Client can be integrated with information from other Wonderware applications and made available over the Web using Wonderware Information Server.
PLC configuration and programming
Q: What capabilities does the scada offer in terms of generation and/or management of PLC configuration files or PLC application code?
Archestra System Platform has the capability of auto assigning PLC addresses to configured field inputs, keeping the functionality of maintaining the PLC tag database at the PLC level.
Security and data protection
Q: What authentication, authorisation & role management models are available for the runtime environment?
All modules support Microsoft Active Directory. User/Groups are mapped to functional roles.
The different functional roles associated with specific privileges are configured in the specific product modules.
Unique selling proposition (USP)
Q: List the top five feature/benefit pairs that contribute to this product's USP.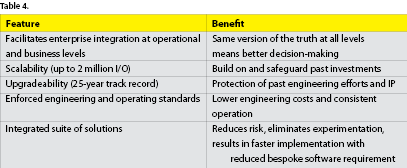 To view the unabridged version of this scada review, scan the QR code from your mobile device or visit http://instrumentation.co.za/+C18965
Further reading:
Collaborative robots
Africa Automation Fair 2019 Preview, Cobots , SCADA/HMI
Cobots is showcasing its range of collaborative robots. These robots make it simple and affordable for humans and machines to work together without a safety cage. Cobots can easily be implemented in small 
...
Read more...
---
Machines that manage real-time resources
Africa Automation Fair 2019 Preview, Motion Control Systems , SCADA/HMI
iBOS Industrial is changing the way we maintain and respond to machine level events with technology that effectively manages real-time resources (people) from the machine level.    Health and safety, 
...
Read more...
---
New benchmark scada software platform
March 2019, Adroit Technologies , SCADA/HMI
MAPS 4, the latest scada solution for control and visualisation from Adroit Technologies, extends connectivity options, adds user tools and increases the scope of its built-in functionality. The result 
...
Read more...
---
Inductive Automation's I­gnition technology offers potential to ­disrupt the market
July 2018, Mzukulu Technologies , SCADA/HMI
'Ignition by Inductive Automation' is an industrial software platform with a variety of modules that can be combined to create custom HMI, scada and MES solutions.
Read more...
---
New platforms for HTML5 visualisation
Technews Industry Guide: Industrial Internet of Things & Industry 4.0, Phoenix Contact , SCADA/HMI
Easy and flexible implementation of current and future demands.
Read more...
---
Yokogawa's open scada solution
June 2018, Yokogawa South Africa , SCADA/HMI
Scada systems are typically used for supervisory monitoring and control of remote and geographically distributed assets through a more open platform for interfacing with several makes and types of equipment 
...
Read more...
---
Schneider gets smart with new HMI solution
June 2018, Schneider Electric South Africa , SCADA/HMI
In a world where quick access to data has become the key to efficiency, Schneider Electric South Africa's latest innovation in the Magelis range of HMI solutions, Magelis GTU, allows users to create the 
...
Read more...
---
Scada Review 2018
June 2018, Technews Publishing (SA Instrumentation & Control) , SCADA/HMI
The subject projects of this year's Scada Review are a worthy reflection of the effort put in by the respondent end-users, SIs and vendors. It is encouraging to see that even in these times of economic 
...
Read more...
---
Scada review 2018: Adroit Technologies
June 2018, Adroit Technologies , SCADA/HMI
End-user details
Name:
Raymond Bosch   
Designation:
Electrical foreman cold stores   
Company:
Two a Day Group   
Phone:
+27 (0)21 859 7666   
E-mail:
raymondb@tad.co.za
SI details
Name:
Willie Cameron
...
Read more...
---
Scada Review 2018: Wonderware
June 2018, IS³ - Industry Software, Solutions & Support , SCADA/HMI
End-user details
Name:
Jaco van Heerden   
Designation:
Project C&I Engineer   
Company:
African Rainbow Minerals Limited   
Phone:
+27 (0)11 518 4199   
email:
jaco.vanheerden@arm.co.za
SI details
Name:
...
Read more...
---