printer friendly version
Scada Review 2014: Rockwell Automation
June 2014
SCADA/HMI
End-user details
Name: Details withheld at reviewer request
SI Details
Name: Ivan Slabbert
Designation: Project Engineer
Company: Staro Process Control
Phone: +27 (0)16 971 3333
E-mail: engineering@staro.co.za
Product details
Product name and version: FactoryTalk View Supervisory Edition 6.1
Vendor: Rockwell Automation
Phone: +27 (0)11 654 9700
E-mail: mjunius@ra.rockwell.com
URL: www.rockwellautomation.com
Application details
Location: Alberton, Gauteng, South Africa
Industry: Oil and gas
Date project started: 2011-06
Date project completed: 2013-01
Application: Fuel storage and transfer
Server OS: Windows Server 2008 R2 Standard
Client OS: Windows 7 Pro 64-bit
Application statistics
Tag count: Hardwired I/O = 639; Modbus I/O = 2906
Updates per day: N/A
Disk space for one day's updates: N/A
Physical I/O count: 639
Front ends:
2 * Allen Bradley ControlLogix PACs
1 * Emerson Raptor tank level gauging systems
7 * Loading Bay controller systems
2 * Compressor systems
1 * Generator
1 * HIMA Emergency Shutdown system
1 * ABB MCC
2 * Emerson Coriolis flow transmitters
1 * BEKA intrinsic safe operator display
4 * ABB Medium Voltage circuit breakers
Licences:
1 * FactoryTalk View SE Server
2 * FactoryTalk View SE Client
1 * FactoryTalk View SE Studio
1 * FactoryTalk Gateway
Scada configuration man-hours: 300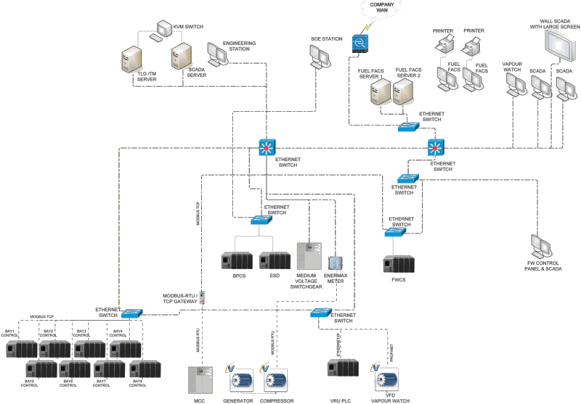 System architecture
End–user responses
General
Q: Briefly describe the application including information on any pre-existing control system.
The bulk fuel storage utility comprises fuel storage tanks, incoming pipeline connections and a loading gantry. A new plant was built to replace the existing manually operated plant. The new plant was to be automated with most equipment integrated into a single comprehensive control system.
Q: What was the primary motivation for the project?
To operate a new fuel storage utility, where capacity is more than doubled, with the same headcount as the old utility.
Q: What were the main goals established for the project?
* To implement the Buncefield recommendations for fuel storage utilities.
* To upgrade the fuel tanks to comply with regulations.
* To increase storage capacity.
* To increase the throughput of the facility.
* To improve the accounting in the fuel depot.
Q: In the procurement decision-making process what were the primary considerations that influenced the product selection?
Ease of use, support from vendor and provision for future expansion.
Q: What Project Management principles and/or methodologies did you employ as end-user to mitigate risk, ensuring the project came out on time and within budget?
Risk mitigation:
* Perform Hazop studies
* From Hazop studies, perform Safety Integrity Level (SIL) studies
* From the above, generate the elements of risk that should be mitigated.
Schedule management:
* Used the Critical Path Method (CPM) to identify critical activities and focus resources on those activities.
* In implementing the CPM method, the Precedence Diagramming Method (PDM) was used.
Budgetary control:
* Minimised rework by performing Factory Acceptance Tests (FATs) before the equipment was delivered to site and Site Acceptance Tests (SATs) after delivery.
Licensing, maintenance & support
Q: What upgrade agreements are in place for this application?
Rockwell Automation TechConnect support and engineering and maintenance support.
Q: How is after-sales support handled on this application?
Up until now, after-sales support has been handled on a call-out basis. In the near future it will be included in an engineering and maintenance support contract.
End-user conclusion
Q: What was the predominant feature (or features) that made you decide to purchase this scada product over all others for this application?
The scada system was bundled with the installation of the process automation controllers for the fuel storage utility.
Q: What single operational feature most impresses you about the product now that it is in operation?
Ease of use of the system. An example is the simplification of receiving fuel via pipeline to the storage tanks.
SI Responses
Project details
Q: What tools were used to minimise the man-hours taken?
Man-hours on scada configuration were minimised by making use of Global Objects (re-usable graphic objects) that are linked to matching logic blocks in the PACs. This resulted in greatly reduced scada configuration effort as objects are linked (pumps, valves, analogue transmitters) instead of their individual tags.
Q: What human factors were taken into consideration as principles or development standards in the HMI design process?
* Navigation principles similar to web browsing with hyperlinks.
* A two-click principle, where an operator should be able to navigate to any section of the scada within two clicks.
* A two-level menu system, where the top bar navigates to a section and the bottom bar navigates to the scada display.
* The Abnormal Situation Management Consortium's (ASMC) guidelines for effective control were followed to ensure effective operator display design. This includes factors such as colour schemes and alarm management.
Q: For the graphics development process did you use standard library images, or did you have to draw images from scratch?
All images were developed from scratch to comply with the ASMC guidelines.
Q: How would you describe the library of graphic images?
Comprehensive.
Q: Did you use any 'special' images?
PDF documents were integrated into the scada application to give access to tank volume strapping tables without having to switch to a different application.
Q: What alarm management standards or best practices were adopted in configuring the scada system alarms?
Followed the ASMC guidelines.
Q: What structured processes were followed to determine expected performance under full load, and during abnormal failure conditions?
Followed vendor recommended hardware and software requirements.
Q: What are the key physical communication layers and communication protocols employed in the system?
Ethernet, single mode fibre and Modbus RTU (via Modbus TCP/RTU gateways).
Q: What is the network speed and communications medium of the slowest link in this project's scada network?
100 Mbit/s over CAT5 copper.
Q: What is the network speed and communications medium of the fastest link in this project's scada network?
1 Gbit/s over single mode fibre.
Q: What levels of redundancy are incorpor­ated in this scada application?
Network redundancy was incorporated using a Rapid Spanning Tree Ethernet ring.
Security and data protection
Q: How have authentication, authorisation and role management been configured?
Authentication and authorisation were configured within the application. Operator and engineering stations were locked down using Windows security policies.
Q: What configuration back-up and data archive backup methodologies have been adopted?
Manual backups.
SI conclusion
Q: What impresses you most about the architecture?
The powerful alarming architecture available in FactoryTalk View SE when used in conjunction with ControlLogix controllers.
Q: What impresses you the most about the engineering / configuration aspects of the product now that it is in operation?
The strong integration between FactoryTalk View and the ControlLogix controllers, which facilitates user-defined types in conjunction with scada global objects and faceplates.
Vendor responses
Product

Q: Vendor comments on product / modules?
The product provides site-level visualisation, and is available in 15, 25, 100, 250 and unlimited display licences. The solution is scalable from a single station to distributed applications. It supports redundant alarm, data and HMI servers.
Products include:
FactoryTalk View Studio
FactoryTalk View Site Edition Server
FactoryTalk View Site Edition Client
FactoryTalk View Site Edition Station (Local)
FactoryTalk ViewPoint
FactoryTalk View Site Edition Station (Network Station)
Operating systems / VMware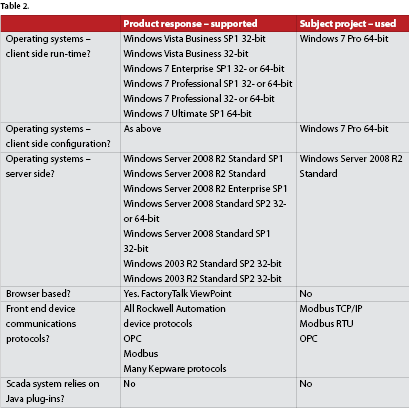 Q: Vendor comments on operating systems
The FactoryTalk ViewPoint client can only be hosted on devices that provide 'in-browser' Silverlight support. This precludes the use of mobile devices (iOS- and Android-based phones and tablets). Future web clients based on HTML5 rather than Silverlight will overcome this limitation.
The FactoryTalk VantagePoint Mobile app is made to work natively for Windows 8.1, taking advantage of the new features in Microsoft's latest operating system update. Within the app, users can view key performance indicators (KPIs), operational equipment effectiveness (OEE), or mean time between failure/-to repair (MTBF/MTTR) values. Detailed reports and trends can be accessed via the KPI gauge or charts.
Licensing, maintenance & support model
Q: What sort of licensing agreement options are offered?
Various products are available in the FactoryTalk suite. Licensing for view modules is display based. 15, 25, 100, 250 and unlimited display licences are available.
Q: Are licences sold outright or subject to periodic (e.g. annual) renewal?
All licences are sold outright.
Q: What upgrade agreements are offered?
As part of the TechConnect Contract after-sales support annual agreement all patch updates and software upgrades are free. Access to the knowledge base carrying information on all products, applications, patches and upgrades is also included.
Q: What after-sales offerings iro support and maintenance are available, and which technologies are used to deliver them?
Options are available covering self-assist support, product support, system support and application support. The Virtual Support Engineer offering is a service that offers an easy, scalable and cost-effective solution for remote support via a small, DIN rail device and remotely configured interface.
Q: Do you have a documented process in place to manage and test OS patches and to release scada system software patches?
Rockwell Automation qualifies certain MS updates for software that impacts Rockwell Automation software products. The company recommends that end-users implement a controlled system suitable for their application and environment, and follow published Rockwell guidance for the distribution of all updates.
It is always recommended that the patches be rolled-out on a test system to check for any conflicts before loading to the main system.
Technology incorporated

Q: What changes have been introduced into the product in the last 12 months?
* Improved integration for Network View SE Station, FactoryTalk Historian ME and FactoryTalk VantagePoint.
* Expanded system topology limits.
* Support for Shelving State of ISA 18.2 Alarming Standard.
* Remote tag based alarming commands.
* Increased usability in View Studio.
* Added gradient shading and PNG support.
Integration and reporting
Q: What generic and/or product specific interfaces does the product have iro well-known MES packages?
FactoryTalk VantagePoint EMI enables individuals to view web-based reports and KPI dashboards.
Q: What native historical data reporting options are available?
The FactoryTalk VantagePoint EMI reporting package has a SAP connector.
Security and data protection
Q: What authentication, authorisation & role management models are available for the runtime environment?
As part of the FactoryTalk Platform all Rockwell Automation software products use the same security model. FactoryTalk Security authenticates users' identities and authorises users to access only permitted resources and perform only permitted actions.
Unique selling proposition (USP)
Q: List the top five feature/benefit pairs that contribute to this product's USP.

To view the unabridged version of this scada review, visit http://instrumentation.co.za/+C18949
Credit(s)
Further reading:
Rockwell Automation executes AC drive migration at Mozal ­Aluminium
June 2019, Rockwell Automation , Motion Control & Drives
For over 20 years, Rockwell Automation 1336 drives have delivered the drive control required across Mozal, an aluminium smelter near Maputo, Mozambique. Now the industrial automation leader is in the 
...
Read more...
---
Photoelectric sensor for demanding applications
June 2019, Rockwell Automation , Sensors & Transducers
The new Allen-Bradley 42AF RightSight M30 photoelectric sensor from Rockwell Automation is the latest addition to the company's smart sensing portfolio. Built with improved environmental resistance and 
...
Read more...
---
Collaborative robots
Africa Automation Fair 2019 Preview, Cobots , SCADA/HMI
Cobots is showcasing its range of collaborative robots. These robots make it simple and affordable for humans and machines to work together without a safety cage. Cobots can easily be implemented in small 
...
Read more...
---
A gateway to digital transformation
Africa Automation Fair 2019 Preview, Rockwell Automation , IT in Manufacturing
Industrial automation specialist, Rockwell Automation is showcasing its flagship Allen-Bradley and Rockwell Software product brands, which are recognised worldwide for innovation and excellence. These 
...
Read more...
---
Machines that manage real-time resources
Africa Automation Fair 2019 Preview, Motion Control Systems , SCADA/HMI
iBOS Industrial is changing the way we maintain and respond to machine level events with technology that effectively manages real-time resources (people) from the machine level.    Health and safety, 
...
Read more...
---
Rockwell Automation and Schlumberger announce joint venture
April 2019, Rockwell Automation , News
Rockwell Automation and Schlumberger have announced an agreement to create a new joint venture, Sensia, the first fully integrated digital oilfield automation solutions provider. The Sensia joint venture 
...
Read more...
---
Thin clients increase flexibility across the enterprise
April 2019, Rockwell Automation , System Integration & Control Systems Design
With many applications on multiple displays throughout a plant floor, manufacturers struggle to manage numerous sources of content. VersaView 5200 from Rockwell Automation uses ThinManager software to 
...
Read more...
---
Rockwell Automation acquires Emulate3D
March 2019, Rockwell Automation , News
Rockwell Automation has acquired Emulate3D, an innovative software development company whose products digitally simulate and emulate industrial automation systems. By using accurate simulation models 
...
Read more...
---
New managing director of Rockwell Automation for sub-Saharan Africa announced
March 2019, Rockwell Automation , News
Henry Craukamp has been appointed as managing director of Rockwell Automation for sub-Saharan Africa, effective 1 January 2019. Henry will now be responsible for leading the business in sub-Saharan Africa 
...
Read more...
---
New benchmark scada software platform
March 2019, Adroit Technologies , SCADA/HMI
MAPS 4, the latest scada solution for control and visualisation from Adroit Technologies, extends connectivity options, adds user tools and increases the scope of its built-in functionality. The result 
...
Read more...
---