printer friendly version
Advanced CNC facilities at Damax Sebenza Pack
May 2014
IT in Manufacturing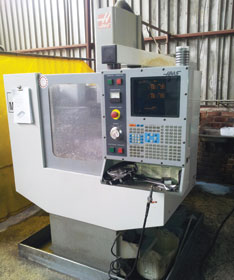 Johannesburg based Damax Sebenza Pack specialises in the production of plastic packaging for numerous products including food, cosmetics and customised industrial applications.
Managing director Brian Lovell reveals that the company boasts an in-house mould toolroom with computer numerically controlled (CNC) equipment for new product design and development, which sets it apart from the competition.
"Using advanced software we are able to draw the product before downloading it onto a PC. Then, we set up the blocks, parameters and tool heights, and the final machined component is completed within a matter of hours," he explains.
Damax Sebenza Pack has a total of three CNC machines, including the TM-1P manufactured by USA-based Haas Automation – a manufacturer of CNC vertical and horizontal machining centres, CNC lathes and rotary products.
The 40 taper Haas TM-1P is a fully enclosed 10-station automatic tool changer with an intuitive programming system and 1 MB of program memory. It is powered by a 5,6 kW vector drive, with a maximum speed of 6000 rpm and a maximum torque rating of 45 Nm at 1200 rpm.
For ease of use the machine features a colour LCD monitor and USB port functionality. "The machine is highly efficient and requires no more than five staff members to operate it throughout the entire manufacturing process, from program input all the way through to dye cutting, back grooving and final polishing," explains Lovell.
The Haas TM-1P mould toolroom is controlled by UK-based Edgecam 3D milling computer aided manufacturing (CAM) software. "Unlike many CAM systems, Edgecam's 3D milling software is compatible with numerous computer aided design (CAD) systems. This ensures seamless operability between the two systems, with no data translation issues."
According to Lovell, Edgecam's extensive suite of advanced 3D cycles is ideally suited for generating tool paths for all surface and solid machining needs. "This ultimately results in reduced cycle times and an overall higher level of machining efficiency."
By manufacturing its own moulds in-house using the Haas TM-1P mould toolroom and Edgecam 3D milling software, Lovell says that Damax Sebenza Pack is able to reduce overhead costs that would normally be passed directly to the customer.
"The Haas TM-1P mould toolroom also enables Damax Sebenza Pack to offers its clients comprehensive advice with regards to new product packaging, as the customer will approach us with a general concept or a theme and we will design and develop a mould for the mock-up or prototype packaging samples complete with graphics and logos," he continues.
"The prototype is manufactured with a resin that is cast into a block where it solidifies. "Following suggestions and any necessary modifications, we receive final approval from the customer and a final mould is produced for production."
Lovell says that Damax Sebenza Pack completes more than 30 prototype packaging projects per month. Not all of these become final products, but the development plays an instrumental role in promoting creativity and innovation for the company and its clients.
Damax Sebenza Pack is committed to industry advancements by testing new concepts on a regular basis. This is especially beneficial when businesses are looking to create unique packaging that catches the eye of shoppers during special promotions and over the festive season. It is one of our key differentiators," concludes Lovell.
For more information contact Brian Lovell, Damax Sebenza Pack, +27 (0)11 472 0223, brianl@damax-group.co.za, www.damax-group.co.za
Further reading:
Emerson's software secures health and safety
May 2020, Emerson Automation Solutions , IT in Manufacturing
Emerson's new DataManager software v8.2 helps refiners monitor corrosion of hydrofluoric (HF) acid alkylation units to prevent costly, unplanned shutdowns and maximise profits and productivity. DataManager 
...
Read more...
---
@Ease with Endress+Hauser
May 2020, Endress+Hauser South Africa , IT in Manufacturing
Focus on customer experience.
Read more...
---
Moxa's industrial cybersecurity solutions
May 2020, RJ Connect , IT in Manufacturing
Industrial networks today are no longer air-gapped and immune from cybersecurity threats. Although deploying a firewall and segmenting networks is a good first step, how are OT engineers, who primarily 
...
Read more...
---
New network management solution
May 2020, Siemens Digital Industries , IT in Manufacturing
Industrial networks are growing more and more complex. Powerful industrial networks are no longer defined by hardware alone – the right network management is essential. The Sinec software family offers 
...
Read more...
---
Robots are already replacing workers
May 2020 , IT in Manufacturing
Robotic process automation (RPA) is a technology that is disrupting the workplace. Using software 'robots' to mimic repetitive human interactions with computers, this technology can do these tasks much 
...
Read more...
---
A journey into the automation unknown
April 2020 , IT in Manufacturing
Jendamark's reinvention as an Industry 4.0 technology leader in the automotive industry.
Read more...
---
Implementing artificial intelligence in industrial manufacturing
April 2020, Omron Electronics , IT in Manufacturing
The introduction of AI solutions at the edge inside the machine now provides tools that enable you to look at that data and recognise patterns within it.
Read more...
---
More efficient engineering with automatically generated dashboard
April 2020, Beckhoff Automation , IT in Manufacturing
Engineering 4.0: One-Click Dashboard eliminates an entire work step.
Read more...
---
Engineering framework ready for continuous software development
April 2020, Siemens Digital Industries , IT in Manufacturing
With the new Totally Integrated Automation (TIA) Portal V16, Siemens has expanded its engineering framework with practical new functions for various phases from planning to engineering to commissioning. 
...
Read more...
---
How the IoT is affecting people
April 2020 , IT in Manufacturing
While the Internet of Things (IoT) may still be an emerging technology, it has become deeply entrenched in people's lives and its proliferation is likely to accelerate further in the next few years. The 
...
Read more...
---