printer friendly version
Advanced CNC facilities at Damax Sebenza Pack
May 2014
IT in Manufacturing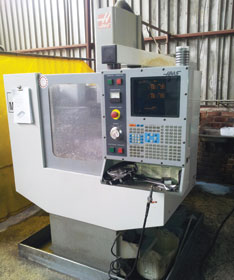 Johannesburg based Damax Sebenza Pack specialises in the production of plastic packaging for numerous products including food, cosmetics and customised industrial applications.
Managing director Brian Lovell reveals that the company boasts an in-house mould toolroom with computer numerically controlled (CNC) equipment for new product design and development, which sets it apart from the competition.
"Using advanced software we are able to draw the product before downloading it onto a PC. Then, we set up the blocks, parameters and tool heights, and the final machined component is completed within a matter of hours," he explains.
Damax Sebenza Pack has a total of three CNC machines, including the TM-1P manufactured by USA-based Haas Automation – a manufacturer of CNC vertical and horizontal machining centres, CNC lathes and rotary products.
The 40 taper Haas TM-1P is a fully enclosed 10-station automatic tool changer with an intuitive programming system and 1 MB of program memory. It is powered by a 5,6 kW vector drive, with a maximum speed of 6000 rpm and a maximum torque rating of 45 Nm at 1200 rpm.
For ease of use the machine features a colour LCD monitor and USB port functionality. "The machine is highly efficient and requires no more than five staff members to operate it throughout the entire manufacturing process, from program input all the way through to dye cutting, back grooving and final polishing," explains Lovell.
The Haas TM-1P mould toolroom is controlled by UK-based Edgecam 3D milling computer aided manufacturing (CAM) software. "Unlike many CAM systems, Edgecam's 3D milling software is compatible with numerous computer aided design (CAD) systems. This ensures seamless operability between the two systems, with no data translation issues."
According to Lovell, Edgecam's extensive suite of advanced 3D cycles is ideally suited for generating tool paths for all surface and solid machining needs. "This ultimately results in reduced cycle times and an overall higher level of machining efficiency."
By manufacturing its own moulds in-house using the Haas TM-1P mould toolroom and Edgecam 3D milling software, Lovell says that Damax Sebenza Pack is able to reduce overhead costs that would normally be passed directly to the customer.
"The Haas TM-1P mould toolroom also enables Damax Sebenza Pack to offers its clients comprehensive advice with regards to new product packaging, as the customer will approach us with a general concept or a theme and we will design and develop a mould for the mock-up or prototype packaging samples complete with graphics and logos," he continues.
"The prototype is manufactured with a resin that is cast into a block where it solidifies. "Following suggestions and any necessary modifications, we receive final approval from the customer and a final mould is produced for production."
Lovell says that Damax Sebenza Pack completes more than 30 prototype packaging projects per month. Not all of these become final products, but the development plays an instrumental role in promoting creativity and innovation for the company and its clients.
Damax Sebenza Pack is committed to industry advancements by testing new concepts on a regular basis. This is especially beneficial when businesses are looking to create unique packaging that catches the eye of shoppers during special promotions and over the festive season. It is one of our key differentiators," concludes Lovell.
For more information contact Brian Lovell, Damax Sebenza Pack, +27 (0)11 472 0223, brianl@damax-group.co.za, www.damax-group.co.za
Further reading:
Endress+Hauser's IIoT technology masters the mining challenge
June 2019, Endress+Hauser , IT in Manufacturing
Endress+Hauser aims to improve the processes of its customers with regards to efficiency, quality, safety and sustainability.
Read more...
---
Digital transformation status and progress in process industries
June 2019 , IT in Manufacturing
Industry research indicates that there has been more than 75% of the process industry participating in Industry 4.0 technology evaluation or pilot projects, there is still less than 25% of the industry moving beyond the pilot phase.
Read more...
---
Does edge computing have the edge?
June 2019, Omron Electronics , IT in Manufacturing
Implementing artificial intelligence in industrial manufacturing
Read more...
---
Faster results with a digital twin
June 2019, Siemens Digital Industries , IT in Manufacturing
The high-tech company Grenzebach's portfolio includes the simulation of material flow in complex plants in the glass industry, which it achieves using Siemens simulation solutions. Together, the two companies 
...
Read more...
---
Data, light and the smart factory
May 2019 , IT in Manufacturing
The role of lasers in the Fourth Industrial Revolution.
Read more...
---
Planning for digital transformation
May 2019 , IT in Manufacturing
As we've learned, digital transformation can be a challenging, if necessary, journey. At each year's Forum, we learn more about how pioneering companies are overcoming these challenges and the associated 
...
Read more...
---
Paving the way for IIoT
Africa Automation Fair 2019 Preview, Phambili Interface , IT in Manufacturing
Phambili Interface is the sole southern African distributor for Weidmuller connectivity and interface products. A highlight is the perfectly coordinated Weidmuller u-Mation portfolio, which paves the 
...
Read more...
---
Barrier-free communication from Zone 0 to the cloud
Africa Automation Fair 2019 Preview, Beckhoff Automation , IT in Manufacturing
Founded on PC-based control, Beckhoff's automation systems are ideal for implementing connectivity in production environments in line with current IIoT concepts. Because of their interoperability, openness 
...
Read more...
---
Industrial cybersecurity for industrial control systems
Africa Automation Fair 2019 Preview, Profitek , IT in Manufacturing
The Hirschmann Tofino provides an advanced industrial solution that solves many of the most challenging energy-specific cyber and physical security challenges. The easy-to-deploy appliance protects against 
...
Read more...
---
Augmented and virtual ­reality for automation
Africa Automation Fair 2019 Preview , IT in Manufacturing
bizAR Reality develops custom augmented and virtual reality solutions for businesses. The company has successfully designed, developed and deployed award-winning technologies across multiple industries. 
...
Read more...
---