printer friendly version
Emerson launches Integrated Operations Initiative
May 2014
IT in Manufacturing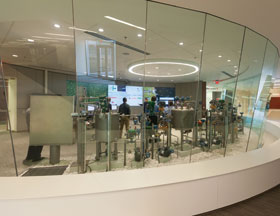 Emerson Process Management has introduced its Integrated Operations Initiative to addresses customers' needs for streamlined decision-making, easily accessible expertise and the safe, collaborative collocation of essential personnel.
"Running safe, profitable production operations is becoming increasingly challenging in the locations our customers are working in," said Peter Zornio, chief strategic officer of Emerson Process Management. "These locations are sometimes referred to as the Four Ds: dull, distant, dirty and dangerous. These are often places few people want to go. The cost and scarcity of skilled workers just compounds their challenges."
To overcome these challenges and improve operational effectiveness, manufacturers are turning to a new model called Integrated Operations (iOps). While implementations vary, key ingredients include: collocation of cross-functional teams in more desirable locales, collaboration tools like video conferencing and other applications, real-time access to process and asset data and streamlined decision-making workflows.
To accelerate industry realisation of the benefits iOps can provide, Emerson has developed three distinctive offerings in its Integrated Operations Initiative: a comprehensive and scalable automation architecture, a real-world laboratory to experience Integrated Operations called the iOps Centre, and consulting services to help customers envision, plan and execute their own iOps strategy.
Real-time access to essential information is fundamental to iOps and has been a core focus within Emerson for decades. Emerson's innovation in key technologies includes: a fully digital plant architecture, a fully digital safety system, the most robust wireless technology portfolio, remote/low-power field communications, the broadest offering of diagnostics-based 'Pervasive Sensing' instruments, and monitoring applications to convert this data into actionable information. Each of these innovations is foundational to the Integrated Operations model as they provide real-time insight to actual conditions, giving personnel the confidence to make better decisions.
"Customers have steadily seen operational improvement for years by deploying smart automation technologies that provide them more visibility into what's really happening," said Jim Nyquist, group vice president for Emerson's Process Systems and Solutions business. "But data alone isn't enough. The real opportunity is to imagine new organisational workflows, like the formation of cross functional collaboration centres that bring together decentralised expertise to enable better, faster decision-making. That is iOps."
Second, to give customers a clear sense of what's possible in the future of Integrated Operations, Emerson has recently opened its state-of-the-art iOps Centre in Austin, Texas. A real-world, working model of a production enterprise, customers can experience the next generation of collaboration and real-time, multi-disciplinary decision-making.
"We worked for nearly two years on the vision and execution of the iOps Centre," said Nyquist, "partnering with industry leaders ranging from Dell, Barco, Cisco, Mynah Technologies, OSISoft and more."
"The enthusiasm and support for this project from our partner companies has been outstanding," continued Nyquist. "We are able to showcase leading-edge technologies in virtualisation, video collaboration, telecommunications and more. Customers gain a clear vision of what's possible through an experience they can't get anywhere else in the world."
Lastly, to help customers establish and execute their vision, Emerson has developed Integrated Operations Consulting Services. First, consultants help customers develop a vision for their operations, based on ever-growing best practices. Following human centred design methods, Emerson works with customers to define roles and work practices and to also define applications targeted to individual user requirements. Then, consultants leverage Emerson's deep project management roots to help customers put their vision into action. These recommendations are derived through onsite visits, personnel interviews, assessments, and analysis. This service is performed by senior consultants with the right expertise to explore opportunities and alternatives for taking advantage of new integrated operations capabilities.
The Integrated Operations Initiative is already receiving enthusiastic engagement from some of the world's leading production companies. Meetings in Emerson's iOps Centre have already surpassed initial projections and are expected to increase significantly in 2014. Emerson is currently evaluating plans to expand its network of customer experience centres around the globe to support growing demand.
For more information contact Ron Raubenheimer, Emerson Process Management, +27 (0)11 451 3700, ron.raubenheimer@emerson.com, www.emersonprocess.com
Credit(s)
Further reading:
Mitigate industrial network vulnerabilities
July 2021, RJ Connect , IT in Manufacturing
It must not be forgotten that ignoring common system vulnerabilities in today's world could put your entire network at risk.
Read more...
---
Digital transformation in mining
July 2021 , IT in Manufacturing
Rapid advances in technology have disrupted industries and businesses around the world, which are now being forced to accept this new reality rather quickly because the new technologies have tremendous potential to deliver value for those who adopt them.
Read more...
---
Digital twins require accurate and reliable data to be effective
July 2021 , IT in Manufacturing
At the 25th ARC Industry Forum, hosted virtually, many industry experts gave their perspectives on accelerating digital transformation in the post-Covid world.
Read more...
---
Frequency analysis without programming requirements
July 2021, Beckhoff Automation , IT in Manufacturing
Beckhoff expands TwinCAT Analytics with easy-to-configure condition monitoring functions.
Read more...
---
Siemens adds AI to Simcenter
July 2021, Siemens Digital Industries , IT in Manufacturing
Siemens Digital Industries Software has announced the latest release of Simcenter Studio software, a web application dedicated to discovering better system architectures, faster. Simcenter Studio offers 
...
Read more...
---
ABB technology can help make SA steel industry competitive
June 2021, ABB South Africa , IT in Manufacturing
South Africa's steel industry needs to invest in technology like automation and data analytics if it is to improve its productivity to the point where it is globally competitive.
Read more...
---
Siemens expands CFD simulations
June 2021, Siemens Digital Industries , IT in Manufacturing
Siemens' Simcenter portfolio expands capabilities for frontloading computational fluid dynamics (CFD) simulation and increased productivity.
Read more...
---
Digital twin for refinery production
June 2021, Yokogawa South Africa , IT in Manufacturing
Within Repsol's Industrial Business, the development of a refinery digital twin leads the digitalisation program. The digital twin maximises production while optimising energy consumption.
Read more...
---
Building secure networks
June 2021, RJ Connect , IT in Manufacturing
This article explores how to build resilient industrial networks and deploy cybersecurity defences in order to sustain continuous industrial operations.
Read more...
---
Thief hatch monitoring
June 2021, Emerson Automation Solutions , Operator Interfaces, Switches & Relays
As thief hatches on oil storage tanks are necessary for maintenance, it is essential to monitor the hatch is closed so that it does not contribute to overall emissions limits.
Read more...
---