printer friendly version
Emerson launches Integrated Operations Initiative
May 2014
IT in Manufacturing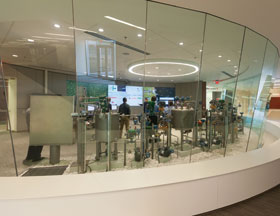 Emerson Process Management has introduced its Integrated Operations Initiative to addresses customers' needs for streamlined decision-making, easily accessible expertise and the safe, collaborative collocation of essential personnel.
"Running safe, profitable production operations is becoming increasingly challenging in the locations our customers are working in," said Peter Zornio, chief strategic officer of Emerson Process Management. "These locations are sometimes referred to as the Four Ds: dull, distant, dirty and dangerous. These are often places few people want to go. The cost and scarcity of skilled workers just compounds their challenges."
To overcome these challenges and improve operational effectiveness, manufacturers are turning to a new model called Integrated Operations (iOps). While implementations vary, key ingredients include: collocation of cross-functional teams in more desirable locales, collaboration tools like video conferencing and other applications, real-time access to process and asset data and streamlined decision-making workflows.
To accelerate industry realisation of the benefits iOps can provide, Emerson has developed three distinctive offerings in its Integrated Operations Initiative: a comprehensive and scalable automation architecture, a real-world laboratory to experience Integrated Operations called the iOps Centre, and consulting services to help customers envision, plan and execute their own iOps strategy.
Real-time access to essential information is fundamental to iOps and has been a core focus within Emerson for decades. Emerson's innovation in key technologies includes: a fully digital plant architecture, a fully digital safety system, the most robust wireless technology portfolio, remote/low-power field communications, the broadest offering of diagnostics-based 'Pervasive Sensing' instruments, and monitoring applications to convert this data into actionable information. Each of these innovations is foundational to the Integrated Operations model as they provide real-time insight to actual conditions, giving personnel the confidence to make better decisions.
"Customers have steadily seen operational improvement for years by deploying smart automation technologies that provide them more visibility into what's really happening," said Jim Nyquist, group vice president for Emerson's Process Systems and Solutions business. "But data alone isn't enough. The real opportunity is to imagine new organisational workflows, like the formation of cross functional collaboration centres that bring together decentralised expertise to enable better, faster decision-making. That is iOps."
Second, to give customers a clear sense of what's possible in the future of Integrated Operations, Emerson has recently opened its state-of-the-art iOps Centre in Austin, Texas. A real-world, working model of a production enterprise, customers can experience the next generation of collaboration and real-time, multi-disciplinary decision-making.
"We worked for nearly two years on the vision and execution of the iOps Centre," said Nyquist, "partnering with industry leaders ranging from Dell, Barco, Cisco, Mynah Technologies, OSISoft and more."
"The enthusiasm and support for this project from our partner companies has been outstanding," continued Nyquist. "We are able to showcase leading-edge technologies in virtualisation, video collaboration, telecommunications and more. Customers gain a clear vision of what's possible through an experience they can't get anywhere else in the world."
Lastly, to help customers establish and execute their vision, Emerson has developed Integrated Operations Consulting Services. First, consultants help customers develop a vision for their operations, based on ever-growing best practices. Following human centred design methods, Emerson works with customers to define roles and work practices and to also define applications targeted to individual user requirements. Then, consultants leverage Emerson's deep project management roots to help customers put their vision into action. These recommendations are derived through onsite visits, personnel interviews, assessments, and analysis. This service is performed by senior consultants with the right expertise to explore opportunities and alternatives for taking advantage of new integrated operations capabilities.
The Integrated Operations Initiative is already receiving enthusiastic engagement from some of the world's leading production companies. Meetings in Emerson's iOps Centre have already surpassed initial projections and are expected to increase significantly in 2014. Emerson is currently evaluating plans to expand its network of customer experience centres around the globe to support growing demand.
For more information contact Ron Raubenheimer, Emerson Process Management, +27 (0)11 451 3700, ron.raubenheimer@emerson.com, www.emersonprocess.com
Credit(s)
Further reading:
Endress+Hauser's IIoT technology masters the mining challenge
June 2019, Endress+Hauser , IT in Manufacturing
Endress+Hauser aims to improve the processes of its customers with regards to efficiency, quality, safety and sustainability.
Read more...
---
Digital transformation status and progress in process industries
June 2019 , IT in Manufacturing
Industry research indicates that there has been more than 75% of the process industry participating in Industry 4.0 technology evaluation or pilot projects, there is still less than 25% of the industry moving beyond the pilot phase.
Read more...
---
Does edge computing have the edge?
June 2019, Omron Electronics , IT in Manufacturing
Implementing artificial intelligence in industrial manufacturing
Read more...
---
Emerson acquires KNet software
June 2019, Emerson Automation Solutions , News
Emerson has announced the acquisition of KnowledgeNet (KNet) software from Tunisia-based Integration Objects. KNet's unique analytics application software accelerates digital transformation initiatives 
...
Read more...
---
Faster results with a digital twin
June 2019, Siemens Digital Industries , IT in Manufacturing
The high-tech company Grenzebach's portfolio includes the simulation of material flow in complex plants in the glass industry, which it achieves using Siemens simulation solutions. Together, the two companies 
...
Read more...
---
Effective day-to-day monitoring of essential assets
June 2019, Emerson Automation Solutions , Maintenance, Test & Measurement, Calibration
Efficient operation of essential assets is key in achieving productivity and operational targets. Facilities, manufacturers, operators, and producers can move forward in planning for their output by having 
...
Read more...
---
Data, light and the smart factory
May 2019 , IT in Manufacturing
The role of lasers in the Fourth Industrial Revolution.
Read more...
---
Planning for digital transformation
May 2019 , IT in Manufacturing
As we've learned, digital transformation can be a challenging, if necessary, journey. At each year's Forum, we learn more about how pioneering companies are overcoming these challenges and the associated 
...
Read more...
---
Emerson appoints new president for Middle East and Africa
May 2019, Emerson Automation Solutions , News
Emerson has appointed Vidya Ramnath as the new president for its Automation Solutions business in Middle East and Africa.    A 24-year veteran of Emerson, she was most recently vice president for Emerson's 
...
Read more...
---
Paving the way for IIoT
Africa Automation Fair 2019 Preview, Phambili Interface , IT in Manufacturing
Phambili Interface is the sole southern African distributor for Weidmuller connectivity and interface products. A highlight is the perfectly coordinated Weidmuller u-Mation portfolio, which paves the 
...
Read more...
---