printer friendly version
Density measurement in the dissolution tank
May 2014
Level Measurement & Control
A manufacturer of sanitary paper uses aluminium sulphate, which is delivered in powder form, as an aid in production. The powder must first be dissolved in a medium and this is done in an open agitator tank filled with process water. Until now, the level in this tank was measured by a pressure transmitter with a metallic measuring diaphragm.
However, measurement of the density change that occurs during dissolution was never correct, which is why the shift personnel repeatedly had to check the concentration by hand. What is more, the metallic membrane was often damaged by high-pressure cleaning. The consequences for the user were high personnel costs, expenditures for a spare parts inventory and varying quality due to incorrect mixing.
The solution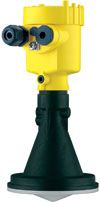 As the first step to improve the situation, Vega installed its non-contact radar sensor Vegapuls 61 in the tank for level measurement. Mounted directly above the dissolution tank with a mounting bracket, it measures the change in level instantaneously during the pouring of aluminium sulphate. In addition, a pressure transmitter with ceramic measuring cell was mounted on the side of the tank.
Aluminium sulphate has a density almost three times that of water and the hydrostatic pressure changes considerably more than the level, so a Vegabar 52 was installed in the side of the tank. The physics of these properties are used by the control system to analyse the output signals of both sensors. Using a differential calculation, the density is determined to an accuracy of 1° Baume.
This solution has simplified and accelerated the production processes. The high overload resistance of the ceramic measuring cell also allows the vessel to be cleaned with high pressure. Damaged pressure membranes are now a thing of the past and the stock of spare parts is no longer needed. The redundant measurement has also increased operational reliability and savings have been made in raw material thanks to exact mixing ratios.
For more information contact Chantal Groom, Vega Instruments SA, +27 (0)11 795 3249, chantal.groom@vega.com, www.vega.com
Credit(s)
Further reading:
New horizontal float switch
June 2021, ASSTech Process Electronics + Instrumentation , Level Measurement & Control
The R40 LSH now includes devices for point level measurement with features such as floats and reed contacts.
Read more...
---
Bypass level indicators
June 2021, Instrotech , Level Measurement & Control
Instrotech now offers Kobold's NBK level indicators for continuous measurement, display and monitoring of liquid levels in above or below-ground tanks.
Read more...
---
Fit for extreme applications
March 2021, Endress+Hauser South Africa , Level Measurement & Control
The first 2-wire loop-powered compact transmitter enters the market.
Read more...
---
The Internet of Things is changing logistics
March 2021 , Level Measurement & Control
A focus on application engineering allows Trafo Power Solutions to supply customised dry-type transformers for a range of sectors including renewable energy. "We begin at the proposal stage by engaging 
...
Read more...
---
Radar is the better ultrasonic
February 2021, VEGA Controls SA , Level Measurement & Control
Radar signals are not significantly influenced by changing ambient conditions, which makes them highly reliable and extremely accurate.
Read more...
---
Top-quality drinking water through ozone treatment
January 2021, VEGA Controls SA , Pressure Measurement & Control
Vega's pressure transducers make an important contribution to the continuous processing of top-quality drinking water.
Read more...
---
Reed level transmitter suitable for food applications
November 2020, WIKA Instruments , Level Measurement & Control
WIKA has expanded its range of level transmitters with reed measuring chain by adding the model FLR-F for food applications.
Read more...
---
Membrane level monitor
October 2020, Instrotech , Level Measurement & Control
Kobold's NMF membrane level monitors are an excellent choice for cost-effective level monitoring of bulk goods in storage vessels.
Read more...
---
Measuring in the dust cloud
October 2020, VEGA Controls SA , Level Measurement & Control
Radar level measuring instrument with 80 GHz finds its way in extreme environments.
Read more...
---
Ceramic and metallic measuring cells optimise additive production at BASF
September 2020, VEGA Controls SA , Pressure Measurement & Control
The combination of a ceramic Certec and a metallic Metec measuring cell proved to be the perfect combination from VEGA.
Read more...
---