printer friendly version
Density measurement in the dissolution tank
May 2014
Level Measurement & Control
A manufacturer of sanitary paper uses aluminium sulphate, which is delivered in powder form, as an aid in production. The powder must first be dissolved in a medium and this is done in an open agitator tank filled with process water. Until now, the level in this tank was measured by a pressure transmitter with a metallic measuring diaphragm.
However, measurement of the density change that occurs during dissolution was never correct, which is why the shift personnel repeatedly had to check the concentration by hand. What is more, the metallic membrane was often damaged by high-pressure cleaning. The consequences for the user were high personnel costs, expenditures for a spare parts inventory and varying quality due to incorrect mixing.
The solution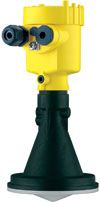 As the first step to improve the situation, Vega installed its non-contact radar sensor Vegapuls 61 in the tank for level measurement. Mounted directly above the dissolution tank with a mounting bracket, it measures the change in level instantaneously during the pouring of aluminium sulphate. In addition, a pressure transmitter with ceramic measuring cell was mounted on the side of the tank.
Aluminium sulphate has a density almost three times that of water and the hydrostatic pressure changes considerably more than the level, so a Vegabar 52 was installed in the side of the tank. The physics of these properties are used by the control system to analyse the output signals of both sensors. Using a differential calculation, the density is determined to an accuracy of 1° Baume.
This solution has simplified and accelerated the production processes. The high overload resistance of the ceramic measuring cell also allows the vessel to be cleaned with high pressure. Damaged pressure membranes are now a thing of the past and the stock of spare parts is no longer needed. The redundant measurement has also increased operational reliability and savings have been made in raw material thanks to exact mixing ratios.
For more information contact Chantal Groom, Vega Instruments SA, +27 (0)11 795 3249, chantal.groom@vega.com, www.vega.com
Credit(s)
Further reading:
A case for IIoT's future in supply chain management
Technews Industry Guide: Industrial Internet of Things & Industry 4.0, VEGA Controls SA , Level Measurement & Control
This paper will explore how one construction materials hauling company used level measurement sensors and IIoT networks to manage their operation while simultaneously securing its customers' supply chain, and keeping costs low.
Read more...
---
Continuous level measurement
July 2019 , Level Measurement & Control
DRH Components is the official distributor of Bindicator bin level sensors in South Africa. These prevent overflow spills, controlling surge bins, detecting blocked chutes and providing on/off control 
...
Read more...
---
Continuous level measurement
Africa Automation Fair 2019 Preview, Morton Controls , Level Measurement & Control
The Nivobob series from Morton Controls is used for continuous level measurement within bulk storage silos and for interface measurement of sludge beds. The system is immune to dust, dielectricity, conductivity, 
...
Read more...
---
A range of level sensors
Africa Automation Fair 2019 Preview, GHM Messtechnik SA , Level Measurement & Control
GHM Messtechnik has available the Val.co range of affordable and effective level sensors that have application across all sectors of industry, especially tank building. The range includes small float 
...
Read more...
---
Get your sensor data faster
Africa Automation Fair 2019 Preview, VEGA Controls SA , Sensors & Transducers
VEGA's Tools App enables sensor parameters and configuration settings to be read and adjusted via Bluetooth on any smartphone or tablet. They are easy to operate and all data is permanently available 
...
Read more...
---
Keller's water level monitoring systems
April 2019, Instrotech , Level Measurement & Control
The Grib Mine, located in Russia's Mezensky District in the Arkhangelsk Oblast, is one of the largest diamond deposits in the world. During winter, temperatures can drop to -25° and sometimes -37°. The 
...
Read more...
---
80 GHz for liquids
April 2019, VEGA Controls SA , Level Measurement & Control
Vegapuls 64 radar level measurement improves efficiency for bitumen supplier.
Read more...
---
Level monitoring and visualisation
March 2019, Morton Controls , Level Measurement & Control
UWT's Nivotec series is designed to make data movement and communication between monitoring and control systems easy and flexible. The Nivotec 2000 and 3500 series are specifically adaptable to customer 
...
Read more...
---
Monitoring the level of molten polyethylene
March 2019, VEGA Controls SA , Level Measurement & Control
More than ever before, the number of car parts made from plastics and plastic composites is on the increase. According to the American Chemistry Council, plastics account for approximately 50% of the 
...
Read more...
---
VEGA Controls SA appoints new managing director
February 2019, VEGA Controls SA , News
VEGA Controls SA has announced the appointment of Fredrick Streicher as the company's new managing director, effective from 1 January.    He has been with the company for the last 13 years where he was 
...
Read more...
---