printer friendly version
Wireless condition monitoring at SABIC Teesside
May 2014
Maintenance, Test & Measurement, Calibration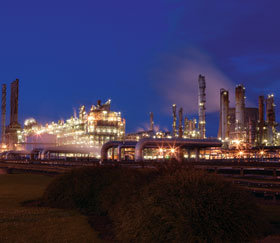 Emerson Process Management's wireless condition monitoring and prediction system is being used at the SABIC Olefins plant in Teesside, UK, to detect potential problems with pumps before they disrupt normal operations. The system helps reduce the risk of unexpected failures that can cause lost production and expensive repairs, as well as safety and environmental incidents.
The critical pumps being monitored are installed on the plant's Olefins cracker, which is used to produce ethylene, propylene, butadiene and gasoline products. SABIC Teesside previously collected and analysed vibration data for these pumps manually, but potential problems could occur between readings. This led to higher maintenance costs and reduced plant availability, which was affecting overall production.
"We wanted to improve the monitoring of critical pumps at the Olefins plant in Teesside," said David Hambling, instrument engineer, SABIC Petrochemicals. "By installing Emerson's wireless vibration transmitters we can now continuously monitor vibration levels and detect faults before a failure occurs."
Emerson's online vibration monitoring system has detected a number of problems that could have resulted in equipment failure, including a chipped tooth on a gearbox gear and an impending bearing failure. Identifying and rectifying potential problems earlier helps minimise pump failures and maintenance costs.
In addition to measuring overall vibration and temperature, the CSI 9420 wireless vibration transmitter includes PeakVue technology, which detects faults that cause impacting, friction, and fatigue, particularly in gearbox and rolling element bearings. The monitoring system takes basic readings every 30 seconds and an in-depth, full spectrum analysis once every day. By tracking rising vibration levels, SABIC Teesside can detect developing faults and improve maintenance scheduling.
"Emerson's Smart Wireless technologies, combined with advances in sensor technology and low lifecycle costs, have made it quick and easy for our customers to access data from their critical assets," said Nathan Pettus, vice president, machinery health for Emerson Process Management. "With our proven predictive technologies like PeakVue and our focus on pervasive sensing, we are helping customers like SABIC to filter, automatically analyse and capture useful, actionable information so they can rectify any issues that could interrupt production."
The plant's existing Emerson Smart Wireless network made installing the wireless vibration transmitters quick and easy, enabling vibration data to be sent to SABIC's process control system. The established mesh network also makes it easy to add or relocate wireless-enabled devices for additional process information from remote or difficult-to-access locations.
"Wireless has shown itself to be a valuable tool in our condition monitoring armoury," concluded Hambling. "Predicting failures in gearboxes of this type can make considerable savings on any subsequent turnaround and help to keep equipment available."
For more information contact Ron Raubenheimer, Emerson Process Management, +27 (0)11 451 3700, ron.raubenheimer@emerson.com, www.emersonprocess.com
Credit(s)
Further reading:
Lubrication oil filtering and monitoring with Hydrasales
July 2021, Hydrasales , Maintenance, Test & Measurement, Calibration
The viscosity of oil in a lubricating system and its impact on bearings if not appropriately filtered, can adversely impact on system performance and even have catastrophic consequences.
Read more...
---
Five considerations when creating a wastewater machine monitoring plan
July 2021, TANDM Technologies , Maintenance, Test & Measurement, Calibration
In a water scarce country like South Africa, handling wastewater correctly is not a luxury but an essential service.
Read more...
---
Monitored cathodic systems
July 2021, Omniflex Remote Monitoring Specialists , Maintenance, Test & Measurement, Calibration
Omniflex partners with IEV to bring remotely monitored cathodic protection systems to South East Asia.
Read more...
---
Wide range of bonding adhesives available from BI
July 2021 , Maintenance, Test & Measurement, Calibration
Bearings International carries a wide range of instant and structural bonding adhesives throughout its extensive branch network in South Africa.
Read more...
---
Industry first for pump testing laboratory
June 2021, Instrotech , Maintenance, Test & Measurement, Calibration
When a local fire pump test facility needed to eliminate human error from its test procedures, it contacted Instrotech for advice.
Read more...
---
Advances in pipeline leak detection
June 2021, KROHNE , Maintenance, Test & Measurement, Calibration
The high rate of false alarms in standard pipeline leak detection systems can force system operators to waste labour chasing down problems that do not exist. Fortunately, newer technology provides an alternative.
Read more...
---
The LinkIQ Cable+Network Tester
June 2021 , Maintenance, Test & Measurement, Calibration
With the launch of the LinkIQ Cable+Network Tester, users are now able to verify cable performance and solve network connectivity issues.
Read more...
---
Measuring viscosity made easy
June 2021 , Maintenance, Test & Measurement, Calibration
Condition monitoring specialists, WearCheck, recently launched a quick, cost-effective viscosity test kit known as the WearCheck Rheo-stick.
Read more...
---
Kito hoists for safe and stable operation
June 2021 , Maintenance, Test & Measurement, Calibration
Becker Mining has secured an order for Kito electric and manual chain hoists and accessories, for a processing plant at a mine in the North West Province.
Read more...
---
Accurate power quality analysis
June 2021, Comtest , Maintenance, Test & Measurement, Calibration
Fluke range of three-phase power quality loggers gives users fast, easy access to the data they need to make critical power quality and energy decisions in real-time.
Read more...
---